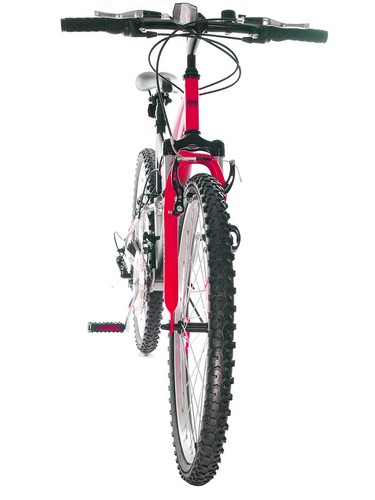 You may not have even realised, but the type of tyres that are used on your mountain bike can make a huge amount of difference to the quality of the ride in general. Many mountain biking experts claim that the tyres are quite possibly the single biggest factor in keeping the bike performing to the level required for the rider. There are literally hundreds of different options for someone looking to purchase some bike tyres and if you've never bought a new set for your mountain bike tyres before, it may seem like a daunting process. But help is at hand; this guide will explain different tyre types, what their advantages and disadvantages are and what tyres will be best for your bike in the long run.
To Bead, or not to Bead
The first choice to make when deciding on searching for the perfect tyres for a mountain bike is what kind of bead is going to work best. Bead is a term used to describe the way in which a tyre is held in place on a wheel. On inspecting a bike wheel, it is possible to see a small grove running around the rim which is what the "bead" of the tyre will slot into. On the whole, there are two options for beads when you purchase new tyres:
Wire Bead
This kind of tyre is built for durability. As the name suggests, the bead of this tyre contains a strip of wire to keep it sturdy and locked in place. Wire bead tyres are popular amongst downhill mountain bikers as they can withstand rocky terrain extremely well. On the other hand, these tyres are much heavier than the alternative and due to the rigidity of the wire inside them; they can often be difficult to fit initially.
Folding Bead
Folding bead tyres get their name from the fact that it can literally fold up because they do not contain a wire within their bead. Instead, the bead is usually constructed of Kevlar, the ultra-strong synthetic fibre that is also used in motor racing tyres and body armour. Folding bead tyres are much quicker and easier to fit, although they have been known to become stretched over time.
This information will tell you that if you expect to be doing any cycling that is going to be particularly hard on the tyres; the best option will be to choose a tyre with a wire bead to give you the confidence of knowing the tyres will be sturdy enough to get the job done. If more concerned with speed and manoeuvrability however, then folding bead tyres are going to be much better suited.
How Heavy?
Many mountain bikers do not realise how much their ride can be affected simply by changing the weight of the tyres. Much like choosing between wire bead or folding bead tyres,, Cyclists are left with a dilemma as to whether to choose light or heavy tyres. Again, the answer probably lies in what ways you will be using the bike for and what kind of performance levels the bike is expected to achieve. Here is everything to know about both lightweight and heavyweight tyres:
Heavy Tyres
If unsure what sorts of things the bike will be used for, heavy tyres are good all-round performers for general use and are probably the best option. Heavy tyres will provide good balance due to the fact that they will increase the gyroscopic effect of the wheels. They are also difficult to puncture, yet all the protective qualities of these tyres mean that it's likely to lose a degree of speed as a result.
Light Tyres
If looking to achieve the maximum speed possible from a mountain bike, then lightweight tyres will help to achieve this. Light tyres can't be beaten for acceleration, cornering and even breaking, so if competing in some form of downhill or cross country biking, they will certainly be the best option. Light tyres are however a little more susceptible to cuts and punctures than their heavier counterparts.
Tread Carefully
The same way in which the weight and bead of the tyres will affect their performance, so too will the kind of tread that is selected for the bike. There are four main groups of tyres available for mountain bikes that will have to be chosen. The table below weighs up the pros and cons of each tyre group and what kind of treads you should buy depending on the sorts of activities you will be using them for:
Tyre Tread

Advantages

Disadvantages

Knobbed Tread

· Traction on road or off-road

· Extremely versatile

· Some designs become clogged with mud

Combination Tread

· Designed for multiple surfaces

· Fast on hard ground, grips on soft ground

· Lack acceleration and speed properties

· Heavier than most tyres with different treads

Inverted Tread

· Good speed on roads and pavements

· Provides a smooth ride on bumpy surfaces

· Not us much traction as traditional tread tyres

· Poor performance on loose ground

Treadless/ Slick

· Unrivalled speed on roads and pavements

· Perfect for commuters

· Useless for off-road riders

· Little to no grip provided in the wet
If the mountain bike gets used most often on the road, slick tyres will provide much better speed and acceleration properties than other tyres. However, given the British weather and the fact that rain can render them useless, they probably aren't the best option. Unless a competition cyclist, knobbed tyres may be the best option; they provide a healthy balance between speed and traction whilst delivering a good level on performance on most surfaces.
Combine These Factors
Unless you have specialist usage for your bike such as competitive racing, the chances are that it's best to pick a reasonably balanced tyre that offers a compromise between speed and traction to ensure that it's flexible and offers the variety needed from the ride. If this is the case, why not try combining the qualities of some of the different tyre aspects listed above to choose a mountain bike tyre that is going to provide these specific requirements.
For example, why not try searching eBay for a lightweight, folding bead tyre with a knobbed tread. The lightweight nature of the tyres will give the performance a speed boost, whilst also be awarded with the handling and versatility benefits of a knobbed tread. Learning about the way in which different features will affect the tyre's performance is not only a great way to save a little money but being a little more knowledgeable it will also make you a better all-round cyclist
Buying Mountain Bike Tyres on eBay
There are often thousands of mountain bike tyres listed at any one time on eBay, most of which end up being sold at very affordable prices; this means that eBay is a great place to find a deal on a set of mountain bike tyres. Some specific shopping tips on eBay can be seen below:
As always when shopping online, make sure to understand what the options are, and what can be bought.
Sellers will frequently list used tyres and whilst most are still in very good quality and represent great value for money, the buyer may end up being disappointed if expecting a brand new set.
Luckily, sellers will always list the condition of the product as used under the "Item specifics" menu, giving buyers an easy way of checking whether or not the product is what they are looking for.
Another specific tip to use when searching for tyres on eBay is to search using both spellings of the word, "tyres" and "tires". Remarkably, a search for each of the different spellings of the word will return completely different results, meaning a larger selection of mountain bike tyres to browse through and therefore have a better chance of finding the perfect set for your bike.
Conclusion
eBay is a great place to catch a fantastic deal on mountain bike tyres.. There are a number of items to remember when buying mountain bike tyres, and hopefully this guide has provided the majority of options available. However, to summarise on the main points:
Remember, establish what it is that you will be using your bike for most of time, then think about whether you are going to need a wire bead or a folding bead.
Will the rider benefit more from the stability of heavy tyres or will you need the speed and agility that lightweight tyres can provide.
Think about what kind of tread is required based on the general usage of the bike. Will they be used mainly to cruise around the city or to use it for sports and leisure activities such as downhill mountain biking?
One option is to look for tyres that have been tailored to suit your individual needs, as this gives buyers the confidence of getting the best possible performance from the bike.
Finally, make sure that you're search result-savvy to give yourself a better chance of tracking down your favourite set of tyres.