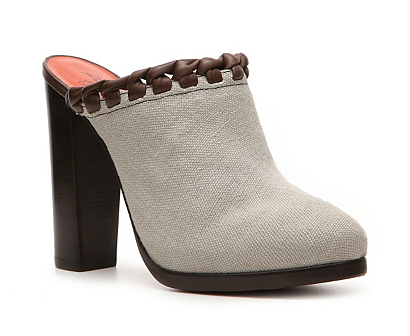 Mules, which are also referred to as clogs, are a supportive style of shoe that are seen a lot in the workplace. They may not be the cutest of shoes, but they can definitely be stylish. Mules come in many brands and also different styles. Most all types of mules are backless, and more often than not, they have some type of heel whether it's a wedge, platform, or simply thick soles. Mules, or Clogs can also add some interest to any type of casual outfit and will look wonderful and support your feet at the same time.
There's a mule for everyone, whether you're interested in something that looks more professional, or a mule that is made of suede or leather and will look fantastic with a pair of nice trousers. Comfort brands make mules that are the most well known, such as Clarks, Birkenstock, and Skechers, but you can also get cute mules made by Marks & Spencer. Decide which style of mules and clogs are right for you by taking a look at some of the most common types and trends when it comes to mules for women.
What to Consider Before Buying Mules
Mules can be simply practical and functional, or they can add pizzazz to an outfit. There is a mule for every look, so think about what type of mules you want. Do you need simple mules that you can wear when you're on your feet all day, or would you love a pair of cute, dressy mules, such as patent leather mules that look elegant? Mules can also come in house slipper styles that are fur lined for comfort, and flat, sturdy, work mules. Decide which type of mule you want to look for, and whether you like a backless mule or want more support with a back to the mule.
Types of Mules
There's a mule for every occasion, whether it's a flat for work, a house slipper for lounging, or a stylish leather mule that will look great with dressy pants or a skirt. Choose a mule based on what would get the most wear, and what your individual needs are. If the weather's changing and you need a pair of slippers to keep feet warm while you walk your dogs, invest in slipper mules, but if you want a comfortable pair of shoes to wear to work, you'll need more functional flat or low-heeled mules made of leather or suede.
Flat Mules
Flat mules are made by brands like Crocs and Skechers. These are primarily going to be comfort mules that offer the support you need if you stand on your feet a lot. Flat mules do come in a variety of styles. Birkenstock mules are backless and look like a sandal, and sneaker mules have no back but are styled to look and feel like a comfortable sneaker. Flat mules are easy to put on, as you just slide your feet right into them. They are usually perfect with casual clothing, but may not translate to dress wear.
Flat mules are typically seen on women that have to be on their feet all day, such as nurses or teachers. They will keep the feet supported and protected, but still look stylish, even though they are considered a casual type of shoe.
Clogs
Clogs are considered mules, but they have a style all their own. Clogs usually have a chunky heel and a thick platform sole, and they come in a lot of colours and styles. Brands like Dansko are well known for their clogs that can take you from day to evening with suede, leather, and shiny patent leather styles. There are also cool patterned clogs. Clogs can also come with straps across them that fasten around the ankle. Clogs can be embellished with rhinestones, fringe, embroidery, or studs. Clogs are comfortable and functional, and help to keep feet supported.
Heeled Mules
Heeled mules are a little more for dressy occasions. They can almost look like a regular high heel, and usually have a thick heel that's roughly a few inches high. They can be closed or open toed, but have the same distinct mule look to them that makes them stand out. Heeled mules can be silver, patent leather, or other materials that separate them from simply being a casual shoe and takes them a notch above to dressy. Mules still may not work with your most elegant party dress, but they can look great with a fabulous pair of trousers or even a cute skirt.
The thing that distinguishes a mule from other heels is generally the fact that the back remains open, no matter what the front looks like. The front of the shoe can be Mary Jane style with a strap across, be completely close toed, or have a peep toe. Heeled mules can also take on the form of a sandal and look cute with a sundress or skirt. Mule sandals can have an open toe and an ankle strap like the typical sandal, but they still look like clogs with their wedge heel and thicker sole.
Mule Boots
Mules can also take on the form of boots, whether they are ankle boots or taller boots. Mule boots can look like cowboy boots but have the soles of a typical mule. They can also look like bootie and have a higher wedge heel, or have a low platform style heel. The main difference between mule boots and regular boots is they go up higher, at least to the ankle, and traditional mules don't.
There are also higher boots available that have a mule style to them, and they come in lots of different styles and types. Even popular boot brand Ugg makes mule boots that have a cosy, furry inner lining for those chilly days.
Slipper Mules
Slipper mules are a comfortable addition to your cold weather shoe wardrobe, and many of them have soles that are thick enough to be worn outdoors as well as indoors. Most slipper mules are made of suede or other soft materials, and they are often fur lined and very warm. Slipper mules come in different colours and styles but are generally always backless.
Slipper mules can be animal print, clog style, adorned with bows, embroidery, or crystals, and come in a variety of colours to meet your needs. Some slipper mules aren't meant to be worn outdoors because they have soft soles. If you need a slipper mule to wear outside, make sure the soles are hard and good for wearing outdoors.
Mules Sizing Chart
Using a size chart can help you to determine the correct size for your mules when purchasing them online. Sometimes it can be difficult to find the correct size online without trying them on. This is where a size chart comes in handy and helps to save from returns in the future.
| Foot Length (cm) | UK | Europe |
| --- | --- | --- |
| 22.8 | 2.5 | 35 |
| 23.1 | 3 | 35.5 |
| 23.5 | 3.5 | 36 |
| 23.81 | 4 | 37 |
| 24.13 | 4.5 | 37.5 |
| 24.45 | 5 | 38 |
| 24.77 | 5.5 | 38.5 |
| 25.08 | 6 | 39 |
| 25.4 | 6.5 | 40 |
| 25.72 | 7 | 41 |
| 26.04 | 7.5 | 42 |
| 26.34 | 8 | 43 |
| 27.3 | 9.5 | 44 |
| 27.9 | 10.5 | 45 |
| 28.6 | 11.5 | 46.5 |
When you are able to make a better overall informed decision by knowing the correct size, style, and type of mule you want, the more pleased you will be with your purchase. Mules can be one of the best types of shoes you will ever place your foot in, this is why it's important to make sure you know just what you are looking for when it comes to shopping for them.
How to Buy Mules on eBay
Once you've narrowed down the options to what type of mules you're most interested in purchasing, you can begin your search for the perfect mule for you. First, search mules and see all the different styles of mules that are available for purchase on eBay. Then, tailor your search based on your interests, such as slippers, heels, or regular mules. You can make the search more specific by selecting heel height, colour, or brand of the mules you'd like to find.
Check the sellers you're looking at to determine that they are highly rated and their feedback from other buyers is excellent, so you can buy mules with confidence. To alleviate shipping costs, purchase mules from local sellers and see if they will arrange a personal pickup with you. This also creates a unique personal shopping experience, which is rare in the world of online shopping. Find more than one pair of mules or clogs that will come from the same seller, and maybe the seller will bundle the mules together and offer you a discount on shipping. Buying mules on eBay is convenient and fun, and you'll often find great deals on fabulous mules.
Conclusion
You're busy and you don't have time to go from store to store searching for the mules that go with your trousers, or the perfect pair of slipper mules to give as a holiday gift to your sister. Enter eBay, the most convenient way to look for mules without expending time, gas, or your energy. Search for mules by colour, style, or brand for the ultimate shopping experience. Get mules for work, lounging, and purchase dressier mules for heading out for drinks and a movie in the evening.
Mules are not only practical and comfortable, but they can be very stylish. Mules are a great investment and a perfect addition to any woman's shoe wardrobe since they are not only supportive but look trendy, too, and they can match a variety of clothing you already have in your closet. Decorative mules can spice up a pair of jeans, and black patent Mary Jane mules will add interest to a pair of plain trousers. Mules can also offer height without the discomfort of traditional high heels. The stacked and wedge style heels on a mule are very easy to walk and stand in, and you won't be dying to get your shoes off like you are when you wear stilettos or other heels. Mules are meant for comfort, but they can be purchased with style in mind, too.