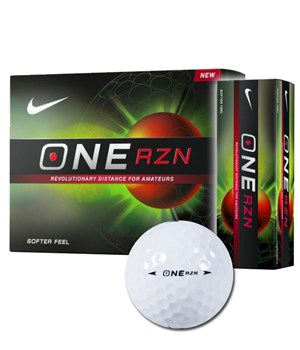 There are various brands to choose from when buying golf balls, but very few can rival what Nike has to offer. They have become much more than just a clothing brand, and they're in fact the leading golf ball manufacturer in the world. Nike is well respected in the sport, and they produce balls for the PGA Tour, as well as balls for recreational players.
Nike's premium offerings are used by some of the world's greatest players, including regular tournament winners like Lucas Glover and Tiger Woods. It doesn't matter whether you're driving down the fairway or constantly trying to bail yourself out of a bunker, Nike has something suitable for you. When looking to add Nike balls to a golf bag its pays to get them at the best price. eBay is the one-stop-shop for all golfers needs and have Nike's offerings at the most competitive prices.
Nike One Tour
The Nike One range is arguably the most innovative golf ball range ever created. It utilises power transfer technology, a layer of advanced polymer and has features that increase the balls speed and agility.
The advanced polymer later improves energy transfer throughout the entire ball, which increases forgiveness on shots that go awry.
It is a four-piece ball that is designed for those who deliver speedy swing shots off the tee. It also increases air speed and control on the green.
Nike One Tour balls are the softest balls in the Nike One range.
A modification on the Nike One Tour ball is the Nike One Tour D.
Nike One Tour D
The compression factor is slightly lower than the original model.
This results in a firmer feel and slower spin rates, which will suit golfers who play at a more methodical pace.
Its alteration doesn't take away from the balls original core attributes.
Considered a ball that is most relevant to highly skilled players who are looking to tweak their game, and not make wholesale changes.
Both the original and D variation received silver ratings from Golf Digest.
Nike One Vapor
Built for high performance and a favourite of professional players around the world. The Nike One Vapor may only be designed for average swing speeds, but its three-piece design means that it is capable of a vast array of shot types.
The spin rate with short irons is slower, but that simply means golfers can have an extra element of control on the green.
Being a three-piece ball it is designed to offer long distance off the drive.
Received the much-revered gold star rating from Golf Digest, whilst taking a space in the 2010 'Hot List'.
It is well known for what it can add to an average golfer's game.
The ball has a low compression that results in increased airtime off a drive shot.
Nike One RZN
Nike's advancements in golf ball technology have arguably reached their pinnacle with the Nike One RZN.. Not a ball for the faint of heart, but a real game changer when used correctly.
Features Nike's unique Resin technology.
Designed for use by professionals and accomplished social players.
Delivers straighter shots without compromising on a soft feel.
Can produce longer shots with irons, yet still maintains an element of delicacy whilst on the green.
Has a higher MOI and thus sticks to slopes better than any other ball on the market.
Nike Crush
The Nike Crush is probably not a ball that many have heard of, as it is one that doesn't receive much media attention. However, that doesn't mean that it doesn't have its uses.
It is a two-piece ball that is purely constructed to deliver distance off the tee.
Features a high-energy core that is built for high speeds and low spin rates.
The Nike Crush is perfect for beginners who have a moderate to high swing speed.
Can deliver a speed up to 95mph and is great for those who place focus on their game off the tee.
Nike Karma
The premier ladies golf ball and one that delivers increased distance off a low swing speed. Even though it's classified as a ladies golf ball, the Nike Karma does have it uses for male players as well.
Two-piece ball with extremely low-compression. It is great of an initial drive, but doesn't offer much spin on the green.
Features an aerodynamic 312-dimple design that aids lift, airflow and hang time.
Has a thin ionomer cover that helps it move across the ground with ease.
Buying Used Nike Golf Balls
Golf can be an expensive hobby and investing in the right set of balls can only add to those costs. Buying used has become a great way for players to lower the cost of their game, while still ensuring that they own a quality product. It is a little known fact that the lost golf balls you see disregarded on the course are often collected and resold. This happens more often when they are balls that have been produced by a top brand, like Nike.
In most cases, used balls are refinished and are actually restored to near new condition. This means that when used Nike balls arrive on eBay, shoppers can actually grab bargain balls that can be thrown straight into action. Before buying used, shoppers should ask sellers a few questions in order to get a grasp on a set of ball's quality.
How often has the ball been used?
Has the ball been refinished?
Is the ball chipped or dented?
Has the ball been submerged in water?
Has the ball been soiled in any way?
Was the ball purchased new or used?
Buying Nike Golf Balls in Bulk
Over time, golfers may find that they become loyal to the Nike brand or a particular type of ball. If this is the case it's time to seriously consider buying in bulk.
Allows golfers to stock up on their favourite ball at a discounted price per unit.
A great way to save money on golf balls.
Perfect for those who have affection for Nike golf balls.
Always check out a seller's grading system prior to buying balls in bulk.
They are good for those who love having a practice on the driving range.
Some golfers tend to use a lot of balls when on a round, so it's beneficial to have a reserve stock.
Conclusion
There is hardly a shortage of golf brands and golf balls available, but many golfers do agree that there is a shortage of quality. Even though many brands are happy to produce a product that is simply average, some strive to release balls that changes the way people approach the sport. Nike has become a true game changer in the world of golf, and their ball offerings are of the highest quality. It doesn't matter whether you're a pro or social player, Nike have a ball that can improve your all round performance.
This guide looks at the best Nike has to offer, whilst detailing what each ball brings to a round. When it comes to buying Nike golf balls and getting the best possible deal, eBay should be a shopper's first destination.