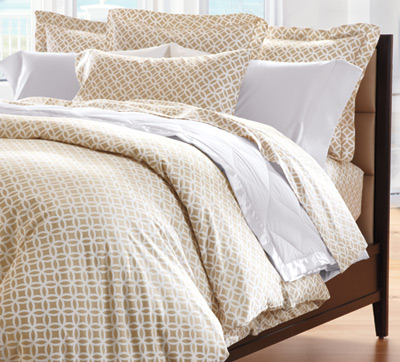 Every bed should be equipped with basic bedding. Bedding is laid above the mattress for warmth, hygiene, protection, and decoration, and includes a fitted sheet, flat sheet, pillows, valance, and often a decorative quilt. There may also be a mattress pad or extra throw pillows. Bedding may be purchased as separate items or as a set. It can be found in a wide array of styles, colours, fabrics, and sizes. The size of the bedding is determined by the size of the mattress. While many mattresses come in standard sizes, it is not uncommon to find non-standard mattresses. Non-standard mattress sizes may stem from a custom-made bed, an antique bed, or a modern European bed. Pillow top mattresses add an extra layer to the top of the bed, so they require bedding that can accommodate the extra depth.
Non-standard bedding can be purchased at homeware shops and department stores. When buying non-standard size bedding at retailers such as eBay, shoppers should weigh up the pros and cons of purchasing a set against buying separate items. Buyers should also consider mattress depth and sizing, fabric, and thread count.
Non-Standard Size Bedding Sets or Separates
Buying a bedding set has its advantages: all of the pieces have the same colour, pattern, and fabric, it saves time when searching for items, and may even be more affordable. However, in the case of non-standard size bedding, it may be best, or even necessary, to purchase items separately, which has the added advantage of allowing buyers to individualise their look. Buyers may opt for sheets that complement each other in colour, or mix and match styles. Shoppers may find that most pieces of a standard size bedding set fit their non-standard mattress with the exception of the fitted sheet, which varies in width, length, or depth. In that case, the fitted sheet has to be purchased separately.
Fitted Sheets for Non-Standard Size Bedding
Fitted sheets are often the most problematic when it comes to non-standard size bedding, which often means a thicker mattress. Fitted sheets usually have elastic sewn into each of the four corners, helping them to keep their position over the mattress. Fitted sheets should also have elastic all the way around the sheet making them less likely to slip off the bed. Thicker, pillow top mattresses should be fitted with a wide or deep pocket fitted sheet.
Mattress Depth
Although mattress length and width are often standard, depth is not and varies between manufacturers: mattress depth can range from 6 to 15 inches. Buyers should take this into account when searching for fitted sheets. Custom-made sheets for non-standard size bedding is available. However, it is important to know the depth of the mattress before purchasing the sheets.
Deep Pocket Mattresses
Mattresses that are thicker than 13 inches are considered deep pocket mattresses. The deep pocket refers to the corners of the fitted sheet: it is the pocket that covers each corner and wraps under the mattress, helping to hold the sheet in place. A deep pocket mattress can measure up to 16 inches in depth, while extra deep pocket mattresses can be up to 22 inches thick. To find the pocket depth, buyers should measure from the highest point of their mattress, including the mattress pad and any additional bedding used under the sheets, to the bottom edge of the mattress.
Sizing for Mattresses
Mattresses come in many sizes and help to determine the size of bedding that is required. Buyers should always check their mattress size and depth before making a purchase. Standard mattress sizing is indicated in the chart below.
| Mattress Size | Measurements (cm) |
| --- | --- |
| Small single | 75 x 190 |
| Single | 90 x 190 |
| Small double | 120 x 190 |
| Double | 135 x 190 |
| King size | 150 x 200 |
| Super king size | 180 x 200 |
Although mattress sizing may be standard, other factors such as memory foam or pillow top mattresses can alter the depth, therefore, changing the size of bedding required. Buyers should take these extra factors into account when buying bedding.
Fabrics for Non-Standard Size Bedding
When selecting the perfect non-standard size bedding, buyers should consider the thread count and fabric in addition to the bedding's more aesthetic features such as colour and style. High quality bedding ensures long lasting use. Bedding is made of various fabrics. Each fabric has its own unique features and benefits. Buyers should compare the different types of fabric before deciding which one best fits their needs.
Bedding Fabric

Description

Combed cotton

Soft and smooth

Muslin

Lower quality variety of cotton

Rough and tough

Thread count is usually between 128 and 140

Commonly used in children's character themed bedding

Percale

Smooth, flat, closely woven

Thread count is usually between 180 and 200

Can be 100 percent cotton or a cotton-polyester blend

Pima / Supima

High quality, soft cotton

Thread count is usually between 200 and 300

Made of long fibre staples (Pima)

Made of extra-long fibre staples (Supima)

Egyptian Cotton

Highly durable, lustrous, and silky

Thread count usually above 200

Made of extra-long fibre staples

Flannel

Warm and insulating

May be blended with a synthetic fabric or cotton

Not measured in thread count; measured in flannel per square yard in ounces

Synthetic

Modal, Lyocell, polyester

Known for its strength and durability

Less breathable

Resistant to wrinkles, easy to launder
Buyers may opt for flannel sheets in cooler conditions. However, synthetic sheets may be ideal for those who want bedding that requires minimal care.
Thread Count for Non-Standard Size Bedding
Thread count is determined by the number of threads that run horizontally and vertically in a square inch of fabric. The thread count determines the quality of a sheet. Sheets with thread counts of 300 or higher are known for their durability, lustrousness, and softness. These sheets are also less likely to shrink than sheets with lower thread counts in the 80 to 120 range. Sheets with low thread counts, although less expensive, tend to have a rougher feel and are more susceptible to wear and tear.
Buying Non-Standard Size Bedding on eBay
A greater amount of non-standard size bedding is available as ranges have grown increasingly to allow for homeware that fits a buyer's personal preference, budget, and other items in the home. The wide variety also means that buyers may need help to narrow down options and select the best bedding for their needs.
Buyers should start their search for non-standard size bedding on eBay's homepage. From here, buyers are free to use eBay's search bar to type in any related key terms. If looking for fitted sheets, buyers may choose to include additional information, such as the fabric type or colour. Searching key terms such as Egyptian cotton fitted sheets helps to limit the search results. Alternatively, buyers may use eBay's advanced search feature. This feature allows buyers to narrow down their search by category or price.
Buyers can also limit their search by location or to that of Top-rated sellers. This is ideal for buyers who are looking to cut the costs of postage and packaging by arranging a collection close to home. By choosing a Top-rated seller, buyers can purchase bedding with confidence. Top-rated sellers are known for providing high levels of customer service and are recognised for their consistent positive feedback ratings.
When buying non-standard size bedding, read the item description carefully, taking note of the measurements of the bedding, as well as the colour and fabric. The item description should also contain details of postage and packaging costs, payment methods, and the seller's returns policy. If there are any doubts about the size of the bedding or any other details then contact the seller using the "Ask a question" link.
Conclusion
Bedding is a necessity for a good night's sleep. It offers comfort and warmth, is designed in various styles to complement the bedroom's decor, and helps to protect a mattress. Bedding can be purchased in sets or as separate items. Each has its own advantages and should be considered before placing a bid. The buyer may wish to have a consistent look and fabric for the bedding, in which case, buying a set is a good idea. However, a buyer may find that it is necessary to buy separates because the flat sheet and pillowcases may be standard sizes, but the fitted sheet may need to have deep pockets. Non-standard size bedding is becoming more common as manufacturers continue to make a variety of mattress toppers, which alter the depth of a standard mattress, and therefore, the size of the bedding that is required.
For a buyer, choosing the right non-standard bedding requires some research. Buyers need to measure the depth of the mattress and any mattress toppers. Before choosing the bedding fabric, buyers must find the right thread count to ensure the maximum amount of comfort and long lasting use of the bedding. The thread count tends to differ according to the fabric. With so many features of non-standard size bedding, eBay can help any buyer to determine the right size bedding for their mattress.