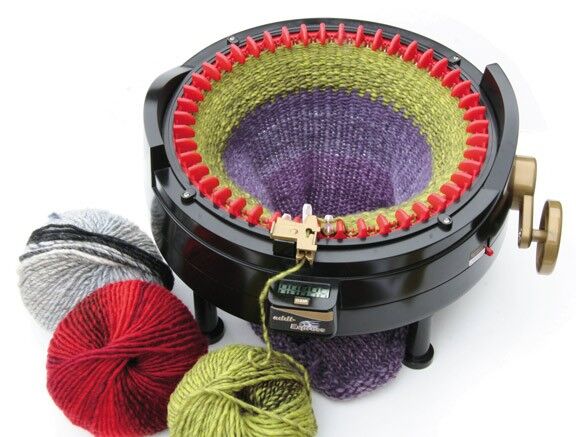 Knitting has long been a favourite pastime for many people. There is something almost magical about creating something warm and comforting out of a simple skein of yarn. Many knitters knit exclusively by hand with needles. However, many more are increasingly enjoying the speed and ease of creating a knitted item on a knitting machine.
Many knitters find it very satisfying to see the speed at which these machines can create. By including certain accessories, such as different needles or patterns, the knitter can increase the machine speed, and its versatility. This can allow it to knit a wider assortment of items in different gauges and weights, and often increase speed.
Unfortunately, sometimes the machine may breakdown and the owner may need to seek replacement parts. Using a knitting machine and buying parts for it requires understanding basic machine maintenance, knowing what parts and accessories are common for knitting machines, and how to find the right ones for the specific machine.
Common Replacement Parts and Accessories
There are a large number of different parts and accessories that a knitting machine may require over its lifetime. Some items are more common than others are. The following chart lists a few of the most common knitting machine replacement parts and accessories.
| Part/Accessory | Description |
| --- | --- |
| Owner's Manual | The first place to turn for instructions and guidance when using or repairing a knitting machine; the owner's manual should be for the specific make and model of the machine |
| Needles | Knits the yarn into a knitted material; should be purchased for a specific knitting machine brand; many brands have different needles for use with specific yarn weights, or for producing certain effects |
| Patterns | Guides how the yarn should be knitted together; depending on the machine they are intended for, these can be simple instructions or actual punch cards that guide the movements of the knitting machine |
| Yarn | Many machines can utilise a variety of different yarns, but some yarns are produced specifically for ease-of-use on a knitting machine |
| Oil | Lubricates the machine and keeps it moving; specific knitting machine oil may be advised by some manufacturers; in general, basic sewing machine oil is suitable |
Certain machines routinely require replacement parts and accessories, either to keep the machine in top shape, or to improve its functionality by allowing it to knit more diverse yarns or patterns. When searching for available parts and accessories, start with the machine's make and model number.
Buying Parts for the Right Machine
All manufacturers, regardless of what they produce, typically have their own product designs, manufacturing standards, and preferred materials. In some instances, the parts and accessories knitting machines routinely require are generic, and do not need to be from a specific manufacturers. However, especially when replacing a part, in most instances, it is very important to ensure that the parts are compatible with the original manufacturer's part. Many manufacturers have designed and produced knitting machines over the years, including some of the more popular brands such as Brother, Knitmaster, Passap, Singer, Silver Reed, and Bond.
Be Sure to Check the Model
Most manufacturers make more than one model of the items they produce. Typically, these models can vary in their abilities and the quality of materials used in their construction. Sometimes the parts for the different models produced by the same manufacturer are very similar and can be interchangeable, but generally, specific parts must match the model of machine that they are manufactured for. Because of this, be sure to determine not only the brand of the knitting machine but also its model when buying parts. The model may be a number or a product line name, and it is typically noted along with any logo on the machine itself or on a tag attached to the bottom or back of the machine.
Know What Parts Your Machine Requires
When purchasing parts to fix a malfunctioning or broken knitting machine, the first step is to determine what is wrong with the machine. Depending on the specific machine, there are some common things that go wrong with knitting machines and certain parts that routinely need to be placed. In many situations, the knitting machines owner's manual is the best place to turn for guidance on what may be causing the machine to malfunction. In some instances, the problems the machine may be having may not require replacement parts at all. It may simply need cleaning and routine maintenance. Yarn fibres can collect inside knitting machines, causing them to freeze up or perform sluggishly. A wise machine knitter will routinely clean the machine and service necessary parts as required.
Knitting machines have been manufactured for decades, and the basic design of the most popular models produce similar wear on common parts. In some instances, it may be less expensive and better to try to repair some of these parts instead of replacing them every time they wear out. This is possible for some parts, but not for all.
The knitting machines owner's manual can help to determine what parts can be fixed and what parts need to be replaced, but it may not provide all the answers. The internet may also provide some answers, but these should be taken with caution as they may not always be reliable. For more comprehensive advice on fixing the machine and determining the parts that are necessary, consider taking it to a repair shop. Most repair shops are happy to look at a machine to evaluate what it needs, though they may charge a small fee for this service. The professional advice can be invaluable in helping the owner to understand what parts are needed and how to repair the machine.
Considering a Replacement Machine for Parts
When looking around for parts for their knitting machine, many people commonly see machines for sale that are identical to the one they already own. These duplicate machines can be a tempting alternative to spending time searching around for the specific necessary part. After all, the duplicate machine must have the needed part, and if one part on the first machine needs to be replaced, it stands to reason that sooner or later more parts will also.
In many instances, this is true. However, the fact is that all similar machines typically wear in the same place, putting stress on some parts more than on other parts. Because of this, the first part to wear out on one machine is likely to be the first one to wear out on the other machine. In other words, those duplicate machines may not provide the best replacement parts for those that are wearing on the current machine. Depending on the age and condition of the duplicate knitting machine, it may indeed be wise to purchase it, either to replace the current one because it is in better shape, or to use for parts for the current one. However, if it is not in as good or better shape than the original machine, it may not be a wise purchase.
Buying Knitting Machine Parts on eBay
It can be difficult to locate certain knitting machine parts. Some may be available at the local craft or sewing shop, but many will not be. A repair shop that services knitting machines may offer a variety of replacement parts available for purchase, or offer assistance in finding them. In many instances, the Internet is the best place to turn to locate the widest selection and rarest parts. Even on the Internet, it may be hard to find some of these parts, but eBay sellers list a number of them regularly.
To find knitting machine parts on eBay, begin with inputting your needed part into the search bar found on every page. General searches, such as "knitting machine parts" will bring up more results than more specific searches like "toyota knitting machine needles" and search results can be refined at any stage simply by adding more keywords in the search.
As with purchasing them from anywhere else, it is important to preview the listing carefully in order to ensure the condition of the part and that it is compatible with the knitting machine. After locating the correct part, be sure to check out the other items the seller has listed. The seller may have other parts and accessories available that can enhance the function of the machine. If the parts are purchased at the same time, many sellers will ship them together, saving the consumer money on shipping.
Conclusion
There is something very heartwarming about creating a warm knitted item. Many knitters love to fashion these items purely by hand, spending hours using their knitting needles to create original sweaters, socks, stocking hats, or blankets. Other knitters enjoy creating the very same items, but prefer to shorten the time and work required by using a knitting machine. A knitting machine can create many of the same items a hand knitter can make using needles. They do wear out over time, however, and may need replacement parts. Manufacturers have also created many accessories that may enhance the productiveness of the machine.
A machine knitter may be tempted to purchase one of the many identical knitting machines that are often sold second hand. This may be a good idea for backup machine, but it may not provide the knitter with the necessary parts the original machine requires. Machine knitters who need parts or accessories for their machine should consult the owner's manual, and other avenues for advice. When looking for these parts, it is important to know the machines make and model, as well as to know the specific parts or accessories that are needed so that the purchased parts are sure to work on the intended machine.