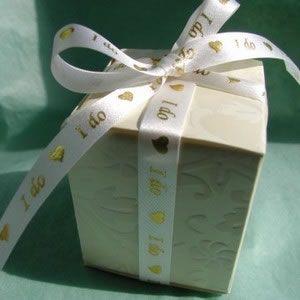 Personalised ribbon is great for many projects including gift wraps, birthday, Mother's Day and other special events decorations, special sewing crafts, and is especially popular for wedding decorations. Personalised ribbon includes stamped, embroidered, and stylised ribbon with names, dates, images, and more. Most buyers should look into purchasing from shops and online stores that can customise ribbons to their exact needs.
Buying personalised ribbon involves deciding on a message, ribbon colours, ribbon width, the amount of ribbon needed, and the cost of the ribbon and customisation. The occasion can also affect the necessary style, width, and colour of the ribbon so buyers should look into what suits their unique project and why. Many local stores offer customised ribbon but online shops usually have more variety. Most buyers can utilise all of the information about their project in order to choose personalised ribbon that suits their needs.
Different Types of Personalisation
There are many ways to personalise a piece of ribbon so most buyers must decide what sort of look they would like for the project. Sewing crafts can be added to almost any type of ribbon based on what they are intended for. Popular uses of personalised ribbons include wedding favours, birthday gifts, specialised crafts, bookmarks, tote straps, fancy pillow decorations, bows, and more. The following types of personalised ribbon can be found online, in craft and fabric shops, and some hobby shops.
Name Personalised Ribbons
Name ribbons are a popular type of personalised ribbon because they can be personalised with literally any name. These can be used for personalised gifts, for business advertising products, for bookmarks, for wedding favours, and more. Importantly, name ribbons can include both first and last name, the name of a product or business, or more.
Name and Date Personalised Ribbons
Name and date personalised ribbons are slightly more specialised versions of name ribbons. These ribbons are popular for events such as weddings, bachelorette parties, birthdays, fundraising events, and more. Name and date ribbons can include a first and last name plus a date, a short message and a date, an event name plus a date. Date formats can vary per the person making the customised ribbon so buyers should look around until they find a date format that they like.
Monogram Personalised Ribbon
Monogram personalised ribbons are any ribbons with initials rather than a full name. Usually, these ribbons feature two letters and can include embroidery or design around the letters. Monograms are usually suited to large ribbons that are used in bows or package ties. These ribbons can be used as decorations for weddings, birthdays, events, and more.
Message Personalised Ribbon
Many personalised ribbons also include the ability to print anything that the buyer decides on the ribbon. Whether a date or a full message, these ribbons can be easily ordered and printed with almost any message. The only limitation is that the length of the ribbon does determine how long the text can be. Anyone looking for a longer message should choose a longer and wider ribbon.
Personalised Ribbon Materials
Many personalised ribbons are made of polyester or satin but some other materials might also be available. Popular materials include velvet, silk, cotton, twill, taffeta, and more. While the type of ribbon does not always matter, many projects might require a specific material in order to match well. Another consideration is that a high quality personalised ribbon uses smooth ribbon with no napping, heavy threading, or embroidery in order to display the message well. Anyone who is doing a sewing project with personalised ribbon should attempt to match the ribbon to the project. For example, many wedding dresses are made of taffeta or satin, so these are good choices for personalised ribbon used for wedding decorations. Anyone who cannot find the type of material they need should choose the closest matching texture and look.
Many people consider satin to be a high quality ribbon for the price as it is only slightly more expensive than cotton or polyester and slightly lower value than silk. In fact, satin is also durable while retaining the beautiful texture of silk. Other materials, such as taffeta and polyester, are popular as well and can be cheap or expensive depending on the style and quality.
Double Faced Personalised Ribbon
Double faced or double sided personalised ribbon is any ribbon that has the message printed on both sides. These ribbons are usually more expensive than single sided personalised ribbon but can be a better deal for anyone who is making bows, or where both sides of the ribbon are visible on the finished product. Double faced ribbons are labelled as 'double faced', 'two sided', 'double sided', 'doubled', and 'dual sided'.
Personalised Ribbon Length and Width
The length and width of the personalised ribbon should match the project for which they are being used. For example, many sewing projects should be matched with ribbons that suit their size. Gift box ribbon can be wrapped with any size ribbon as long as the buyer is happy with it. Other projects also depend on the look that the buyer is going for. Importantly, most personalised ribbon is of medium to large size because it makes reading the message easier. Anyone who wants very wide ribbon might have to order it as a banner rather than a ribbon.
Most expert crafters recommend beginners to measure out or test the length of the ribbon using a string or test ribbon. Measuring the amount needed with a string and then measuring the string can help buyers to get the right amount of personalised ribbon for their project. Importantly, anyone who is doing a large scale project might want to consider buying slightly more ribbon than is necessary in case of a mishap. Experienced crafters can skip this step if they believe they are not likely to require extra ribbon.
Buying Personalised Ribbon for Bulk Projects
Many crafters frequently require personalised ribbon for bulk projects so it is important to consider what might be needed for the project. Options often range from purchasing a continuous spool of fifty metres or more of the same ribbon to purchasing individual lengths. Each option can be suitable for a lot of different projects so it is important to consider why the choice is made.
Purchasing a Spool of Personalised Ribbon
Some projects require bulk personalised ribbons with the same print. For example, purchasing fifty metres of the same personalised ribbon could mean the same message or words are printed at exact lengths along the spool. This method allows buyers to cheaply and easily purchase a great deal of the same personalised ribbon to be used on the same project. These are ideal for businesses, large events, weddings, and crafts projects that all require the same message.
Purchasing Different Lots of Personalised Ribbon
It is also possible to purchase a large lot of ribbons with different messages. For example, for a wedding buyers could choose ribbons with the names of the guests; for a day-care that wants to hand out ribbons to parents buyers could choose pink and blue styles with the same print; for birthday parties and special occasions buyers could choose individual names, dates, or any other messages they like. Importantly, purchasing bulk lots of different ribbons is usually much more expensive than bulk lots of the same ribbon.
Buying Personalised Ribbon on eBay
Many types of personalised ribbon can be purchased on eBay with nearly any message, name, or date. Buyers can look on eBay for a variety of reasons including the ability to search and find any number of ribbons without leaving their home. This allows you to find the ribbons you need, to sort through multiple options, and to find excellent prices as easily and conveniently as possible.
Search for your ribbon based on colour, width, and length using the eBay search bar. You can also specify a material that you prefer although not all personalised ribbon is available in every material. From there, check the description to see how much ribbon you can purchase at once, any variables or options you can choose from, and then make your purchase. You most likely have to send the seller a message detailing the name, date, or anything else you would like printed on the ribbon. Finally, check postage fees to make sure the cost of the ribbon is what you expect, and check the delivery time to make sure the personalised ribbon arrives in time for the event you need it for.
Conclusion
Personalised ribbon is an excellent choice for anyone looking to customise a gift, but is also a popular choice for wedding decorations. Purchasing personalised ribbon involves deciding how much ribbon is needed for a project, how wide the ribbon should be, what colour the ribbon should be, and what material the ribbon should be made of. Next, the buyer must decide on a type of personalised message including name, name and date, monogram, or an actual message. The length and size of the message do in part depend on the size of the ribbon.
From there, buyers can start searching for stores or online eBay sellers who offer personalised ribbon. Choosing a seller who offers the personalised ribbon in the necessary quantities is important but most buyers should also be concerned with budget and delivery time. Important things to consider include the size and dimensions of the ribbon, its colour, and the quantity needed for the project.