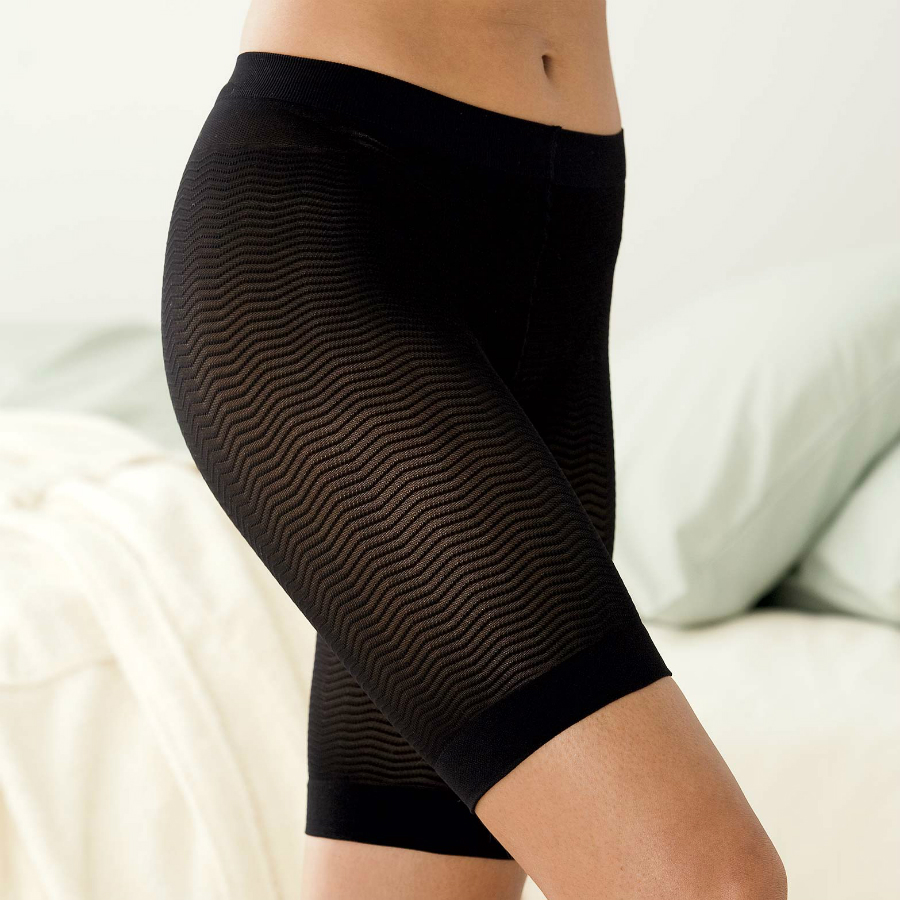 Men and women with full figures often find it difficult to purchase fashionable clothes that do not bring unwanted attention to bulges, cellulites, and other unflattering imperfections of the body. A dress that looks absolutely stunning where it hangs on the rack may, in the fitting room, seem like an entirely different piece of clothing altogether. Luckily, there is an easy and comfortable way to overcome the difficulties associated with shopping for plus-size fashion; the solution is called shapewear. Perfect for correcting flaws and drawing attention away from unflattering areas of the body, shapewear is a foundation garment that smoothes out targeted areas of the body, so that whatever is worn on top looks at its best.
Several factors must be considered when purchasing plus-size shapewear so that it feels good to the wearer. In addition to providing an introduction to plus-size shapewear, this guide discusses where plus-size shapewear can be purchased and offers tips on buying this undergarment on retail sites such as eBay.
The Benefits of Shapewear
While many people might associate shape altering undergarments with the notoriously uncomfortable corset, this could not be further from the truth. Modern shapewear, unlike the corset, is a comfortable and unobtrusive piece of garment that improves the shape of the body by accentuating or drawing attention away from areas targeted by the wearer. Shapewear is designed to "tone" or even out oddities, while at the same time offering a high level of comfort. One might perhaps think of it as real life airbrushing aimed at maximising the individual's full figure potential, rather than hiding it. Thanks to the development of new fabric and shapes, some individuals find shapewear so comfortable that they use it as a substitute for regular undergarments. Today, there is even a huge selection of shapewear swimsuits, designed to function as high fashion in their own right. An individual looking to make the most of his or her full figure should consider using shapewear as a foundation or backbone to a regular outfit.
General Considerations When Buying Shapewear
Before going out to buy shapewear, it is useful to keep a few general considerations in mind. This can help in narrowing down the search for the right piece of shapewear.
Choosing Between Broad and Targeted Shapewear
Shapewear is available in all shapes and sizes. A good starting point is to ask oneself what areas of the body one wants to correct, and then start looking for shapewear that provides an effective solution to achieve this goal. Some pieces of shapewear are designed to have a broad and general effect, in that they cover a large area of the body, much like a classic bodysuit. This broad approach may be useful for individuals who want to achieve an improved overall figure, with no particular body zone being more problematic than any other. Other individuals may find this approach too blunt, however, and think it more useful to use targeted shapewear, i.e., pieces that were designed to alter the shape of specific areas of the body. Usually, this involves correcting smaller flaws around the waist, bust, hip, and torso areas. Some people find it helpful to have a collection of different shapewear items that can be worn in different combinations to achieve their desired body shape.
Getting the Right Shapewear Measurements
One of the main advantages of modern shapewear is its unobtrusive character. Where the corset was notoriously harsh on the body, shapewear is surprisingly comfortable. The key to maximising the comfort factor is getting the right measurements. A first-time buyer of shapewear should take care to gather proper measurements of targeted body areas instead of relying on the eye. Not only will this guarantee a comfortable fit, but it also avoids the creation of new lumps or bulges that may arise from poorly fitted shapewear, or from unnatural cramming.
Get the Right Shapewear Colours
Shapewear is worn underneath regular clothes, usually with the aim of being invisible. For shapewear not to be seen through the actual outfit, particularly when it comes to lighter colours, it is important that it matches the overall colour nuance of the clothes. When wearing a light dress, for instance, it would be unwise to wear black shapewear, as it is likely to be seen through the garment. For this reason, many people find it useful to have a collection of different colours so that they always have a piece of shapewear that matches the colour of the outfit worn.
Targeted Shapewear Advice
When it comes to the targeted shapewear approach, i.e., achieving an improved shape in a particular area of the body, there is specific advice that one may want to consider before purchasing the right item. Usually, shapewear is used to improve the shape of the torso area, the waist area, and the lower body zone, particularly the thighs.
Torso Shapewear
The upper torso area of the human body is a very defining zone and one which contributes much to the overall impression of an individual's figure. Full-figured women often find it very helpful to replace a regular bra with a shapewear variant to provide support and add firmness to the upper area of the body. One important point to remember is to get a bra that is sufficiently big for the strap not to cut into the shoulders or the back, as this can often result in an unsightly bulge that can be seen through the clothes. Before getting a piece of shapewear for the upper body, therefore, it is important to take proper measurements. An individual should also consider whether to get an underwire bra and perhaps a model that comes with extra air cups for added support.
Waist Shapewear
A common problem among plus-sized individuals is the appearance of a bulge right above the waistline, which tends to draw unwanted attention. In order to eliminate this problem, many people find it useful to wear high-waist shapewear that covers the whole tummy area and keeps the excessive weight from being accentuated. An effective piece of high-waist shapewear both holds the stomach area in and smoothes out any uneven spots. In addition, high-waist shapewear tends to improve the shape of the behind.
Lower Body Shapewear
Cellulites and dimples are another common problem that an individuals with a full figure might encounter. For hiding such imperfections, there are knee-length pantyhose shapewear variants that even out the cavities. One important thing to remember is that, when wearing a shorter dress, even knee-length shapewear might be seen underneath the garment. An option in such cases, when the dress is close to knee-length, is to get mid-thigh shapewear which has much of the same effects as knee-length variants, but are somewhat shorter. When wearing pants, jeans, or leggings, some people prefer knee-length over thigh-length shapewear, however, as the latter can leave a visible indentation through tighter clothes.
In addition to lower body shapewear, there is the option of getting a waistline and lower body combination. This type of shapewear goes all the way from the stomach area down to the thighs or the knees, depending on the model, and has an overall improving effect on the entire mid-section of the body. As mentioned previously, this general approach may be too blunt to some individuals who prefer targeting more specific areas of the body.
Buying Plus-Size Shapewear
Plus-size shapewear items can be bought in most lingerie stores and in the lingerie sections of most fashion stores. Smaller lingerie stores and retailers specialising in plus-size fashion are often willing to take measurements for free and offer advice on what type of shapewear might be appropriate for a particular body shape. In case the individual already knows his or her measurements, it may be just as easy to get the right shapewear in a regular department store. Either way, shapewear can be tried on before the purchase in a regular brick-and-mortar store so that the buyer can make sure it fits nicely and goes well together with the outfit to be worn.
Buying Plus-Size Shapewear on eBay
Another great place to buy plus-size shapewear is the Internet, at one of the many online retail marketplaces. eBay, for instance, is an auction site that has hundreds of listings for plus-size shapewear in all shapes and sizes.
Searching for Plus-Size Shapewear on eBay
An easy way to find plus-size shapewear on eBay is to simply go the the main webpage and type "shapewear" or "plus-size shapewear" into the search bar and clicking the search button. This will take you to a section of the website dedicated wholly to all kinds of shapewear. In order to narrow down the hundreds of available listings according to your preferences, there are several useful ways to filter the search results. You can choose to display shapewear of different colours, sizes, material, and style. For instance, the user looking for a piece of general shapewear that covers large sections of the body would click the filtering box labelled "body shapers". Similarly, the person looking for targeted shapewear could choose to display only "waist clinchers". Other filtering options include buying format, seller's location, and shipping method. Alternatively, you can browse listings for plus-size shapewear by clicking on the relevant categories such as the Fashion section.
Conclusion
Individuals with fuller figures who find it hard to shop for fashion that enhances their full beauty potential have discovered the advantages of using modern shapewear. Fashion items that would otherwise bring out bulges, cellulites, and other unflattering body characteristics can, when worn on top of different kinds of shapewear, look stunning on the wearer. Unlike the dreaded corset, shapewear is designed to provide high comfort, while at the same time offering an effective way of smoothing out and improving the overall shape of the body. As can be seen from this guide, the plus-size individual has many options to choose from when it comes to buying shapewear. While some prefer to use general large-surface shapewear, other individuals want to target particular areas of the body with specific shapewear solutions. Regardless of one's preferences, shapewear is easily accessible and can be found in most lingerie stores and department stores. The Internet and online retailers such as eBay also make the process easier and offer a huge selection of plus-size shapewear in all shapes and sizes.