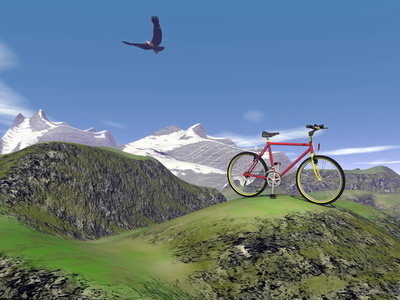 Finding the Right Tyre for A Bike
Owning a bicycle means selecting the best and appropriate tyres for it. While some might think that all tyres are the same, there are tyres that best suit a specific type of bike. For instance, racing bicycles need tyres that would help with acceleration and speed. Mountain bikes, on the other hand, require tyres that can help with stability on uneven terrain.
Road bikes or commuter bikes need tyres that are durable and can withstand tough road conditions. While road bicycles are typically used for paved roads, cyclists also have to consider other factors such as the weather and the quality of the roads.
Cyclists should remember that buying road bike tyres entails taking several things into consideration, namely, the type, size, and the width of the tyre.
Types of Tyres
Some people assume all tyres are identical. However, some tyres are best suited to a particular type of bicycle. Specific types of tyres can even help improve the ride quality of the bike.
Clincher
Clincher tyres are the tyres more commonly used in bicycles. They are also called "wire-on" tyres. Clincher tyres have several parts: an outer tyre, a cross section, and an inner tube. These tyres have a bead that interlocks with the edges of the rim. The inner tube acts as the "filler" of the outer tyre, giving it shape. The inner tyre also holds the bead in place. When it comes to repair, the inner tube can be easily accessed for patching or replacement.
Tubular or Sew-up
Tubular tyres do not use beads to attach themselves to rims. Instead, the edges of the tyre are stitched closed around the inner tube. Tubular tyres are then glued onto special rims, called a "sprint rim" or a "tubular rim." Tubular tyres require more effort in repairs. Tubular tyres need to be detached from the rim and opened before being patched up. They then must be sewn back and then glued again to the rim. Tubular tyres are usually more expensive than clinchers.
Tubeless
Tubeless tyres, as the name implies, do not have inner tubes. Tubeless tyres have the tyres and rims acting as the seal to keep air inside. Tubeless tyres are used more for mountain bikes.
Cyclists may opt to use clincher tyres for their road bikes. Tubular tyres are used more for racing bicycles as they are relatively lighter than clincher tyres. However, they are also more expensive than clincher tyres. For cyclists who just want to use a bike for everyday commuting, clincher tyres are suitable.
Bead
A bead is a stiff cord that forms the inner circumference of the tyre. It is the part of the tyre that holds the rim in place. They are considered the support structure of the tyre. Beads are usually made of steel, making them durable and stiff. However, Kevlar beads are fast becoming popular due to the flexibility they offer. Tyres with Kevlar beads are called "folding tyres" because of their flexibility. Aside from being more flexible than those with steel beads, folding tyres are also lighter.
Road bikes can use either type of bead. However, folding tyres can be advantageous when the normal commuting route involves going uphill. The weight savings brought about by Kevlar beads, which are lighter, could mean less effort exerted by cyclists when they commute.
Casing
Casing refers to the cloth fabric that makes up the body of the tyre. Casing is often made of nylon but silk and cotton are sometimes used. The cloth used for casing is measured by thread count.
The thread count of the casing can affect the weight and the performance of the tyre. It is recommended that the casing should have a high thread count. A high thread count makes tyres more flexible and supple. It can also offer improved control and ride handling.
Tread
The tread is the rubber that meets the ground. While the tread is usually made of rubber, additives like carbon and silicon are often mixed in. The composition of treads affects the overall ride quality. For instance, harder treads are durable but softer treads can grip corners better. More tread in a tyre means durability but it also means added weight. Treads have patterns, depending on the type of bike. Smooth treads are for paved roads while knobby treads are for off-road use.
For road bicycles, knobby treads aren't recommended as most commuting occurs in paved roads. Knobby treads will simply slow down the cyclist. However, some tread is still recommended because tyres need better grip and traction on wet paved roads.
Sub-tread
A sub-tread is a layer of nylon or Kevlar that is often placed beneath the tread. Sub-treads are used as an additional layer of protection against sharp objects that may puncture the tyre. Cyclists may opt for sub-treads if they have experienced a lot of flat tyres from their normal commuting route.
Things to Know about Tyre Sizes
Tyre measurement can be confusing if buyers do not do research beforehand. Tyres can come in different sizes, depending on the measurement system used. A standard unit of measurement was developed by the International Organization for Standardization (ISO) and the European Tyre and Rim Technical Organisation (ETRTO). The new measurement uses both the width of the inflated tire and the diameter of the bead set on the rim, separated by a hyphen and both millimetres. In some cases, some stores or vendors merely use the second figure (the diameter of the bead set) to indicate the size of the tyre.
Tyres for road bicycles usually measure 26 inches or 700C. In ISO measurement, that is usually 559 mm or 622 mm. However, it is still ideal to double-check the tyre's true size.
Tyre Width
The width of the tyre will be limited by the rim size. However, the tyre width will also be determined by the type of riding done by the cyclists. Narrower tyres are preferred by those who value speed. Wider tyres are chosen for a more comfortable ride. Wider tyres are also good for uneven terrain like dirt or gravel. For road bikes, tyres should generally have a wider width than 23 mm (the width often used for racing bike tyres). Road bike tyres widths generally range from 25 - 28 mm.
When to Replace Tyres
aily use, changing weather conditions, and the riding style of a cyclist contribute to the wearing down of tyres. It is important that tyres get checked every few rides to see if they are still in good condition. Tyres should be checked for signs of wear, such as smoothed down tread patterns. Other signs include cracks, tears, and small chunks missing on the tread surface.
Tyres can deteriorate even when not in use. The tread of tyres that have been stored for some time can harden and crack. The casing can also rot and crack. Riders should replace tyres when they see cracks, frayed casing threads, and rotting. Using a worn out tyre may result in a blowout.
Generally, tyres can last from 3,000 to even 10,000 miles. Front tyres often last twice as long as rear ones.
Shopping for Road Tyres Online
Interested cyclists should rely on known commerce sites like eBay when purchasing tyres. Buyers can look for racing bicycle tyres in the site by going to the Sporting Goods section. They can select the Cycling tab and choose the Bicycle Parts section. They can also use the search box for a more customized search. They should use various combinations as sellers list their products differently. Including specific details such as measurements can also help streamline the search.
Buyers should carefully read of all the details posted before purchasing tyres. They should remember that tyre sizes can vary depending on the unit of measurement used, and to double check all the specs to make sure the tyre is correct for their bike and their purpose. If there is any confusion about the details of a particular item, they can ask the seller for additional details. Buyers can place a bid, put down their best offer, or buy an item immediately.
eBay users have the additional bonus of being protected by the Buyer Protection Program. It can help users address any possible shopping issues such as mislabelled items or late deliveries. With eBay, users can also read reviews and ratings about sellers to find out if the seller has a great sales transaction record.
Conclusion
Cyclists should assess their biking routine and style before buying any road tyres, and ask themselves the relevant question about what the primary use of their bike will be These things can help determine if they require tyres with additional features like sub-treads. Given that tyre sizes may come in different measurements, they should double-check their measurements before deciding on a tyre. Lastly, they should rely on reputable sites like eBay to ensure that they get the right tyres from reputable sellers.