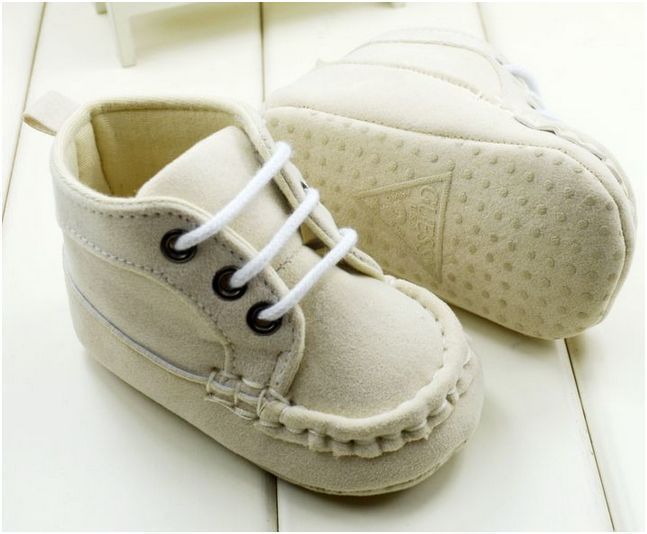 Buying clothing and other necessities can be expensive if you do not have a great place to shop that is also affordable. That is why a lot of parents enjoy baby showers as it helps them to obtain these necessities for the newborn and make things a little less expensive for the parents. But what do you do if you find that you have almost everything that you need with the exception of a few items; such as newborn shoes? Newborn shoes can be located at retail department stores, maternity stores, and online at eBay.
As everyone knows, the age of a person is not necessarily going to always be the determining factor when it comes to choosing their shoe size. It is the same thing for newborns. Height and weight are important factors too. A newborn that is petite is not going to have the same shoe requirements as those of one that tips the scale heavier. Looking for shoes that fit are comfortable as well for the season and the occasion goes a long way in helping you find the right shoes for the newborn. Choosing the right shoes for a newborn is easy when you understand the sizing and options available.
Size Is Important for Newborns
Just like any other item of clothing that is worn on the body, sizes although often close, are going to vary by the manufacturer who created them. If the baby has already arrived, finding the right shoes is much easier. But for parents who have babies that have not arrived yet, well, it can be a guessing game. The best thing to do in this situation is to understand the sizing differences for newborns.
It may be a good idea to start small and only buy one or two pairs and wait to buy additional ones for when after the baby arrives. This way, if the newborn is too small for the shoes that you have selected, chances are high that they are going to grow into them quickly anyway.
If a baby that is large or has chubby feet cannot use the shoes you have purchased, donate them or give them to someone else. That way you can still feel good about how your money was spent and not lose a large investment. The table below helps to give you an idea of what size shoe to buy for your child at the newborn stage and beyond.
| | | |
| --- | --- | --- |
| Height (cm) | Weight (kg) | Shoe Size |
| up to 46 | up to 3 | preemie or newborn |
| 46 - 58 | 3 - 5 | 0 to 3 months |
| 58 - 64 | 5 - 7 | 3 - 6 months |
| 64 - 68 | 7 - 8 | 9 - 12 months |
It is important to make sure that the feet of the infant are measured on a regular basis as babies grow quite quickly and can outgrow their shoes rather fast. Measuring your infant's feet each month can help alleviate any discomfort from shoes that have grown too small.
Newborn Shoe Options
The features of newborn shoes often vary depending on what type of shoe you choose to purchase. It is important that if the shoes that are placed on the child remain in place for a long period of time, they should be breathable, comfortable, and at times fit seasonal conditions if the child is to remain outdoors for long periods as well.
Booties
Newborn babies do not require shoes for the same purposes as older babies who are walking already. Although the newborn may need to have shoes to protect their feet from temperature changes from time to time, shoes placed on an infant at this stage is mainly done so for appearances sake only. Booties are the perfect choice because they are both lightweight and breathable.
Slippers
As far as the comfort of the newborn goes, there is almost nothing as comfortable beside booties or being barefoot than having a pair of slippers on. Slippers for newborns are usually soft and light and help to keep the baby's feet warm. They also come in a variety of styles and colours as well. Slippers that are fashioned to resemble animals are a popular choice, although there are also many other slipper styles and patterns that are popular for both boys and girls alike.
Sandals
One of the best rules to remember when deciding on what type of shoes to purchase for the newborn to wear, or other articles of clothing for that matter, they basically have the same needs as you. What this means is that it is exceptionally hot outside and you would feel comfortable in sandals, do not place boots on your child, no matter how cute they may look unless the child wears them for a short time.
Because heat escapes from the head and the feet, keeping your baby's feet in shoes that are too warm for the season makes them fussy and uncomfortable. Make sure that the newborn's skin is protected from the harsh rays of the sun with a pair of thin breathable socks or use plenty of sunscreen and do not let them stay exposed for long periods of time to the sun's UV rays.
Winter Boots
Winter boots for newborns are ideal when the weather outside is cold enough to justify their use. Just like other shoe choices, if you are comfortable in winter boots, your infant could probably use a pair as well. Even though the child is not walking through snow, insulated snow boots for newborns can help protect their tiny feet from extreme temperatures should they need to be transported at this time.
Activewear
Activewear shoes for newborns are fun because they come in so many styles and have a lot of fun features as well. There are tennis shoes and sneakers that come equipped with flashing lights, that are sports-themed, and that like other types of shoes for newborns, have a wide variety of colours and patterns. These types of shoes may come with Velcro or laces. Always make sure that any fasteners are not too tight that they restrict the circulation or cut into the skin.
Newborn Shoes for Special Occasions
One of the first things that need to be recognised when buying shoes for a newborn is that they should be comfortable for the child. Although you might be tempted to outfit them with a really adorable pair, if they are too tight on the newborn's feet, they let you know it and their shoes end up having to be removed anyway.
Make sure when placing any shoes on a newborn that the shoes do not have ties or straps that bind their feet too tightly and cut off the circulation. Since many special occasion shoes for infants come in harder materials and styles that closely resemble that of adults, make sure that they do not cut into your child's skin. Check the feet of your newborn periodically for swelling or discolouration when the infant is wearing this type of shoe because even the movement from them kicking their feet can make heavier shoes uncomfortable and binding.
Conclusion
Buying shoes for your newborn baby does not have to be a daunting experience. There are some things that a parent should be aware of when buying shoes for an infant, such as the fact that newborns shoe sizes cannot always be packaged under one neat label. Height and weight are important factors when choosing shoes for your newborn.
It is equally as important to make sure not to buy shoes on looks alone, but to ensure that the shoes are comfortable as well. This also entails being aware of shoe features that might bind and make the child uncomfortable. Purchasing shoes that can be worn to keep your newborn stay at a pleasant temperature is also a necessary consideration when choosing shoes to outfit your baby with. There are so many newborn shoe options available that you are sure to find just the right pair or pairs for your newborn on eBay.