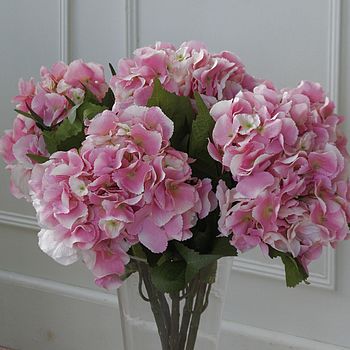 People purchase flowers for a variety of reasons, including: birthday celebrations, holidays, wedding celebrations, anniversaries, funerals, decorations, and sometimes the best reason of all: just because. Flowers are used to brighten up any area, such as a front yard, a hospital room, or an office. One of the biggest complaints people have after purchasing flowers is that the flowers die and the money has been spent. An easy solution to dealing with flowers dying is purchasing silk flowers. Silk flowers are crafted from silk materials, which make the flower and entire plant appear more lifelike.
Quality silk flowers are created with exquisite attention to detail, making them difficult to tell the difference from real flowers. Lesser-quality silk flowers may give their secret away by displaying visible seams with close inspection. Silk flowers can be purchased at home goods shops, craft shops, and an online website such as eBay. There are many factors to consider when purchasing silk flowers including: the pros and cons of silk and fresh flowers, the variety of colours, and the types of flowers.
Silk vs. Fresh Flowers
A buyer must decide between silk and fresh flowers. Two factors to evaluate when deciding between silk and fresh flowers include personal preference and budget. When fresh flowers are out of season, the price dramatically increases. However, silk flowers are always in season. In addition to always being in season, silk flowers do not wilt, which is beneficial for flowers that are in the heat the majority of the time. Also, silk flowers hold shape better than fresh flowers, preventing them from the delicate blooms falling apart or sagging. The light scent of fresh flowers can sway a buyer to purchase fresh flowers. Although, silk flowers can be scented to smell like real fresh flowers. The final benefit of purchasing silk flowers is that the flowers last a lifetime.
Variety of Colours
Silk flower come in a variety of colours including: aqua, beige, black, blue, pink, brown, gold, green, and grey, among many others. The silk flowers can be dyed to match an exact colour for which a buyer is looking. Another benefit of silk flowers is that the colour hardly ever fades. It is recommended to select silk flower colours that appear similar to how flowers grow in nature. For example, lilies appear beige and white in nature, therefore, it is recommended to purchase silk lilies in a white-beige colour. If the silk flowers are being purchased to stand out and make a statement, bright colours are recommended. Selecting the right colour also helps to provide different textures to create a realistic flower.
Type of Flower
Roses, lilies, peonies, orchids, irises, and foxgloves are just a few examples of the different types of silk flowers that are available. The different types of silk flowers are endless. Whatever the buyers favourite flower may be, it can be made into a silk flower. Silk flowers vary based on blooming and foliage forms. Silk flowers can be purchased by single stems, sprays, bundles, cuttings, bushes, floral picks, and branches. Each flower can be purchased in any type, such as single stem or bunches.
| Type | Length (cm) | Bloom | Stem |
| --- | --- | --- | --- |
| Single Stem | Around 30-105 | Typically 1 | Single |
| Sprays | Varies | Multiple | Single |
| Bundles | Varies | Multiple | Multiple |
| Cuttings | Around 30-45 | Varies | Single |
| Bushes | Varies | Multiple | Single |
| Floral picks | Varies | Varies | Varies |
| Branches | Up to 180 | 0 or 1 | Single |
The type of silk flower that is purchased is ultimately up to a buyer's personal preference. Some types are more or less expensive, so budget can play a big role in the type of silk flowers being purchased. Single-stem flowers are typically the most expensive because they look the most realistic.
Single Stems
Single stems are the most realistic and lifelike silk flowers in comparison to fresh flowers. The intricate details and genuine fresh flower look causes single-stem silk flowers to typically be the most expensive. Single stems range from 12- to 42-inches long and have one large bloom. Some single stems have some leaves and may have an extra bud. Ideal single-stem silk flowers include: gladioli, foxgloves, and irises.
Sprays
Sprays are the same as single stems when it comes to stems, in the sense that there is only one. Although, sprays, on the other hand, have several blooms and leaves. Sprays provide a buyer more value for his or her money because they provide more versatility. After the sprays have been purchased, the side blooms can be snipped off and repositioned, however, the buyer would like to use the additional blooms.
Bundles
A bunch of single-stem silk flowers put together is referred to as a bundle. Typically, bundles are cut so the stems are the same length and tied with a decorative ribbon. An example of silk flower bundles is a bouquet. Bundles can consist of the same flower in the same colour, different flowers in different colours, or the same flower in different colours. Silk flowers do not have to include blooms in order to be considered bundles. Bundles are made up of leaves and tied with a ribbon or matching bow.
Cuttings
The main difference between cuttings and single stems or sprays is the flower length. Typically, cuttings range from anywhere between 12 and 18 inches. The silk flowers are pre-cut with a predetermined length. A balanced arrangement is created by buying a variety of cuttings with different lengths.
Bushes
Bushes are comparable to the bundle type. The main difference between bundles and bushes is that the individual stems of bushes are joined at the base. When purchasing bushes, the individual blooms can be separated, but it is more difficult to cut through the stem. Bushes are an economical option and appear very realistic when wrapped with a beautiful bow, creating a gorgeous handheld bouquet.
Floral Picks
Floral picks are used to spruce up floral arrangements and are the smallest of silk flower options. Floral picks do not necessarily need to be made up of flowers. For example, floral picks can be feathers, jewels, ribbons, or seasonal nuts or berries. Floral picks are used to help customise the floral arrangements for a special event or holiday.
Branches
Branches are ideal for large floor arrangements. Branches can be as tall as 6 feet. Examples of flowering silk branches include: forsythia, pussy willow, and crabapple. Branches can be combined with the other types of silk flowers to create a beautiful floral arrangement.
How to Buy Silk Flowers on eBay
After a buyer decides to buy silk flowers and understands how they are sold, it is time to start shopping. eBay provides plenty of options when it comes to purchasing specific types of silk flowers. The easiest way to search for silk flowers on eBay is by taking advantage of the keyword search. Luckily, there is a search box located on the top of every page on eBay. In this space, a buyer can type in precise keywords, such as "silk flowers". After clicking search, a wide assortment of options appears in the search results. If a buyer would like to browse through a smaller product listing, he or she simply needs to enter more specific keywords, such as "silk flower bunches", and browse a much more targeted list. eBay users can also narrow down their search results by selecting a colour or type of particular flower for which they are looking.
Seller feedback allows a buyer to determine the authenticity of a seller. Feedback ratings from buyers within the last 12 months can be found on a seller's eBay history. Feedback is beneficial for a buyer because it provides a buyer with a seller's past interactions, and allows a buyer to make an informed decision before purchasing. The feedback is beneficial for a seller because it allows a seller to improve his service and attract more buyers to his page through positive feedback.
Conclusion
Purchasing silk flowers can be difficult at first, but with the right research and knowledge, it is easy. First, a buyer must understand the difference between fresh flowers and silk flowers. Once a buyer has made the decision to purchase silk flowers, he or she needs to understand the different types. Different types of silk flowers include: single stem, sprays, bundles, cuttings, bushes, floral picks, and branches. Each type varies by the number of blooms and stems. The types also vary by price and how realistic the silk flowers appear. The single-stem silk flower is the most expensive and typically has a higher price associated with it than some of the other types. Bushes, on the other hand, are a more economical option and have individual stems that are joined at the base. The connected stems can be disguised by wrapping a beautiful bow or ribbon around the stems. It is recommended to select real flowers, and then work from there to find a similar silk flower. Purchasing silk flowers has many advantages over buying real flowers including: price, season, and life. It can also make the perfect addition to your home, or a lovely gift for mum on her birthday or Mother's Day. Luckily, eBay provides a wide variety of silk flowers in order to accommodate every buyer's needs.