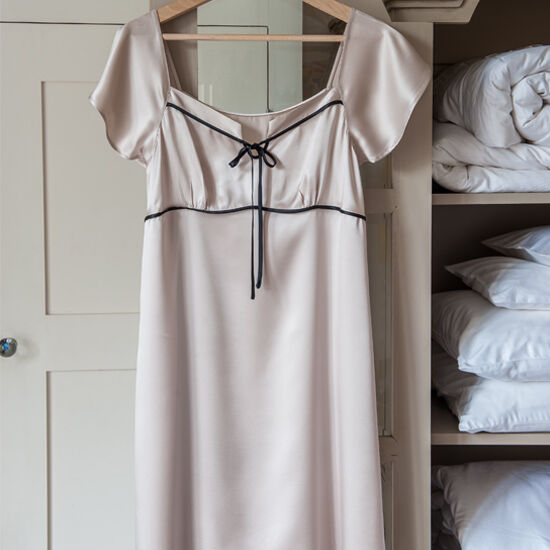 When it comes to slipping into night clothes that feels wonderful and looks stunning, there is no comparison to silk nightwear. One of the softest fabrics available, silk, has a sheer, sleek feel that is as light as air against the skin. Whether you are looking for a pair of silk pyjamas or a piece of silk lingerie, either style is going to feel exceptional against your skin. You should always try to buy a piece of nightwear that you feel comfortable in not only wearing, but in purchasing. Certain styles of nightwear look better on some body types than others, so it is important to match your style accordingly. Therefore, for lingerie and pyjamas that feel comfortable, and look amazing, one should consider their body type, style, and fit of the clothing. Simply keeping these basic suggestions in mind, can help you the next time you are shopping for silk nightwear at a local store, or through an online website like eBay.
Silk Pyjamas
When it comes to nightwear, tradition dictates that there is either the seductive choice or the conservative choice. Pyjamas are the conservative choice, but that doesn't mean they cannot be attractive in their own right. After all, not every woman wants to sleep in a babydoll nightgown or stuff herself into a bustier. Silk pyjamas come with separate tops and bottoms. Pyjama tops come in either short or long sleeves, while bottoms either come as pants or shorts. Long silk nightgowns are also considered pyjamas and they often come in two pieces. The gown itself, is sleeveless and can hang on to the hips, knees, or calves. A silk robe with long sleeves and a belt, covers up the gown underneath.
Selecting a Silk Pyjama Style
There are several issues to watch out for when choosing a pair of silk pyjamas. First, if you are a woman with a small bottom, like an "apple" body type, choose a style with a high waist. This makes your hips look fuller. For women with larger bottoms, such as the "pear" body type, the opposite is true. Pick pyjamas with a lower waist that minimises your hips. Selecting a darker colour also keeps you looking slender, so do not be afraid to choose a dark colour for bottoms and a light colour for tops. For nightgowns, anyone with a full bottom looks best in a gown that has an A-line silhouette.
Silk Lingerie
Lingerie is the revealing alternative to pyjamas. Wear silk lingerie when you have a fun night planned and it can make all the difference in the world. If you are new to the wonderful world of lingerie it can seem quite intimidating at first. Don't fret; essentially lingerie is just a combination of different pieces that include a bra, panty, shapewear, and slip. There are many different styles out there, and some will look better than others on your body type. Other pieces will feel more comfortable because of how they are designed. Choose lingerie that looks great and feels good for the best results.
Silk Bras
Silk bras use silk fabric and an underwire cup for support. There are several different styles of bras such as full coverage or demi. A full coverage bra is bigger and provides more support than a demi bra. Anyone with a large chest, that means C cup or greater, will appreciate the extra power of a full coverage bra. Demi bras cover less, and therefore have less support. Smaller busted women prefer the demi bra for this particular reason.
Silk Panties
Thongs, boyshorts, bikinis and briefs are just some of the many styles of panties available. High cut silk briefs are the most conservative choice. These undergarments have a waistband that falls just under the navel and fabric that completely covers the backside. Silk bikini panties have a low waist with full coverage, though the string bikini leaves thighs almost completely bare. Silk boyshorts look like tight boxers. They have a low waist and completely cover the backside and thighs. Finally, the silk thong can either have a high or low waist, depending on the style. However, what sets the thong apart is the thin piece of fabric used in the back, exposing a good bit of your backside.
Silk Shapewear
Shapewear is worn to highlight your curves. Traditional lingerie options include the silk bustier and the silk corset. Both of these garments include silk, reinforced with boned panels that can be tightened to restrict the waist and accent the curves of the bust and hips. Keep in mind that a modern boned corset or bustier isn't actually made of bone; instead its likely reinforced with steel if its high quality, or plastic and nylon if its low quality. While these two garments are similar, the corset usually covers the waist and upper hips, but not the bust. The bustier covers the bust and waist, but not the hips.
Silk slips
Slips are usually worn over the pieces of lingerie underneath, such as a bra, corset, and panty. When it comes to silk slips used for lingerie, the slip only extends down to the mid-thigh. There are different styles and cuts. Some slips are almost see-through, while others are slightly heavier. A babydoll slip usually has a high empire waist that emphasises the bust, but the rest of the slip is very billowy. A teddy slip, on the other hand, is considerably tighter on the body and hugs all your curves.
Choosing the Right Silk Lingerie for Your Body
Lingerie can be truly flattering if it works with your body, not against it. Thin women, or those with straight Banana shapes, should select light and airy pieces that look delicate rather than heavy. "Apples" who have more up top than they do on the bottom, should pick a full coverage bra and match it with a high waist panty. "Pears" who have bigger bottoms, should probably stay away from panties like the boyshort, since all the fabric is only going to make the backside look bigger. A type of thong called the Brazilian, or the Cheeky, provides more coverage in the back than a normal thong while leaving enough skin bare to make your backside incredibly attractive. Hourglass figures can accent their shape with a bustier or corset.
Sizing Silk Nightwear
Silk nightwear is sometimes sold in dress sizes. In other stores, you will find the sizes grouped together as small, medium or large. When buying bras, always purchase your exact bra size. If you are unsure of your bra size, have it professionally measured at a lingerie store to ensure the most accurate fit. For all other pieces of silk lingerie, you can choose to try the item on in the store. However, online shoppers do not always have this luxury. Therefore, you will need to measure your hips, waist and chest by consulting a size chart. The following chart lists average measurements.
| | | | | |
| --- | --- | --- | --- | --- |
| Size | Small | Medium | Large | X- Large |
| Bust (cm) | 87.5-90 | 92.5-95 | 99-103 | 108 |
| Waist (cm) | 66-68.5 | 71-73.5 | 77.5-81 | 86.5 |
| Hips (cm) | 92.5-95 | 98-100 | 104-108 | 113 |
Keep in mind that these are only average sizing suggestions. Some retailers may have smaller or larger sizes. Consult a manufacturer's size chart on their webpage if you are not sure.
Buying Silk Nightwear on eBay
Women love shopping for their intimate nightwear items on eBay instead of visiting a local lingerie store. For one thing, online shopping is more private so you do not have to feel embarrassed by buying that racy number. Buying online is also a more convenient option since you do not have to get into the car and drive to the store. Finally, the prices found on a website like eBay simply cannot be beat at local retail stores. Not only does eBay have a larger selection of the same items found in the store, many sellers also offer nightwear at deeply discounted rates. Smart shoppers know that a trip to eBay truly saves them both time and money.
Finding Silk Nightwear on eBay
Nightwear is a very large category, so customers should use the search engine as much as possible when looking for these items. eBay's search engine allows buyers to add and remove terms during their search. For example, if you wanted to browse for a pair of black silk pyjamas, enter "women's black silk pyjamas" into the search engine. This produces results that match all of your search terms. If you want to look for more colours besides black, then simply leave the term out and enter "women silk pyjamas". You can also narrow down the search by including manufacturers like Victoria's Secret and La Perla into the terms. Remember, the more terms that are used, the narrower the results will be. If you find there are no results, take out a few terms and try searching again.
Conclusion
Silk nightwear is a true luxury for many women. Just the feel of silk alone, speaks to how expensive and desired this fabric is all over the world. When you buy silk nightwear you should always consider your body type, style, and fit in order to find the best pieces. Always choose what you feel comfortable with, so exploring your options is important. Some women love the feel of silk pyjamas against their skin, while others like to dress in flirty pieces of silk lingerie accented with lace and mesh. Whatever your choice, as long as you pick a style that feels comfortable and fits your body type, you can rest assured that you have made an excellent selection. Shopping on eBay allows women to escape the hassle of the lingerie store and conduct their business in private. It is easy for anyone to find the perfect piece of silk nightwear on eBay for an exceptional deal.