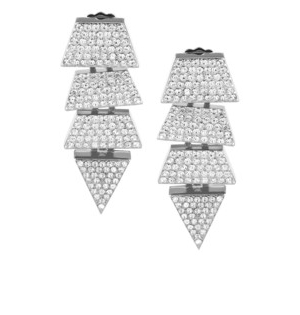 Silver plated earrings are very popular. This is thanks to their combination of good looks and affordability. By plating earrings made from base metals or sterling silver with a thin coating of silver, it is possible to give earrings an expensive look, without the earrings being expensive in reality.
There are various types of silver plated earrings. Whether buying earrings for yourself or a loved one, it is important to consider one's individual style and what type of earrings would complement that style. The buyer also needs to be able to distinguish silver plated earrings from sterling silver and pure silver earrings. There is also the matter of metal sensitivities to consider. If the intended wearer is sensitive to nickel, the buyer should consider earrings made from another metal like platinum, or sterling silver or pure silver.
Silver plated earrings are readily available from high street jewellers and department stores that have departments for costume jewellery. However, like many pieces of jewellery, the high street may not be the best place to find the best deals. Many consumers find they can get better deals shopping for silver plated earrings online. eBay offers thousands of current listings for silver plated earrings, at better prices than can be found on the high street.
What Is Silver Plating?
Silver plating is a well established technique whereby a thin coating of silver is applied to a base metal like nickel. The result that the item plated looks as though it is made of silver.
The most common method of silver plating any object is called 'electroplating'. This is process is often referred to as 'EPNS', which stands for 'electro-plated nickel silver'. As its name suggests, electroplating involves using an electric current to deposit a thin layer of silver over a piece of jewellery. Normally the jewellery is made from an alloy containing nickel, as nickel makes for a good surface for silver to bind to.
Types of Silver Plated Earrings
Silver plated earrings are grouped under 'costume jewellery' as they not crafted using any of the fine metals, like gold. However, silver plated earrings can be stylish and attractive, whilst remaining affordable. There are the popular styles such as drop earrings, hoops, and studs, while some designs for earrings are quite whimsical. There are earrings with tribal or ethnic motifs, such as earrings in the shapes of Tibetan prayer rattles, or earrings with swirling circles like Catherine wheels in motion. Because silver plated jewellery is so affordable, the buyer is not just limited to a handful of designs.
Popular Types of Earrings
A popular style is the drop earring. These small earrings are characterised by small 'droplets' of metal suspended below the earlobe. Hoops are half-circular metal tubes that also hang down below the earlobe. The Shamballa-style is marked by multi-faceted, crystal globes. Studs earrings are not just popular with women, but with men, too. Chandelier earrings consist of long dangling earrings that hang much like the ornate light fittings they are named for. Many of the chandelier earrings can be quite flamboyant, flaunting diamante or other crystals in extravagant displays of colour and brilliance.
Silver Plated Earrings with Ethnic and Tribal Motifs
These earrings tend to come with semi-precious stones, or imitations made from coloured glass. They also feature gothic motifs such as skulls or pentagrams. Crucifix designs are eternally popular as are pagan symbols, such as the half moon, or a moon with dangling stars. Exotic designs reminiscent of Tibetan censers or chimes are also popular.
Silver Plated Earrings for Men
Some earrings are unisex, but there are also designs which cater specifically to men. Generally, men's earrings have simpler designs. They have more angular lines and are less flowing. Earring designs for men may include earrings shaped as barbells that sit against the earlobe, and crystal or diamante studs. Other designs include pirate skull earrings, biker earrings with dragon claws as clasps, dangling crowns, death wings attached to tiny skulls, fleur-de-lys, and simple ball studs, which are just small metal globes.
How to Choose Silver Plated Earrings
If the earrings are intended to be a gift, the choice of silver plated earrings comes down to how well the buyer knows the intended recipient. The range of silver plated earrings is so varied that it is possible to find a match that complements the wearer's sense of style and is in keeping with the wearer's interests. As earrings are a very personal type of accessory, it recommended that if the buyer does not know the wearer very well that they steer clear of large, flamboyant chandelier earrings or earrings with religious motifs. The buyer can never go wrong with small and elegant hoop earrings, or a simple, classic stud earring.
When shopping for buying silver plated earrings, it is important that the buyer be able to tell the difference between the different types of silver. The price of the earrings serves as a guide, but is is advisable that the buyer familiarise himself with the terminology used to describe silver earrings.
Silver is an expensive metal, and traditionally it is often alloyed with cheaper metals when used in crafting jewellery. Alloying can also improve its hardness. The following shows the different types of silver commonly found in jewellery.
| Types of Silver | Description |
| --- | --- |
| Pure Silver | Also called fine silver; it is 99.9 percent pure silver; bears the hallmark: '999' |
| Britannia Silver | Contains 95.8 percent silver, with the the rest being copper; bears a hallmark with '958' and a lion. |
| Sterling Silver | Alloy of silver and copper: 92.5 percent silver and 7.5 percent copper; bears hallmark '925' |
| Silver Plated | A thin coating of silver on the surface of an alloy, containing nickel; sometimes stamped with 'EPNS'. |
As stated earlier, silver plated jewellery, including silver plated earrings, contain nickel. When shopping for earrings it is important to know whether or not the intended wearer is sensitive or allergic to nickel. Only about 10 to 12 percent of women and 6 percent of men have a nickel allergy, which means that for most people, wearing silver plated earrings should not pose a problem. For those who are allergic to nickel, it is important not to wear any jewellery which contains nickel. This can actually extend beyond silver plated jewellery, as even gold is sometimes alloyed with nickel.
Nickel Allergy
The nickel allergy is a contact allergy that can cause skin irritations such as contact dermatitis, which is an acute condition, and eczema, which is a chronic skin condition. Often the symptoms require treatment by doctor. The treatment includes cortisone creams and antihistamines. If a person suffers chronic eczema due to contact with nickel, the sufferer needs to avoid all items that may contain nickel to avoid allergic reactions.
Finding Silver Plated Earrings on eBay
eBay has a very easy to use search platform. Start on the homepage, and enter a generic search query, like 'silver plated earrings' into the search bar. The more specific the search query, the more targeted the search, however, if the search phrase is too specific, the local search engine may return no results. This is why it is better to browse the listings by using the various search filters available on the results page.
By filtering the search results, you can quickly narrow down listings to only those that may interest you. You can sort the listings by the style of the earrings, the main stone, if any, and the fastening. You can also specify whether or not you want to see listing for new or used silver plated earrings.
Once you have drilled it down to a few listings that interest you, make sure to read the descriptions carefully and study the photos posted by the sellers. If you have any questions for any one of the sellers, you can contact a seller by clicking on their username in the listing, going onto their profile page, and then clicking on the contact link.
Conclusion
Silver plating is a method of coating ordinary metal with a thin layer of silver. This process gives the appearance of real silver, but the jewellery sells at a fraction of the cost of a pure silver or sterling silver piece of jewellery. Thanks to the affordability of silver plated earrings, they have become very popular, with the result being that there is a plethora of styles to choose from. Classic styles such as the stud earring are popular not just with girls and women, but men too. Because of the range of styles available and the keen prices, silver plated earrings allow women to wear earrings everyday and to every occasion.
High street stores frequently stock silver plated earrings, but the sheer range now available makes it difficult to find stores that stock all varieties. For this reason, it is better to shop online, where Internet markets such as eBay carry a wide range of listings for silver plated earrings. Searching the eBay site is very simple, and prices are often better on eBay than they are in the high street. This makes eBay a destination for those shoppers looking for silver plated earrings.