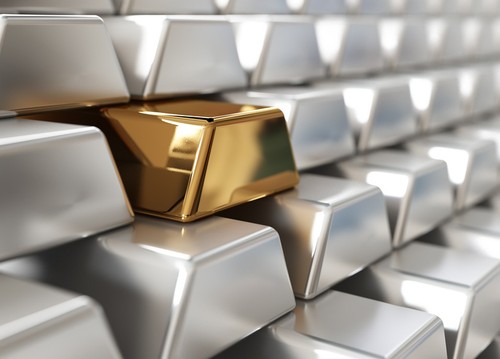 Savvy investors have for many years been ploughing sums of money into gold and silver bullion in what is seen by most as a safe investment. The price of gold and silver, although volatile at times, remains steady for the most part and a well-balanced investment portfolio always contains an amount of valuable metals.
The following guide explains what gold and silver bullion are, the differences between the two, and how to buy them safely and securely using eBay.
What is Bullion?
Bullion is an umbrella term that is used to describe various valuable metals being stored or sold in bulk so they can easily be traded as a commodity.
It's derived from the old French word bouillon that refers to boiling and comes from the fact that melting houses or mints were once referred to as this.
Gold and Silver in this form is valued by its weight and comes in bar or coin form.
It has to be of a certain quality to qualify as bullion and must adhere to strict standards in terms of purity, weight and condition.
Gold Bullion Vs Silver Bullion
Gold and Silver are the two most common precious metals that can be bought and invested into. In terms of value, they couldn't be further apart though.
There are different reasons for investing in each and the characteristics of Gold and Silver are wide apart.
The table below outlines the main characteristics of each metal:
Metal

Characteristics

Gold

· Very valuable in small denominations.

· Means it's regularly described as the best physical concentration of wealth available.

· Retains its value very well over time and there will always be a high value attached to it.

· Gold isn't affected by inflation. This means that when a currency drops Gold won't lose any of its value and it makes it a safe haven for currency.

· Hard to damage and can be held in the hand without the risk of an adverse reaction – except for high carat gold that is susceptible to dents and scratches.

Silver

· Larger denominations must be bought to harbour any huge values of money.

· Is more affordable than other precious metals.

· Is said by some to have "unlimited potential"

· Widely used in manufacturing industries and new technology. As such, it's always valuable.

· More of it so it will be easier to sell on the general market.

· Supply of it has decreased in recent years and again made it more valuable.

· Must be handled carefully as it sustains damage easily.
Purity of the Bullion
When the buyer has chosen between Gold and Silver Bullion, the next issue is the purity of the item being bought.
Purity is given as a percentage and when it comes to gold, it cannot be described as bullion unless it's at least 99.5% pure. Some countries do produce coins in lower purity percentage numbers but there is always a set level of gold present so they can be used as investment vehicles.
With silver, the purity varies a lot more, although it rarely drops below 90%.
Each type of precious metal comes in a number of different purities, and the two lists below explain the purities available for each of the two:
Gold
99.999% gold – The purest type of gold coin available is the special issue Canadian Gold Maple Leaf.
99.99% gold – The popular issue Canadian Gold Maple Leaf coin has this purity along with US, Australian and Austrian variations
Below 99.99% - A number of countries offer gold coins in denominations below the 99.5% level although as we mentioned earlier they all contain an agreed amount of gold.
Silver
PURE (.999 or 99.9% silver) – Most expensive and carries the largest re-sale value
BRITANNIA (.975 OR 97.5% silver)
STERLING (.925 OR 92.5% silver)
Bullion Weight
Both gold and silver bullion are weighed using an age-old system that has been around for centuries – troy ounces (ozt).
Silver and gold bullion coins come in a variety of different weights with denominations ranging from as small as 0.2 ozt all the way up 1 kg.
When searching for gold and silver bullion coins, be careful to make sure the price being quoted corresponds with the purity, weight and condition of the gold on offer.
Bullion Condition
Valuable metals are very susceptible to wear and tear over time. This is especially the case when it comes to silver, which can sustain considerable damage if it isn't treated with care.
Gold, meanwhile, is a lot less likely to spoil if touched with a person's bare hands with only finest grade vulnerable to damage.
It's worth noting that when buying used coins from eBay some will have been used in circulation as currency. This will add to the wear and tear that is seen and buyers must check whether coins have been in circulation before purchasing.
The condition of the bullion will be one of the deciding factors of the potential price that buyers will spend on the purchase of bullion. So, before purchasing a bullion, make sure to read the description and view all images for signs of damage.
Market Fluctuations
Before committing to a purchase of either gold or silver bullion, the buyer must check the current state of the market for each precious metal.
Fluctuations in the price of each, especially in this time of economic uncertainty, can occur very often and the prices being offered on eBay won't be adjusted immediately.
Prices are available on markets around the world and continuing to check them will mean that buyers can get the best value for money when buying from eBay.
This is another point where buyers must watch out for generous mark-ups that are put onto the price when it's being sold in small quantities.
How to Buy Silver and Gold Bullion on eBay
Silver and Gold Bullion are two valuable metals that are easy to source using eBay and extremely affordable at the same time. The sellers that are found on the auction site are both knowledgeable about the subject and always happy to help buyers that are in need of a hand.
To search for Silver and Gold Bullion on eBay first go to the Coins category. On the next page scroll down to the section entitled Bullion/ Bars. By clicking on that the buyer can look at all Bullion/ Bars available to buy on eBay. There is also the option to look at the two metals separately by clicking on either Gold Bullion or Silver Bullion.
Narrowing down the search even more is easy and can be done when on the item listings. Using the options on the left hand side of the page lets the buyer search by Type, Origin, Metal, Certification and other options.
Another way to find specific items on eBay is to use the site's extensive search feature. This is done by typing the search terms required into the box at the top of every eBay page.
If at any time you're unsure about item details, Ask the Seller a question to find out more or use the Buying Tips section to help with the process.
Next up either place a Bid, make your Best Offer or choose the Buy it Now button and use PayPal to make sure the transaction is secure and goes through as smoothly as possible.
Safety Considerations When Buying
It's critical when buying any type of valuable metal on eBay to make sure the item is what it seems. Buyers will find Gold and Silver Bullion at extremely affordable prices and making sure everything is legitimate is something to do before anything has been bought.
Ensure that all the information required to buy the bullion is within the product description, and check images closely for wear, tear and damage.
The easiest way to make sure a seller is genuine is to check through their transaction history. Look out for whether any negative feedback has been left on the profile and if no feedback has been left remember to ask more questions than you would usually.
Before placing a bid read through the conditions of sale a number of times and if there's anything that looks untoward then use the Ask the Seller option.
Conclusion
Gold and Silver Bullion bars and coins are becoming increasingly important among investors that are aiming to keep their money safe and are seen as an integral part of any portfolio.
Countries across the world have offered the coins as an investment vehicle for many years and eBay is now awash with them in all purities, weights and conditions.
Before committing to a purchase, there are some pertinent questions to be answered, which are mainly:
Does the price being offered look too good to be true?
Are you buying the item in a recognised purity?
Have you checked the weight of the item?
How old is the bullion being bought?
None of the answers to those questions should limit you at all and the ultimate choice is down to you, the buyer.
Once the all-important decision has been made, remember to utilise PayPal to ensure the transaction goes through smoothly.