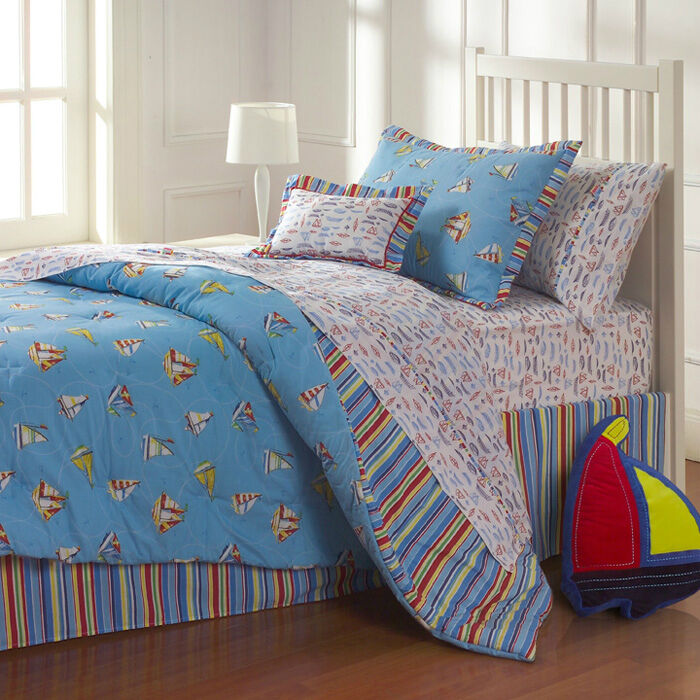 Although buying single size bedding may seem to be relatively easy, if a person has not purchased this type of bedding before, there are plenty of errors that can be made. This is especially true when purchasing a bed size that one is not necessarily familiar owning before, as is common for those who buy single size beds to place in guest rooms. Be equipped with all of the tools necessary as making the correct bedding choices the first time makes the experience much more enjoyable. Single size bedding can be bought at most department stores, retail stores that sell bedding and bedding supplies, as well as on eBay.
There are many factors that need to be considered before purchasing bedding for a single size bed and one of the most important things to understand is the variation in bedding sizes. Not all beds and bedding materials are standard sizes for single beds even though they may be labelled in this manner. Bedding sizes differ between many countries, such as the U.S. and the U.K. Being aware of the bedding sizes and materials they are comprised of as well as the terminology used for bedding is extremely helpful in choosing the right bedding supplies to fit individual needs.
Bedding Overview
There are differences in what individuals in other countries consider bedding to be. While in the U.K., the word "bedding" refers to the entire bed and all of its components including coverings, "bedding" in the U.S. only refers to the coverings alone. For the purposes of this guide, the information included is according to the U.K. definition of the term "bedding".
Bedding ensembles come in many different varieties and are generally packaged according to size of the bed that they conform to. They are used to for various reasons, such as to make a bed appear more attractive, to add warmth, maintain hygienic cleanliness for both the individual using them and the mattress which they cover.
Single Bed Sizes in the UK
Since bed sizes vary in some countries, it is useful to know how measurements in the U.K. differ from ones in the U.S. in case you have coverings to buy that need to be tailored to the measurements of a different region. The table below lists the different single bed sizes available that are made in this region, which are given in imperial dimensions.
| Bed Type | Dimensions (centimetres) | Notable Characteristics |
| --- | --- | --- |
| | 70 x 140 | Usually lower to ground than bed constructed for adult; ideal first beds for young children |
| | 75 x 180 | Appropriate for children who outgrow toddler beds but are still too small for standard single |
| | 90 x 190 | Comfortably fits one up to one adult sleeper |
Any of these bed types are great for small rooms that do not have a lot of space to accommodate larger beds or for guest rooms. However, be aware that if you buy a bed smaller than the standard single, it may be uncomfortable for some guests.
Materials Used in Bedding
There is a vast array of bed coverings available. Coverings for bed are usually comprised of a fitted sheet that is placed over the single mattress, a flat sheet that is used for light covering while sleeping, and a top bedding layer such as a comforter or quilt that is used for both warmth and decorative purposes. Common types of materials used in these pieces are listed below.
Sheets
Sheets usually come in sets that include one fitted sheet, one flat sheet, and a pillowcase for single beds. These items are made from various fabrics, the most common being cotton blends that include polyester or flannel, as well as satin and plain weaves.
Each variant in the sheet fabric has individual qualities that make it unique. Cotton sheets are often soft to the touch and breathable, which allows for body temperature regulation. When flannel is added to the cotton, it also produces a material that provides warmth.
Sheets that have a weave construction such satin, give the fabric a soft, luminous texture, and appearance. This type of sheet feels and looks luxurious, but because the fabric is not as breathable as its cotton counterparts, body temperature is not regulated as well.
Comforters, Quilts, and Bedspreads
Comforters usually comprise the topmost outer layering of the bedding. The inner fillings used in comforters is called "batting" and vary by the manufacturer that produces them. Common batting types used in comforters are made from polyester, cotton, or wool. These materials are generated in a lightweight form that makes comforters ideal for cool temperatures.
Quilts and bedspreads on the other hand are often created from combining yarns made from microfibres, such as wool, cotton, or other fibre blends, although there are other materials used in addition to yarns. Depending on the type and weight of the yarn used, quilts are often ideally suited for use in cold temperatures as they help to hold in body heat. These types of bed coverings are often packaged with sheets and pillowcases but can also additionally be paired with bed skirts, shams, and other decorative bed pillows. Buying items in a complete comforter sets is often a more affordable choice than buying each item individually.
Bed Covering Terminology
Being able to understand the terminology used for items packaged in this way can be helpful in knowing what is being purchased. The chart below lists a few of the common items that can either be purchased separately or in complete bedding group ensemble.
| Name | Purpose |
| --- | --- |
| | Sheet like item used with comforters; covers box spring as comforters do not extend to end of box spring; adds decorative touch |
| | Top covering used to provide warmth and decorative touch; usually extends to or near the floor; bed skirt is not required |
| | Decorative pillows, usually small and rectangular in shape |
| | Used to cover standard size single bedding pillows for decorative effect |
| Fitted sheet | Variety of pocket depths available; elastic sewn into edges to prevent slippage from mattress |
| Flat sheet | Used between fitted sheet and outer covering for light warmth |
| | Used directly on mattress and under a fitted sheet to provide hypoallergenic layer for some individuals; add comfort to mattress; for mattress protection |
| Pillow shams | Decorative covering for pillows; usually contains cording around edges of fabric; common accessory when buying complete bedding sets but not always included |
| Thread count | The number of threads per square inch used in creating the sheets: the higher the thread count the softer and the more expensive the sheet is |
Complete bedding sets differ by brand purchased. Therefore, it is important to read the packaging information to not only make sure that the items desired are included in the set, but to make sure that the size is correct for the single bed as well.
How to Buy Single Size Bedding on eBay
No matter what you may want to purchase in the way of bedding, eBay is the place to find what you need. Because there is a vast array of vendors at your disposal, everything that you may need to purchase for a single bed, including the bed itself, can be found on this website. Before making a final purchase with a vendor, it is always a good idea to read through the seller feedback information. This information gives prospective customers a chance to review the opinions from previous customers that directly relate to the performance of the seller in areas, such as quality of merchandise, how the product purchases arrived to the buyer, and if the seller was prompt in getting them sent out. Although many sellers have feedback posted, new sellers may not have had the opportunity to have acquired feedback. It is always advisable to contact the seller by using the contact information provided and ask any questions necessary before committing to a purchase.
One of the great features about this marketplace is the ability to find what you need at a price that you can afford. All that needs to be done to find great bedding items is to enter the item you are searching for on the eBay homepage. It is easy to find individual items if only one or two bedding accessories are desired, or complete bedding packages can be purchased if desired as well.
Conclusion
There are various options available for anyone who wants to purchase single size bedding. Depending on how many items a person needs or wants for a single bed, there are various choices they can make on how little or how much the consumer can purchase at one time as well. Understanding the variation in bedding sizes for models purchased in the U.K. or the U.S. makes buying new bedding less painstaking because it is much easier to buy the right items the first time rather than taking a stab at guessing and being wrong. And since not all bedding materials for standard size single beds are the same and not all materials and bedding sets are the same, knowing the differences between each can save a lot of time when shopping for particular items. Additionally, being aware of the terminology used for bedding is extremely helpful in choosing the right bedding supplies to fit the needs of the individual.