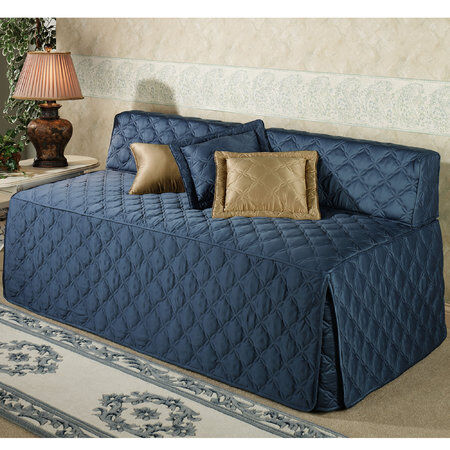 Sofa covers include throws, slipcovers or slips, and sometimes blankets. Sofa covers are designed to either protect the sofa or to cover an older one after it was stained or has become worn out. Many people also purchase a sofa cover to change the look of a sofa after they redecorate the house, usually because the sofa cover is a great deal cheaper to purchase than a new sofa.
Anyone looking for a sofa cover should consider the style of the sofa, what they like, the colours of the room, and their budget. Sofa covers can be made from a range of fabrics, from expensive, such as satin or leather, to very cheap, such as cotton and polyester. Depending on the intended effect of the sofa cover, different patterns, colours, and styles should also be considered. Sofa covers can be purchased in furniture stores, household goods shops, online stores, and eBay. To make an informed decision when purchasing a sofa, one should consider the style and purpose of the sofa cover, but also personal preferences and the decoration of the room.
What is a Sofa Cover?
A sofa cover is any type of cover that is used over a sofa either to protect it or to embellish it. A sofa cover is also known as a slip, a sofa slip, a slipcover, or a sofa thrown. The original sofa cover, or slipcover, is thought to have originated from the plastic or vinyl cover thrown over upholstered furniture in summer months to protect it from sweat and dirt. Artisans usually made either a clear plastic slipcover that would show the sofa beneath, or a cover with custom embroidery to be used as the cover for the sofa. This is the most common type of modern sofa cover available.
Sofa covers, including custom tailored slips, loose throws, handmade knitted covers, and generic factory-made slips, are available in a variety of sizes, styles, fits, and materials. Usually the tailored slips and handmade covers are the most expensive, but both offer a good fit and a secure hold. Common fabrics include linen, jacquard, canvas, buffalo denim, muslin, fleece, leather, imitation leather, and heavy cottons.
Types of Sofa Covers
Popular sofa covers include slips, which are fitted over a sofa, and throws, which are simply thrown over the top to cover the sofa. In the case of the former, some fitting or sizing is usually necessary, while in the case of the latter, the throw can be either left to drape over the sofa, or simply tucked into the sofa cushions. Sofa throws are usually cheap and can be substituted for quilts and large blankets at will, but they are also harder to keep on due to the fact that they can move and even slip down when someone sits on the sofa.
Cover Slips
Slips are characterised by their ability to cover a sofa and fit to it. An expensive sofa slipcover usually looks like it is sewn onto the sofa, through use of ruching, elastic, and seams. Tailor made slipcovers can fit precisely over the sofa with little to no difference between the original sofa and the cover. Because of this, they are usually preferred to cheaper, less fitted options.
Another type of slipcover is one that is made of a highly elastic fabric, meaning that it fits snugly to the sofa, even if it was not tailor made, but might be more prone to moving than a tailor-made slip that fits perfectly. The final type of slip is the cheapest, which is often a simple throw with corners to fit over the top of the sofa, so that the edges can be tucked under the cushions. Sofa throws include blankets, satin or muslin sheets, sofa quilts, and throw rugs made specifically to cover sofas. Depending on the throw used, these can either include small amounts of elastic or simply be tucked into, or draped over, the furniture.
Closure Styles for Sofa Covers
Sofa covers can come with different types of attachments including velcro, ties, zippers, and elastic wraparound bands. Usually zippers are considered to be the highest quality tie, because they allow the slipcover to be zipped up snugly over the furniture without showing through or slipping. Zippers are most frequently seen on tailored sofa slipcovers because they allow for the best fit, but may not necessarily work with an unfitted slipcover.
Coverage
Sofa covers offer a variety of closure and coverage options. The cheapest options cover the entire sofa and usually give the appearance of something having been thrown over the sofa. The most popular cheap sofa cover type uses velcro to pull excess fabric in and tighten it around the sofa for a more natural look. More expensive options can be made to mimic the original upholstering for the sofa, and might be difficult to tell from the original. This type of sofa cover is almost always tailored and usually comes in multiple pieces. These include a back cover, a skirt, and cushion covers that fit over individual cushions. Some variations that are not always called sofa covers include simple sleeves that are placed over the arms of the sofa, and occasionally a thin strip of fabric that lays on the bottom of the sofa, where people sit.
Purchasing a Sofa Cover to Match the Decoration
Sofa covers are frequently purchased for three reasons. The first is to protect the furniture in the same way that 50s and 60s sofas were protected by vinyl or plastic covers. But while these covers protected the furniture, they were neither comfortable, nor attractive in the home. Newer versions of sofa covers made to protect furniture are normally made from durable fabrics and imitation leather, and are not only functional, but also beautiful. The second most common reason to purchase a sofa cover is to change the look and feel of a house, before or after redecorating it. Finally, many people choose to purchase a sofa cover instead of a new sofa, when this gets old, stained, or ripped. No matter the reason that a sofa cover is being used for, it should be chosen to match the decor of a room.
Contrary to popular belief, furniture doesn't have to match anything in the room to look good. In fact, a purple sofa cannot look good with purple walls, and neither could a floral one. The best idea is to either use the sofa as contrast or use it to subtlety tie everything together. For example, if the walls are purple and the ceiling is white, either a purple or a floral sofa cover is a good option. This is because it accentuates the colours already in the room, while not overwhelming anything. Other great options include pairing slipcovers with curtains, with trim, or with any patterns on the walls. For example, red curtains pair excellently with a red sofa; a black leather sofa cover matches with black trim in nearly any colour of room; and a green sofa cover can enhance the look of striped green wallpaper.
Sizing a Sofa Cover
Sofa covers come in a variety of sizes and can also be custom sized for any sofa. In either case, it is necessary to have the measurements of the sofa before purchasing a cover. First, determine the type of sofa, which could include two seaters, three seaters, chaises, armchairs, ottomans, and more. Next, decide which type of sofa cover is needed and take measurements accordingly. Most covers require measurements of the height, length, and width of the sofa. Custom or tailor slipcovers require measurements of the pillows or cushions, the height from the back of the sofa to the cushions, and the length of the sofa skirt.
Buying Sofa Covers on eBay
If you are looking for sofa covers for your home, you should decide what colours or patterns you need, decide on your budget, and then measure your sofa. Write down any necessary measurements before you start your search to save time and hassle when you do find a sofa cover that you like. Depending on your needs, you should either look for tailored sofa covers or, if your sofa is a standard one or in a simple style, search for pre-made sofa covers available on eBay.
Good search terms include 'two seater sofa covers', 'shabby chic sofa covers', 'elastic sofa covers', or 'washable sofa covers'. One of the things to watch for refers to shipping costs; sofas from abroad sellers might not be cost effective and usually take longer to ship than sofas sold by local sellers. Also, some sofas with removable covers are sold as 'sofa covers', which means that you should read the full description before purchasing an item, mainly to ensure that you are getting the cover, and not the sofa. Finally, plastic and vinyl covers that are intended for storage purposes are also sold under the same name, of sofa covers. If you are looking for this type of sofa cover, you can usually find it by specifying 'storage'.
Conclusion
There are many different styles of sofa covers available on the market that you can choose from if you would like to give a new look to your old sofa or if you want to protect a new sofa, among other reasons. The colour, shape, and fabric of a sofa cover can drastically change the appearance of any sofa. Most people believe that custom or tailored sofa covers offer the best look and fit, usually because they can be hard to tell from the original sofa upholstery. Tailoring is an excellent option for anyone who has an unusually sized sofa, such as with wing arms or an extra tall back.
Sofa covers can be found in furniture stores, linen stores, online stores, and on eBay. Depending on the quality and the style desired, sofa covers can be either chosen because they are cheap or because they offer a material and colour that are pleasing to the buyers.