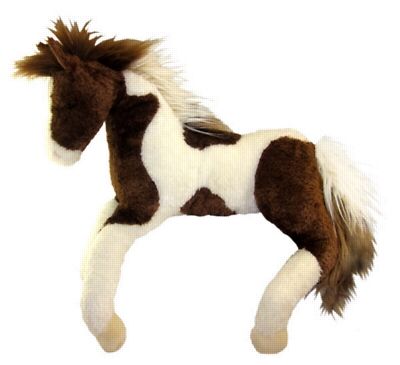 Soft friends for life
Wonderful childhoods are full of wonderful friends. There are fewer things more wondrous than watching children use their imagination to create from a soft toy, a best friend for life. The best soft toys encourage infants to develop key skills whilst also providing a companion who will no doubt feature in many a family photograph.
Finding soft toys, from rare and vintage collectibles to an important new friend for a little one is easy with eBay. This guide will help to begin any buyer's search by offering a couple of points to consider when embarking on you're a search for soft toys on eBay.
Soft Toys to Help Kids Learn
The right soft toys can play a key role in a child's development. With different features, soft toys can help encourage problem-solving and social & language skills. If buying a soft toy for a baby or young child it's useful to consider whether there's a specific type of soft toy that may aid their development at that stage of their growth.
Perhaps they'll be best suited with a loveable, huggable teddy, or alternatively a soft toy designed to encourage interaction, like a set of hand puppets, or a padded soft toy ball with a shaky rattle would be more appropriate.
Research the abilities that are adapting as children grow, and match toys to suit the child's emerging faculties. For instance, around the age of four months infants usually begin to reach for and grab objects. Toys made of a variety of textures, or designed to be grasped and pulled in all sorts of different ways can provide a lot of enjoyment for kids at this stage in their development.
Vintage and Rare Soft Toys for Collectors
Of course, not all soft toys are gnawed at by eager young mouths and dragged through the mud on family walks. Many soft toys are bought and sold as collectable items and well preserved rather than played with. For collectors there is a huge range of rare and vintage soft toys available through eBay.
The key considerations that inform the price of collectibles are the toys':
brand
availability
condition
The fewer the units of the toy that were manufactured, the rarer that toy becomes. Rarer toys from well loved brand can fetch high prices, depending on their condition. The closer to brand-new the toy is, the higher its respective value. Some soft toys come with outer packaging, and many come with cardboard tags. For collectors, ensuring that these items come with the soft toy and are still in mint condition is of crucial importance.
Any rare soft toy should be sold with complete information about the condition it is in. Pictures of the soft toy are commonly included in the item listing to illustrate the toy's general condition.
Safety Considerations When Buying Soft Toys for Children
Our kids are notorious for their ability to dismantle nearly anything as soon as our backs are turned. It is with this firmly in mind that soft toys intended for children should be designed. Within the EU, there are regulations to ensure that toys are well constructed enough to be played with by children. These stipulations were laid down in the Toy Safety Regulations of 1995 and are as follows:
Physical & Mechanical Properties
Must be sufficiently strong to withstand the stresses to which it would normally be subjected;
Be designed & constructed so that any edges, protrusions, cords, fastenings or moveable parts do not inflict injury;
Toys & component parts intended for use by children under 36 months shall be of such dimension to prevent accidental swallowing or inhalation;
Toys & their packaging must not present a strangulation or suffocation risk;
Flammability
Toys should be composed of materials which are not readily flammable and actually inhibit the spread of flames.
Paint and Protective Coatings
Levels of Antimony, Arsenic, Barium, Cadmium, Chromium, Lead, Mercury and Selenium must not exceed specified maximums.
Electrical Properties
Toys must not have a power source exceeding 24 volts and must be adequately insulated and protected to prevent shock or burns.
Hygiene
All toys must meet hygiene and cleanliness requirements to prevent the risk of infection, sickness & contamination.
Radioactivity
Toys must not contain radioactive elements likely to be detrimental to the health of children
The CE Mark
The responsibility of ensuring that soft toys live up to these standards falls to the importer and manufacturer. To show they've judged the toy to meet the EU's above criteria they attach the 'CE' mark to the toy.
The 'CE' mark should be clearly displayed on a label on the toy and its packaging. Most commonly with soft toys it is attached to a small fabric label sewn into the toy. If a toy isn't suited to infants under 36 months this must also be shown alongside the 'CE' mark.
It's important to take these safety considerations in mind before passing a soft toy to an infant to play with, especially if they're to be playing unsupervised. If a buyer has any questions about an item, it's always best to check with the seller before purchasing. This can be done easily with eBay; simply go to the seller's profile and click the "Ask seller a question" button. The final decision as to whether a toy is suitable for a child lies with the parent, carer or guardian.
Safety & Second-Hand
Second-hand and pre-owned soft toys can be more affordable than buying brand new and eBay offers a great selection. If buying second-hand it's useful to check that the toy is still intact enough to be played with by a small child. Look at any small parts that might be detached by an industrious youngster. Look out for eyes, buttons, ribbons noses and ears in particular and check that they're not likely to come loose and pose a choking hazard.
But I Just Cleaned up This Mess
It's inevitable that a soft toy will get a little mucky at some point when being played with by a child. For those who want their soft toys to last longer than a couple of play sessions, it's useful to check that the toy can be easily cleaned.
It's not always the case that both the outer fabric and the inside stuffing are machine washable with detergent, though this is the easiest combination for cleaning. Check the item listing for cleaning information and ask the seller if you're unsure if the soft toy can be easily cleaned.
How to Buy Soft Toys on eBay
Now that you've worked out which soft toys you want, find them quickly on eBay. To start shopping, go to the Toys & Games category. Click the Soft Toys & Stuffed Animals portal.
Categories: The Categories list on the left side of each page will help you narrow down your listings by item type. You'll find links for Disney, Unbranded, Walt Disney, Russ, Gund and Steiff. As you refine your search you'll be able to narrow down your choice by subcategory.
Product Finder: Use the Soft Toys Finder to quickly narrow down item listings by type of Sub-Type, Brand, Theme, Status, Type, Material and Age.
If you can't find exactly what you want, try browsing eBay Stores or tell the eBay Community what you're looking for by creating a post on Want It Now, or save a search on My eBay and eBay will email you when a matching item becomes available.
Buy Soft Toys with Confidence
Make sure that you know exactly what you're buying and understand how eBay and PayPal protect you.
Know the Item
Read the details in the item listing carefully.
Remember to add delivery costs to the final price. If buying a high value item, check that the seller will insure it until it is delivered.
For more information, click the "Ask seller a question" button on the seller's profile or the "Ask a question" link at the bottom of the item listing page.
Always complete your transaction on eBay (with a bid, Buy it Now or Best Offer) otherwise you will not be covered by eBay Buyer Protection.
Never pay for an eBay item using an instant cash wire transfer service like Western Union or MoneyGram. These are not safe ways of paying someone you do not know.
Know the Seller
Research the seller to feel safe and positive about every transaction.
What is the seller's Feedback rating?
How many transactions have they completed?
How many positive responses do they have?
What do buyers say in their Feedback?
Are they positive about the seller?
Most top eBay sellers operate like retail shops and have a returns policy.
Do they offer a money-back guarantee?
What are their terms and conditions?
Buyer Protection
In the very unlikely event that you do not receive your item or it is not as described, eBay Buyer Protection covers your purchase price plus original delivery cost.