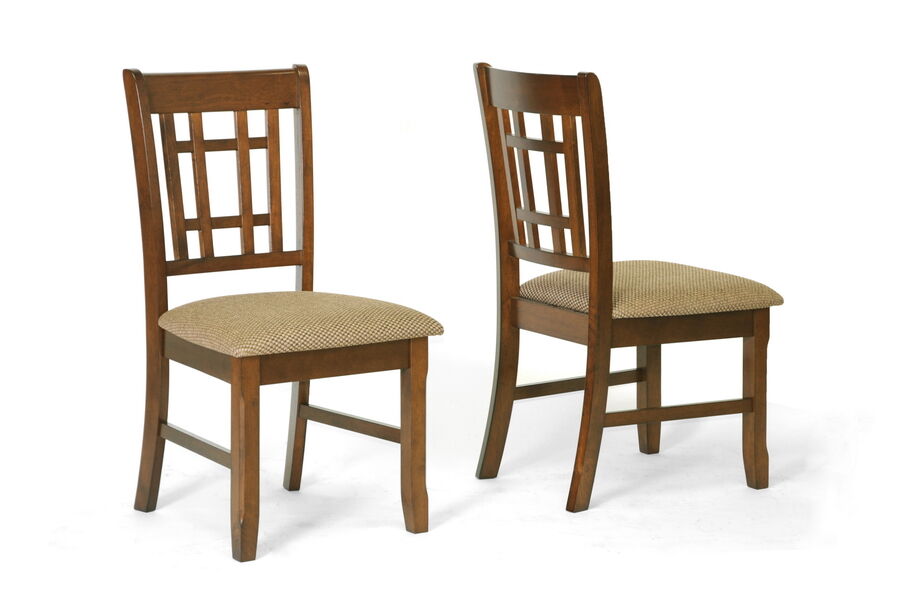 Solid wood dining room chairs are created to stand the test of time. Their elegant, classic look, combined with a sturdy structure, make them almost indestructible. They look great against a modern backdrop as they do against a rustic or shabby chic style. Like the little black dress, the solid wood dining room chair is always in style and always fits, being a great addition to any dining room.
There are several different styles of solid wood dining room chairs, made of many types of wood. When polished, cleaned, and properly maintained, a quality set of solid wood dining chairs can last through several generations. They are a great investment and provide an excellent and sturdy backdrop for most dining rooms, as well as a comfortable and reliable place to spend fun evenings with family and friends. Anybody thinking of purchasing solid wood dining room chairs should know the advantages of the main types of wood used to make chairs and the proper ways to preserve wooden furniture.
Common Types of Wood Dining Room Chairs
There are different types of wood that are commonly used for making solid wood dining room chairs. The traditional wood, oak, is the most common. However, many newer types of wood, such as acacia and mango, have increased in popularity over the last few years. For many, the main criterion when selecting one wood over another seems to be the appearance. Woods feature a variety of grain patterns, natural shade variations, and pore sizes. These variations can determine the finished look of a dining room area. Consumers who already have a wooden table or a predominant wood type in their dining room decor often choose dining room chairs made of wood to match their existing furniture. However, the mixing of multiple wood types can also be attractive when well planned.
Solid Oak Dining Room Chairs
The oak family consists of 600 species, indigenous to the Northern hemisphere. Oak dining room chairs are moderately priced, often less expensive in comparison to rarer woods, but more expensive than modern, faster growing alternatives. At the same time, oak is durable and long lasting. It is a classic choice for dining room chairs and also holds stain well, making it possible to obtain oak dining chairs in any number of shades.
Solid Beech Dining Room Chairs
Native to Europe, Asia, and North America, the beech tree accounts for yet another popular type of wood related to the manufacture of dining room chairs. The beech wood is long-lasting and durable, much like oak. One reason for the popularity of beech dining chairs is that the wood is considered hard-wearing, meaning it is resistant to surface scratches and can withstand a great deal of pressure over time. Most carpenters enjoy working with beech, as it is considered a particularly workable type of wood, making it a great choice for more intricate, modern designs.
Solid Ash Dining Room Chairs
Ash is a heavy and hard, shock-absorbing wood similar to beech. Ash is a close relative of the lilac and olive, and there are somewhere between 45 and 65 species of this flowering tree plant. Frequently used for the development of bentwood style dining chairs, ash features a distinct wood grain and wide-open pores.
Solid Acacia Dining Room Chairs
Acacia wood is hard and highly resistant to damage during everyday use. It comes from a family of trees and shrubbery of 1300 species, more than half of which are indigenous to Australia. The hardiness of acacia partially explains why it is a favourite for creating dining room chairs and other pieces of furniture that are subjected to a great deal of wear and tear over the years. Acacia features a rich, dark bronze tone, which is very attractive. The Acacia tree is easy to cultivate and reaches maturity at a relatively rapid rate compared with other tree species. This factor helps keep lumber from the acacia tree an affordable option, hence acacia dining room chairs can be more affordable than those made of other wood types.
Solid Mango Dining Room Chairs
The hard, durable wood of the mango tree recently became a popular Eastern import for the creation of furniture and other houseware. The colour of mango wood ranges from dark to light, often exhibiting a hint of pink. Though it takes years for mango trees to produce the fruit that so many love, it takes much less time for them to grow large enough to be harvested for lumber. As a result, mango furniture often sells for less than similar designs made of oak or teak. Mango is also largely considered to be a good eco-friendly, renewable resource, so dining room chairs made of mango can be a good option for the environmentally-aware buyers.
Tips for Preserving Solid Wood Dining Room Chairs
When well cared for, solid wood dining room chairs have the potential to last many years. When cleaned, cared for, and properly maintained, dining room chairs can survive generations. Though purchasing a hard, high-quality style of wood is the first step toward ensuring longevity of the furniture, caring for solid wood dining room chairs is an ongoing task.
Cushions and Covers
Cushions and covers often add a nice accent to dining room decor, make solid wood seats a bit more comfortable, and help to protect the largest areas of the chair from damage. These also give consumers an opportunity to easily redecorate their dining room to accommodate seasonal or holiday changes. Though painting solid wood chairs is not always recommended, particularly in the case of those which are polished or naturally-coloured, adding an attractive green seat cushion or a purple slip cover, for example, offers an easy method of redecorating.
Furniture Wax Polish
It is important to keep solid wood dining chairs clean, as it prevents softening of the finish and subsequent damage from occurring. This is best accomplished by routinely dusting and polishing the furniture using an appropriate furniture wax polish and a soft, lint-free cloth. Always use a bit of polish when wiping down solid wood dining room chairs, as use of a dry cloth could potentially lead to light surface scratching. Follow the grain of the wood and work in gentle, circular motions.
Other Tips for Extending the Life of Solid Wood Dining Room
Apart from routine cleaning, there are a few other things that consumers can do to help extend the life of solid wood furniture, including their dining room chairs. First, it is important to keep hardwood furniture from regular exposure to heat, such as against the stove or right in front of the heater, as over time this can soften the protective finish of the furniture piece. Second, consumers should avoid exposing wood to bright sunlight on a routine basis. Though not true of all types of hardwood, many types may dry out or fade when subjected to constant exposure to the sun.
Finding Solid Wood Dining Room Chairs on eBay
To find a variety of solid wood dining room chairs on eBay, simply locate the search bar on any each page of the website and input a key term related to your need. The more vague the search, the more likely it is to end with multiple listing results. For example a search for "solid wood dining chairs" or simply "dining room chairs" is likely to create an avalanche of related listings. The search results can then be refined manually or narrowed using eBay refinement options. An alternative option is to use more specific search terms, in hopes of getting results that are closer to what you are looking for in a dining room chair. An example would be "teak dining room chair" or 'oak dining chair', just note the more specific the search terms, the fewer the results.
Once you have found the solid dining room chairs that you would like to buy and you have read all the product's details, including price and condition, you can learn more about the seller by visiting their eBay feedback profile. From there you can get valuable information about their time on eBay by reading reviews from previous clients. You can also see what other items they are currently offering on eBay or contact the seller via a private message, email, or other means.
Conclusion
Solid wood dining room chairs are designed to withstand the wear and tear of everyday use. A high-quality set of solid wood dining room chairs, that has been well cared for, has the potential to last a family for several generation. There are many durable yet beautiful types of wood that are used to make excellent dining room chairs.
Every sort of wood has a unique grain, pore size, and natural shade, although paint and stains can camouflage some of these differences. From dark oaks to the pink-toned wood of the mango tree, there are many natural variations to select from. While some consumers seek out a specific type of wood to match the decor of their dining room or existing tables, others choose solid wood dining room chairs based solely on their appearance, price, and even environmental impact of manufacturing a certain type of wood. Regardless of their preferences, buyers are likely to find on eBay the solid wood dining room chairs that they like.