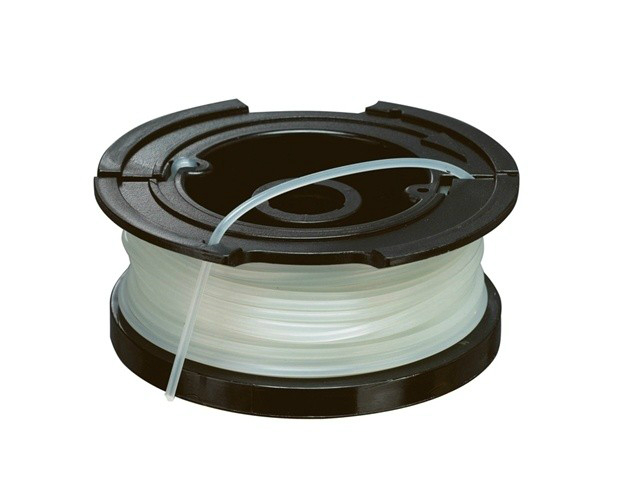 Strimmers are useful power tools to clear grass and weeds from the garden and maintain a neat and tidy lawn. They usually use nylon line which is spun extremely quickly to slice through soft materials such as grass and weeds. There are three basic types: electric, cordless (battery), and petrol. Each has its own advantages and disadvantages, and the type purchased will depend upon various criteria including the type of work, working conditions, and budget.
About Strimmer Parts
Whichever strimmer is used, parts or accessories will also need to be purchased at some point if they are not included with the strimmer. These include nylon line, blades, spools, oil, batteries, protective safety gear, such as goggles and ear defenders, and attachments, such as a harness.
Strimmer Line, Spools and Blades
Nylon is the most frequently used material to use in strimmer line, though other materials or metal blades are sometimes used. Originally pioneered by Texan businessman George Ballas, who tied fishing line through a tin can and attached it to his lawn edger to create the first modern strimmer, nylon is tough, strong, elastic and hardwearing, with good resistance to abrasion and chemicals. Nylon line is traditionally round, but other shapes are now available that have advanced cutting power and less tendency to catch. These newer lines include square, triangular, and five sided. Some strimmers also use multiple nylon lines. Nylon line is housed within a spool and released by various mechanisms as it wears out. Mechanisms include bump feed, automatic, and fixed head. Bump feed require the strimmer head to be bumped on the ground to release more line. Automatic feeds feed the line as required. With fixed head systems, the new line needs to be manually loaded. Some strimmers utilise metal blades, and these are suitable for especially tough or woody materials. Metal blades available include tooth blades for lighter work and brush blades for heavier work. Many strimmers come as multi-tools with the option to change the end attachment depending on the type of work.
Strimmer Oil
Petrol strimmers require a mix of petrol and oil. These need to be mixed in the correct ratio, which will be explained on the oil container. Petrol strimmers are generally powered by two stroke engines, internal combustion engines where the power cycle is completed in two strokes (up and down) of the piston, and require two stroke engine oil. Oil is essential to lubricate and ensure correct operation of the strimmer. Too little oil is detrimental to the engine and can cause it to seize.
Strimmer Batteries
Cordless strimmers are battery operated, making them ideal for work where an extension lead would get in the way or not reach far enough. The batteries are rechargeable and should last for at least 20 minutes per charge.
Starter Kits
Strimmers are often sold with additional items required for operation, such as oil, batteries, chargers, attachments, and safety gear.
Safety Gear
When using strimmers, it is important at all times to be aware of safety. Hazards include small objects such as stones or debris being thrown up by the strimmer line into the operator's path. For this reason, safety goggles or a visor should be worn. Visors or masks will also protect the mouth. Strimmers, particularly petrol strimmers, are noisy and the use of ear defenders is also recommended to protect eardrums. Multi-positional ear caps that can be worn over the head, under the chin, or behind the neck are an alternative. Thick gardening gloves are recommended to protect the hands, while long, robust trousers and work boots should be worn to protect the lower body. Heavy duty gloves that also act as shock absorbers are especially important for use with petrol strimmers due to the increased vibration from these machines. Some strimmers come with shoulder harnesses, and these should always be worn when operating the machine. They protect the body against excessive strain. The harness should be adjusted so it is in the right position. Harnesses can also be purchased separately for use with other strimmers.
Choosing Strimmer Parts
When choosing strimmer parts, there are several factors that should be considered. Most important is whether the part is compatible with the model of strimmer. It is generally recommended to use parts and accessories from the same manufacturer. Other manufacturers' products may also be suitable, and the seller should specify in this case which brands and models they are suitable for. Bear in mind that using alternative parts may affect the warranty.
Strimmer Line, Spools and Blades
When the line runs out the operator can either purchase additional nylon line and wind it around the existing spool or buy a replacement spool. Many prefer to replace the spool as this is the simplest option. Line should be from the same manufacturer or at least the same weight and thickness. The seller should specify which models replacement spool is suitable for.
Strimmer Oil and Mixing Bottles
Most petrol strimmers require two stroke oil. Because the petrol and oil need to be combined before they are used, a mixing bottle is needed to mix them together in the correct quantities. Some manufacturers sell a starter pack containing two stroke oil and a mixing bottle, sometimes with other accessories. Two stroke starter packs are often better value than buying the items individually.
Strimmer Batteries and Chargers
Cordless strimmers may be sold with or without batteries and chargers. If a battery is required, it is frequently cheaper to purchase a strimmer that includes both battery and charger, or a starter kit. However, some manufacturers sell a range of power tools that can utilise the same battery, which can be useful from a cost perspective. Lithium ion batteries are longer lasting and more powerful, so it may be worth looking for a lithium ion battery strimmer if the work is tougher or requires more time.
Safety Gear
Goggles or visors will protect the eyes. Visors often come with a helmet that may also include ear defenders. Ear defenders should be lightweight, robust, and fit the head. Use ear defenders that are approved for use against high noise levels. High-impact polystyrene is ideal. Ear caps have the advantage that they can be folded up and stored easily. Ensure they are appropriate for use with strimmers and have been tested to appropriate European safety standards. Ensure that harnesses are suitable for use with the strimmer. The seller should specify which brand and/or model the harness is compatible with.
Find Strimmer Parts on eBay
Strimmer parts can be purchased from eBay. From the eBay homepage, scroll down to the Home & Garden tab on the left side and select Home & Garden. Scroll down to Garden and select Power Tools & Equipment. Some general parts and accessories, such as two stroke oil and safety gear, can be searched for in this category. For specialist strimmer parts, select Strimmer Parts & Accessories. The tab on the left then gives a number of options, including the type of part or accessory required, such as trimmer line, spool cap, harness, battery, belt, or charger. The tab gives other options, including brand. As parts will frequently need to be the same brand as the strimmer, this is a useful refinement. Alternatively, strimmer parts and accessories can be searched for in the search tab at the top of eBay pages. Simply enter the part or accessory required, such as "nylon line" or "battery". Selecting Garden & Patio from the adjacent drop down menu will ensure that results are appropriate.
Conclusion
Buying the right strimmer parts is essential for the correct operation of strimmers. The parts required will depend upon the type and brand of strimmer and the type of work it is to be used for. General parts required include nylon line and spools. Petrol strimmers also require two stroke oil and a mixing bottle. Cordless strimmers also require a battery and charger. In addition, safety gear such as goggles, a visor, and ear defenders may be recommended. Sellers and individual parts should be researched to find the appropriate item. Bear in mind factors such as compatibility, safety, and quality as well as seller reputation, price, and value for money.