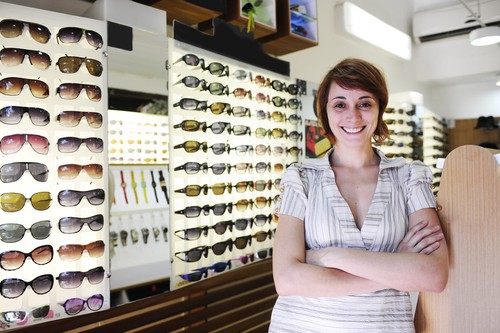 It is important to consider UV protection when purchasing women's sunglasses,, but the shape of a woman's face also has an impact on selecting the pair that best complement her. Both women's faces and sunglasses can be found in an array of shapes. The right pair of sunglasses downplays certain facial features, such as the wide forehead of a heart-shaped face. Instead, they draw attention towards the prominent cheek bones. The perfect sunglasses balance the overall shape of the face.
Sunglasses are available in a wide array of colours, sizes, materials, and styles. Some sunglasses are rounded while others have angular frames. Sunglasses may have various features that help the wearer to see clearly without the interference of glare and some may also impede the entrance of harmful UV rays.
Sunglasses are available from opticians and department stores. When purchasing a pair of sunglasses for a heart-shaped face at retailers such as eBay,, buyers should familiarise themselves with how to determine a woman's face shape, the characteristics of a heart-shaped face, and which sunglasses suit that shape. In addition, buyers should understand other features of the sunglasses so that the pair purchased has adequate UV protection.
Determining a Heart-Shaped Face
A woman's face shape can be determined in a number of ways. Some women prefer to get a friend's opinion, while others trace the outline of their face on a mirror. Some may opt for the scientific approach by using a tape measure to record certain distances. The measurements of interest are the distance between the widest point of the cheekbones, the width of the jawline and forehead, and the length of the face from hairline to chin. These proportional measurements can give a woman an accurate idea of which face shape that she has.
Features of a Heart-Shaped Face
In general terms, heart-shaped faces are wider at the forehead than at the jaw, and feature wide, high, and pronounced cheekbones and a pointed chin. A heart-shaped face is longer than it is wide, with the cheek line and sides of the face tapering into the jawline.
Perfect Sunglasses for a Heart-Shaped Face
When buying sunglasses it is important to consider a frame shape that is flattering to the wearer's facial features. For a woman with a heart-shaped face, the sunglasses should broaden the appearance of her jawline and chin, and minimise the width of her forehead. Sunglasses that have half frames or are frameless best complement heart-shaped faces. If considering sunglasses with full frames, buyers should look for those with rounded upper corners. This helps to divert attention away from a broad forehead. Similarly, square bottomed frames help to soften the chin.
Generally speaking, any frames that are wider at the top than at the bottom flatter heart-shaped faces, as they visually minimise the width of the forehead, helping to balance the face. It is best to avoid frames that feature hard horizontal lines and sharp corners. Aviator and sport frames help balance a narrow jawline as do butterfly, wayfarer, and cat-eye designs.
Aviator
Aviator sunglasses were originally manufactured by Ray-Ban and designed to mimic the flying goggles that the company sold to both the navy and the army. These glasses are known for their oval shape and silver or dark grey iridescent lenses. Their lenses bulge outward slightly. Aviators also have a thin wire frame which is typically black, silver, or gold. The rims of aviator sunglasses help to make the forehead of a heart-shaped face appear less broad.
Sports
Sports sunglasses are geared towards those who are physically active. They are made of impact resistant plastic and carbon fibre which is shatterproof. This design eliminates the possibility of glass entering the wearer's eyes during contact sports. Sports sunglasses have scratch resistant lenses and are known for being lightweight. They are designed to contour to the wearer's face and are securely held in place with an elastic headband and rubber arms. Sports sunglasses are wider at the top than at the bottom, helping to minimize the width of a broad forehead and balancing the face.
Butterfly
Butterfly sunglasses have unique oversized frames, thought to resemble the shape of a butterfly. These sunglasses are often embellished along the wearer's temple area with rhinestones, logos, or glitter. Detail at the lower edge of the frame draws attention to the bottom of the face, making a woman's heart-shaped face look wider near the chin. These glasses are typically substantial in size, making the wearer's forehead look small in comparison.
Wayfarer
Wayfarer sunglasses have a lightweight plastic frame. The frame is shaped like a trapezoid and comes to a point on the upper outside edge of each lens. Wayfarer sunglasses were famously worn by the Blues Brothers. Their angular shape helps to soften a narrow jaw line.
Cat Eye
Cat eye sunglasses are considered retro and have frames that are upswept, resembling the shape of a feline's slanted eyes. Their frames tend to be thicker than those of other sunglasses. The arms of cat eye sunglasses are usually attached at the corners at the top of the frame. They are commonly associated with film icons such as Marilyn Monroe and Audrey Hepburn who helped to popularise this style. Cat eye sunglasses have distinctive top lines, helping to emphasize the wearer's eyes and highlight the cheekbones. This helps to divert attention away from the wide forehead of a heart-shaped face.
Features of Women's Sunglasses
When searching for a pair of sunglasses for a heart-shaped face, it is important to consider the benefits of UV protection, and polarised and gradient lenses. These features add an extra level of protection to the wearer's eyes.
Polarised Lenses
Polarised lenses help to reduce glare that is reflected at certain angles from shiny, non-metallic surfaces such as wet roads. They block out glare selectively, rather than making the whole field of vision obscure. As light reflects off the shiny surface, the bright spots produced can interfere with a woman's ability to see clearly. Polarised glasses are ideal for women who take holidays involving water or snow activities.
UV Protection
UV protection helps to block out solar radiation. UVB rays are the most dangerous and can cause long term problems. Women who are exposed to high levels of UV rays are more susceptible to getting cataracts and other eye problems. The level of protection varies between sunglasses, with the maximum coverage blocking out 100 percent of harmful UVA and UVB rays. Buyers should search for glasses with the maximum coverage in order to ensure appropriate protection.
Gradient Lenses
Gradient lenses are tinted from the top down, with the darkest tint at the top of the lens. Gradient sunglasses are ideal for driving. These glasses screen the eyes from overhead sunlight, while allowing light to enter through the bottom of the lenses in order to allow the wearer to see the road.
Conversely, double gradient lenses are tinted from both the top down and the bottom up. The top and bottom have the darkest tint while the middle has a lighter tint, shielding the eyes from both overhead sunlight and reflective surfaces near the feet.
Where to Buy Sunglasses That Suit Heart-Shaped Faces
There are many bricks and mortar department stops and opticians that sell sunglasses for heart-shaped faces. Alternatively, buyers can choose to buy a new or pre-owned pair of sunglasses online. For buyers looking to pay a competitive price or who want a specific type of sunglasses, eBay offers a large selection of products.
Buying Sunglasses on eBay
Buying sunglasses that suit heart-shaped faces online offers buyers a wide variety of choice for any budget. Buyers can search for sunglasses by typing women's sunglasses into the search on eBay's home page, which displays a wide selection available for sale. Alternatively, buyers can use eBay's advanced search feature to narrow down choices by price. For those who know exactly which type of sunglasses that they want, then more specific search terms can be used, such as, used cat eye sunglasses..
Search by Style
Buyers are able to search for sunglasses by style. Searching by style allows shoppers to narrow down search results based on their face shape. Women who have heart-shaped faces may opt for aviator sunglasses or cat eye sunglasses..
Conclusion
It is more than possible to find the perfect pair of sunglasses for a heart-shaped face. Buyers must consider which types of sunglasses balance the woman's facial structure while providing her with adequate UV protection. Aviator, cat eye, butterfly, sport, and wayfarer sunglasses all broaden the appearance of a woman's jawline, while minimising the width of the forehead, helping to soften the look of a woman's facial structure and making these styles ideal for those with heart-shaped faces.
Each type of sunglasses offers the wearer unique features. Sport sunglasses are geared towards those who lead an active lifestyle, while butterfly sunglasses are trendy and chic. The right sunglasses must also protect the wearer's eyes from the effects of the sun's rays: sunglasses are both a fashionable and functional accessory. There is a wide variety of sunglasses available on eBay, so with a little bit of searching the perfect pair can be found to suit a heart-shaped face.