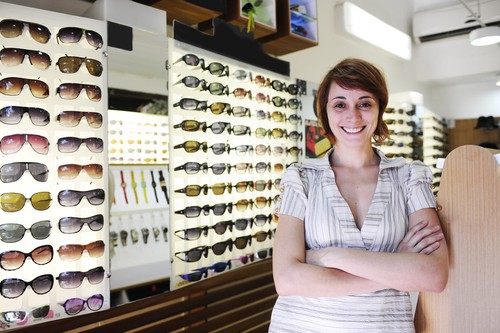 Nothing represents "summer fun" quite like a classy pair of sunglasses. Popular since the 1940s, sunglasses not only offer protection for the eyes from uncomfortable and dangerous environmental hazards, they have the added bonus of being highly fashionable. Finding the right pair of sunglasses for one's face shape helps to draw attention to one's best facial features while detracting from those features which are less-than-ideal.
Just as the key to finding attractive, fashionable clothing is selecting pieces that fit well and properly accommodate one's body structure, the same holds true for sunglasses. A poor fit or unappealing shape can greatly change the way an individual looks and feels. Purchasing a snug-fitting pair of fashion-forward sunglasses, in a style that accentuates the positive features of the round face shape, is sure to make anyone feel good about themselves. Add in additional benefits, like protection from dangerous UV rays and glare-reduction and its hard to understand why anyone would not want to invest in a high-quality set of sunshades for the entire family.
The Round Face Type
Round faces feature full cheekbones, paired with a narrow jaw and forehead. As a result, the widest part of the face stretches from ear-to-ear across the cheeks. The face shape is largely considered youthful and innocent. Celebrities with round facial structures include Cameron Diaz, Kate Winslet, and Charlotte Church.
Like all facial structures, there are both positive and negative things about the round face shape. Many round-faced individuals use sunglasses and other accessories to help give a bit of balance to their facial shape while out on the town.
Sunglass Shapes for the Round Face
Sunglass shapes that suit round faces include rectangular and butterfly shapes, while some other styles, such as those with coloured lenses are a definite no-go for the round-faced beauty. The idea is to draw attention to the eyes while balancing out the various parts of the face. Round is a very common facial shape for people all over the world.
Wide, Rectangular Frames
Wide, rectangular frame sunglasses provide a trendy, attractive option for the round-faced. They manage to balance the weight in the centre of the face, leading to a thinner, longer appearance. Upswept frames that draw attention to the top of the face also help to add balance for this facial type. Rectangular frames, particularly of the wider variety are fashionable, comfortable, and easy to find.
Double Brow Bars
Sunglasses made with double brow bars, often referred to as pilot glasses, are another style that accentuates the round face. This is because the brow bar draws the attention upward, not only distracting from the roundness, but also elongating the face. This style of glasses tends to be more popular with men than women though, making it a great, fashionable option for the man with a rounder face shape.
The Butterfly Frame
Considered a universally appropriate style of sunglasses, the butterfly frame manages to defy all logic and look good on just about every facial style. The butterfly edge of these oversized beauties draws attention away from the face all together. When in doubt about the type of sunglasses to purchase for a good look, always default to the ever-fashionable butterfly shaped frame.
Sunglass Shapes to Avoid for the Round Face
Just as there are some sunglass frame shapes that look fantastic against a round face, there are also those that should be avoided at any and all costs. These styles, for various reasons, seem to bring out all the negative features of a round face and fail to accentuate the positive.
Round Frames
Round frames exaggerate the fullness of the cheek, as well as the roundness of the face. Though they can work wonders for a more angular face, they are not a good choice for the round-faced individual. In general, when it comes to sunglasses it is best to step away from those which feature a shape that resembles the face and instead look for frames that are the complete opposite.
Coloured Lenses
Coloured lenses, similar to round frames, exaggerate fullness. The bright blues, purples, and roses of many sunglass lenses can pull attention to the wide centre of the round face like a bright light. When it comes to a round face, it is best to stick with the traditional black lens colour.
Small Frames
Small frames are no good for individuals with round faces. The wideness of the cheek looks strange in comparison to tiny frames. The same holds true for short frames, which do not come up high enough to balance the shape of the cheeks.
Selecting the Right Pair of Sunglasses
Apart from frame shape and lens colour options, there are several other factors to take into consideration before investing in a pair of new sunglasses. The shape and colour of lens is only the beginning of the readily available variables for new sunglasses. Consumers often have the option of selecting lenses which feature one or more of the attributes described below.
Prescription Sunglasses
Prescription sunglasses are designed for those individuals who require a special type of lens for reading or everyday use. They were designed to give consumers who use prescription glasses for corrective vision an alternative to adding a pair of bulky, flip-up shades to the top of their regular glasses or forgoing clear vision in lieu of style. These glasses are tinted in the way that sunglasses normally are, offering maximum protection. However, they are first designed with the specific degree of magnification a person needs to see clearly, just like their normal glasses. There are even bi and tri-focal sunglass options available.
Polarized Sunglasses
Sunglasses that are said to have polarized lenses, feature a lens made up of Polaroid polarized plastic sheeting. These lenses are particularly useful to individuals who spend a lot of time on the water, as they help to reduce glare. Many types of performance sunglasses, intended for sport's enthusiasts and often made out of flexible, rubbery material, feature polarized lenses as standard.
Mirrored Sunglasses
Mirrored glasses feature lenses that reflect rather than absorb light. They come in a variety of colours but are often blue or silver in appearance. Though helpful in reducing the amount of sunlight absorbed by the eye, these glasses are not particularly designed to decrease UV rays. The mirrored style provides a clear reflection back at individuals who look into the eyes of a wearer.
Scratch-Resistant Sunglasses
The lenses of scratch-resistant sunglasses feature a thin, protective top-coat which helps to prevent or reduce damage from most scratches. This is a very valuable safeguard, particularly when purchasing expensive glasses like those by Ray-Ban or Oakley. This coating often proves to be especially valuable when purchasing sunglasses for children, who are likely to be a bit rough with them.
UV Protection
One of the most important things to seek in a pair of sunglasses is a high level of UV protection. This means, finding glasses which feature a lens capable of deflecting harmful rays emitted from the sun. Consumers who are purchasing sunglasses should always look for pairs that are capable of block UV rays. These glasses often feature a percentage of effectiveness at blocking out harmful UV rays. It is best to go with those glasses which feature 100 percent effectiveness or something very close. This is a particularly important factor when purchasing sunglasses for young children, as their eyes are believed to be particularly sensitive to sunlight.
Finding Sunglasses that Suit Round Faces on eBay
To find the perfect pair of sunglasses for your face on eBay try inputting terms, related to the type of sunglasses you hope to find in the search bar located atop each page. For example, you could search for "butterfly sunglasses" or "sunglasses rectangular frame". Alternatively, a search for "sunglasses" is certain to uncover multiple listings, which can be easily narrowed using eBay's multiple refinement options and subcategories.
Getting to Know the Seller
By visiting the seller's feedback profile you can learn a lot of valuable information regarding their time on eBay prior to agreeing to a purchase. From this page, you can review feedback left from previous clients, see other items the eBay seller has available, and even contact the seller via private message. Reviewing the seller's profile also gives you information on their location. In the event they turn out to be a local seller, you may want to schedule a meetup rather than pay the price of shipping your item.
Conclusion
Sunglasses are a hip form of fashion that serves the dual purpose of adding protection from the sun, as well as the environment. Sunglasses come in a variety of different shapes, colours, and sizes. They are available for men and women of every age, and with a wide variety of needs. Finding the right pair of sunglasses is not only a matter of getting a good fit from a size perspective, but also in terms of fashion. Not every shape or style of sunglasses fit every person the same. However, there are many shapes, sizes, and colours of sunglasses that work well with the numerous, common face types. Whether your face is round, square, or oval, finding the perfect pair of sunglasses is simply a matter of knowing what style compliments a particular facial structure.