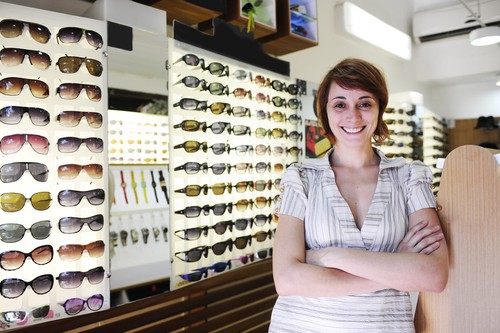 Sunglasses not only help to protect the eyes from the dangerous effects of UV rays, but they can also be a great fashion statement. There are sunglasses available in every style, colour, and shape. There are frames designed for men, women, and children, including infants. Finding the perfect pair is largely a matter of preference, but having an idea of what looks good against one's natural facial structure helps to ensure a good investment. Just like having clothes that fit properly can boost confidence and improve self-esteem, having accessories that work well with the face is equally as beneficial. Additional, optional features like prescription lenses and scratch-resistance offer further ways for consumers to customize their favorite pair of sunglasses.
Do You Have a Square-Shaped Face?
The first step to determining the shape of one's face is to take an honest look in the mirror. Individuals who are said to have a square face, have a very angular facial structure with a strong jawline. Their forehead is wide and their chin is square. These faces are typically a proportional height and width.
Attractive celebrity examples of the square face include Katie Holmes, Isabella Rosellini, Brad Pitt, and Matt Damon. Certain haircuts help to smooth the harsh, angular lines of the square face, adding to a more gentle appearance. In the same sense, there are certain pairs of glasses which highlight the best features of the square-shaped face, while some others simply do not pass the test.
Sunglasses that Fit the Square-Shaped Face Well
Finding the perfect pair of sunglasses for one's face becomes a fairly simple task for those who know what shapes fit these facial structures well. Generally speaking sunglass frame shapes that fit a face well tend to be opposite in design to the face itself. For example, round faces glow with the addition of sharp, angular frames. Not surprisingly, those individuals blessed with a square-shaped face tend to do far better when they go for a more circular frame of glasses. The temple should be set dead center of connect at the top of the frame.
Round
Round shaped frames are a good option for the square-faced. The gentle, roundness of these frames helps to smooth out the sharp angular look of this particular facial structure. The idea is to create a balance between the extreme and the buoyant. Pairing a facial structure with sunglasses shaped its opposite is almost always a good, safe route to pursue.
Oval
Oval frames have the same sort of balancing effect on square faces as round frames. Additionally they help to create the illusion of extension, making the face seem a bit longer, while adding softness. Oval glasses are a good, safe choice for the square-faced, as well as many other facial structures.
Cat-Eye
Cat-eye sunglasses are flirty and fashionable. The upswept tips and the almond-shaped lenses look great on a classic square face. Primarily popular in the fifties and sixties, they were once associated with beehive and rockers. Celebrities famous for wearing this foxy style include Marilyn Monroe, Dame Edna Everage, and Audrey Hepburn.
Butterfly Shaped
Butterfly shaped sunglasses are one of the only style of frames widely believed to be a good choice for any facial structure. Butterfly sunglasses are typically oversized, with a slight indent in the middle of the roundish part of the frame. This indent creates an appearance similar to the shape of butterfly wings, hence the name. These account for one of the most popular types of oversized glasses, a style that has been long adored by celebrities all over the globe. Some of the popular celebrities photographed wearing butterfly shaped sunglasses from famous designer labels like Prada, include Gwyneth Paltrow, Rihanna, and Kate Moss.
Sunglasses that Are Not Good for the Square-Faced
Just as there are certain frame shapes that seem to be a great fit for the square facial structure, there are others that are not so fabulous. The main reason these frame shapes do not make the list is because they tend to exaggerate, rather than detract, from the sharp, angular structure of the square face.
Sharp, Geometric Shapes
Frames featuring sharp, geometric shapes do not work as well for the square face. The clear reason is the sharp lines and strong squarish features emphasise the sharp lines of the face. This tends to make a person seem too sharp, too boxy, and overall does not add the same balance as the round or oval shaped options.
Low-Set Templates or Colour Accents
The temple bar on a pair of sunglasses for a square faced person should either go across the top of the glasses or land dead center. Having low set templates is a bad idea. Coloured accents also tend to create a negative appearance on the square-faced and are better left out.
Tips for Selecting the Perfect Pair of Sunglasses
After a square-faced consumer has tracked down a pair of sunglasses that look good with their facial structure, there are some other considerations. Modern sunglasses come with a number of special attributes, making them far more than just frames with tanned lenses. Selecting one or more of these options can improve the longevity of the glasses while ensuring customer satisfaction. Many manufacturers of sunglasses allow consumers to add one or more of these options to their lenses, others may even offer them as a standard part of production.
UV Protection and HEV Protection
The sun gives off at least two types of radiation that are potentially harmful to humans. The first and most commonly noted variety are UV or ultraviolet rays. The second are HEV, high-energy visible rays, also sometimes known as "blue light".
Regular exposure to these rays can damage the sun and lead to macular degeneration, cancer, and multiple other serious conditions. The best way to protect one's eyes is to wear sunglasses that offer a high level of protection from these forms of radiation. Basically all sunglasses feature complete or partial protection from HEV, as this form of radiation is effectively blocked out with very little shade. However, the degree to which UV protection is provided varies.
Always purchase lenses that ensure blockage of 100 percent of UV rays, whenever possible. This is particularly important when purchasing glasses for children and infants, as the eyes of young children are believed to be even more sensitive to damage from the sun than their adults.
Scratch Resistance
Scratch resistant sunglasses feature a thin top coat over the lenses which make them less likely to scratch. Since scratched up sunglasses are difficult to see through and potentially offer less protection from the harmful effects of the sun, this is a very important element, especially when purchasing expensive designer glasses.
Prescription
Prescription sunglasses are an excellent investment for individuals who wear reading glasses or contact lenses. Available in nearly every prescription need, including bifocals, these lenses make it possible for any consumer to wear their sunglasses alone, without contact lenses or another pair of glasses underneath. This is a huge step up for both safety reasons and comfort. For consumers who frequently wear glasses or contact lenses, investing in an appropriate pair of prescription sunglasses is smart.
Performance Sunglasses
Performance sunglasses are developed for sport's enthusiasts. They feature a wraparound design that helps them contour to an individual's face. They also offer a slip-resistant nose bridge, the utmost attention to UV and HEV protection, and a flexible body that is not likely to easily break.
For those individuals who enjoy outdoor activities like fishing and sports like skiing, these are very helpful. After all, having a clear view of what is up ahead helps to improve safety, having a trusty, glare-reducing pair of sunglasses on all the time helps to improve visibility tremendously. At the same time, these avid outdoorsmen are protected from the damaging effects of the sun's rays.
Finding Sunglasses That Suit Square-Shaped Faces on eBay
eBay offers many opportunities for consumers to find a perfect face-suiting pair of sunglasses at a great price. Consumers who are interested in purchasing sunglasses from the site should begin their journey by utilizing the search bar located atop every eBay page. From there it is possible to input related terms and uncover hundreds of listings in return. Vague search terms like "sunglasses" or "designer sunglasses" are likely to produce an overwhelming number of listings. More specific search terms like "round sunglasses" or "cat eye sunglasses", provide results that are more in tune with what the consumer is actually seeking. Either way, various refinements and subcategories from eBay make it possible to quickly and effectively narrow the results to a more manageable list.
Get to Know the Seller
It never hurts to review a seller's feedback profile before doing business with them. The seller profile offers eBay consumers a good deal of valuable information. Consumers can read feedback from the seller's previous clients, find out the seller's location, and even send them a private message. After successfully completing a purchase, remember to revisit the seller's feedback profile in order to leave feedback of your own.
Conclusion
Sunglasses are one of the few utilitarian fashion items available. Not only do they look great, offering a well-put-together finished look to any ensemble, they also help to protect the delicate eyes from the hazards of direct exposure to sunlight. Popular for decades, many people consider sunglasses a must for every member of their family from the tiniest babe to the oldest grandparent.
Part of purchasing a pair of sunglasses is finding the pair that looks best on one's face. With an increasing number of consumers purchasing their accessories online, it helps to have an idea of what sort of sunglasses look best against one's natural facial structure.