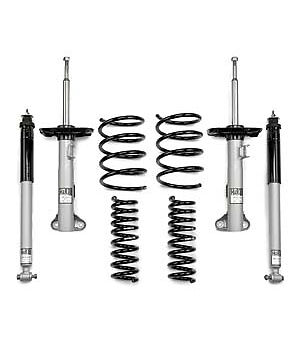 Suspension kits can greatly affect the performance and handling of a vehicle. They are created in a variety of designs to match driving styles, vehicles, and terrains. Many types of suspension kits can be purchased from the sellers on eBay. The website can be navigated using keywords and category links, and a combination of the two methods can produce very specific results. Learn about each option to begin shopping for desirable products.
Suspension kits are comprised of springs, shock absorbers, bushes and bearings, and the arms that connect them to the vehicle. Springs allow the vehicle to move across varied terrain without jarring movements, and shock absorbers prevent the vehicle body from bouncing freely on the springs. Suspension kits are created in several different designs, including coil springs and trailing arms, and buyers have the option to use different kits for front and back suspension.
Once the desired items have been located on eBay, review item listings. Look for information about the price and shipping costs associated with a sale, and determine which payment methods can be used. It is also useful to examine seller profiles to find reliable eBay users. Shop between sellers to find the best selection and prices, and choose kits to enhance a vehicle's handling, speed, appearance, and the comfort of its passengers.
Navigating the eBay Website
The eBay website has a high number of listings for suspension kits and parts. There are two easy ways to shop for these items, including keywords and category links. Both options can be used to initiate a search from the home page, or refine listings in search results. Learn more about each option to find the best means for locating the necessary parts.
Keywords
Keywords are generally the easiest way to initiate a search. They can be entered into the search field on any page, and can be used to shop broadly or narrowly. For example, to see listings for all items related to suspension kits, enter "suspension kit" into the search field. Search results display all items tagged with the keywords. It is possible to introduce new keywords on subsequent search results to find increasingly specific items. For example, a manufacturer name, vehicle make and model, or part name can be added to existing search terms.
Categories
Category links can be used to browse by items by criteria including item type, price range, condition, and more. From the home page, look for links to eBay's automotive section. From there, you can shop for a variety of car parts. Continue using links to find suspension parts. Search results can be refined by part manufacturer, placement on a vehicle, and the make and model of the vehicle. Remember that keywords and category links can be used alternately to find the desired items.
Choosing Suspension Parts
Suspension kits are comprised of several basic components. These can be purchased separately to build a suspension kit, or to replace existing parts on a car. Become familiar with the different parts in a suspension kit to understand how a system works.
Springs
Springs are the main component of a suspension system, and allow a vehicle to rock and bounce as it travels over bumps, slopes, and other terrain. Springs are produced in three different types: coil springs, leaf springs, and torsion bars. Coil springs are the most common type available, and are the ones most people think of when they consider suspension springs. Leaf coils were used on older, heavier cars and remain in use on commercial lorries and other heavy duty vehicles. They are essentially a stack of metal plates or strips connected to the vehicle's axle. Torsion bars are used more selectively than coil springs, but are found on many cars.
Shock Absorbers
Shock absorbers, also called dampers, are responsible for reducing the amount of vertical motion in a vehicle as it is driven. Without them, the springs would cause a vehicle to bounce and sway without any restriction. They also help keep a vehicle's tyres secure to the ground.
Coilovers
Some all-in-one products combine the spring and shock absorber. These are typically sold as aftermarket items, and are called coilovers. These products can be adjusted to a high degree, and are lighter and occupy less space than separate springs and shock absorbers.
Suspension Bushes
Bearings and bushes also play an important role in car suspension. These components separate individual pieces of a suspension unit and help all parts move properly. Though they do not necessarily affect performance as much as the springs or shock absorbers, it is important to choose quality bushes and bearings to ensure the durability of the suspension kit.
Arms
The arms of a suspension kit hold the springs and shock absorbers to the underside of the vehicle. They are produced in varying shapes to accommodate different spring and damper setups, as well as the shape of a vehicle make and model.
Choosing Suspension Kits
Kits and complete suspension units contain all the items needed to overhaul the suspension system on a vehicle, including springs, shock absorbers, bushes, and bearings. They can be purchased for the front tyres of a vehicle, the back, or the entire car. Buyers should first decide between independent and dependent suspension kits.
Dependent
Dependent suspension kits have a single system for a pair of wheels. This means the two tyres, either in front or back, are linked together, and bumps or other shifts encountered by one wheel affect the other. These units are mostly sold as replacements for factory-installed parts.
Independent
Most aftermarket suspension kits are independent. This means each wheel has its own suspension, and tyres can react to changes in terrain individually, providing a much smoother and more versatile ride. Independent systems are created in several different styles. The following table offers information about some of the most popular kits available.
| Suspension System | Description |
| --- | --- |
| McPherson | A common form of front suspension. A single, lower arm supports the shock absorber and spring on a ball joint. |
| Coil Spring | A type of double wishbone system, in which two arms, each shaped like an "A" rest on either side of the spindle. |
| Multi-Link | A variation of the double wishbone system. Instead of solid pieces to form the A-shape, each section of the wishbone is a separate piece. |
| Trailing Arm | Suspension arms connected between the axle and the chassis. Usually used on rear suspensions. |
Other types of suspension are also produced, and the best suspension for a particular vehicle can vary between makes and models. It is also possible to use different suspension types for the front and back wheels on a car.
Review Item Listings and Seller Profiles on eBay
Take a moment to research item listings on eBay before finalising a purchase. Click on the name or primary image of an item to see information about its condition, price, and shipping. Look for a description of the item provided by the seller, and compare it with photographs of the part. In some cases, the photographs supplied may be stock images, and not the exact item being sold. Many listings also have information from the manufacturer of the item, such as a specifications sheet. If you have any questions about the part or the listing, contact the seller. Many eBay users operate like a retail store, and are committed to the satisfaction of their customers.
Look for information about the seller in item listings. The positive feedback rating and number of completed transactions can be used to quickly ascertain the reputation of the seller on eBay. Look for users with high ratings and many completed transaction to help ensure a positive transaction. To see more information, click on the name of the seller to open a full profile. There, you can read comments left by previous buyers. Use this information to learn about aspects of the seller's performance like shipping speeds and communication. Once you have received your items, leave feedback about your experience. This helps the seller improve in any areas you felt were lacking, and also informs future buyers about your experience.
Conclusion
Suspension kits and parts can greatly affect the performance and handling of a vehicle. They are produced in several different styles, and can be fitted to a wide range of cars and other vehicles. These items are sold by private and commercial sellers on eBay. There are two easy ways to search for these items. You may enter keywords into the search field on any page, or use category links. It is possible to use both options in conjunction with one another to find specific parts. For example, to see listings for trailing arm suspension products, begin by typing "trailing arm suspension" into the search field. From there, look for a category link to refine listings to car parts. You may continue to use categories to browse by vehicle make and model, part manufacturer, unit condition, and other options.
A suspension kit is comprised of several main components, including springs, shock absorbers, and bushes and bearings. There are also several hybrid units that combine the springs and shock absorbers, such as coilovers. Springs allow the car to respond to changes in terrain, while shock absorbers, or dampers, prevent the car body from bouncing around uncontrollably on the springs. Bushes and bearings support these units and help them move smoothly.
There are several suspension styles, including McPherson, coil springs, multi-links, and trailing arms. The best suspension style for a vehicle can vary from one model to another, and it is possible to use different styles for front and back wheels. Shop around to see the full selection of items available, and choose suspension kits and parts to improve speed, handling, or the comfort of a vehicle's passengers.