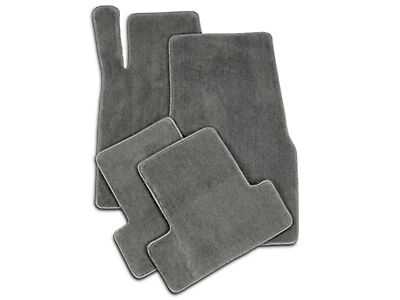 Car floor mats are extremely necessary for drivers to have in their car in order to protect the carpet from water, mud, sand, and other debris. Even the most cautious car owners see natural wear and tear to the floor of their car. By using a tailored car floor mat, all of these things are easily prevented. The floor mats come in several different makes and models, so finding a mat that perfectly fits a person's car is easy.
There are different types of car floor mats to choose from, so before making a purchase, it is important for buyers to be aware of all the different options. Tailored car floor mats come in various materials, and are specifically designed to fit a car perfectly, based on the car's make and model. A floor mat benefits the car owner by protecting the vehicle's carpets from natural wear and tear and other elements that can damage the car's floor.
Types of Tailored Car Floor Mats
There are different types of tailored car floor mats, each designed with a specific purpose in mind. While all floor mats are intended to protect the car's floor from being damaged, different types of floor mats are catered to suit specific needs. For example, some match the colour and material of the car's floor to blend in and stay in the car year round, while offering protection from wear and tear. Other mats are made of rubber and are water resistant. They are primarily used during rainy seasons or during the winter. Buyers can choose a type of mat depending on their preferences.
Carpet Tailored Car Floor Mats
Carpet floor mats are visually appealing, with the option of blending in with the car's permanent carpet colour and material. They are used to protect the car's floor from dirty shoes, food spills, and foot friction, among other things, and are both stylish and functional. Carpet floor mats come in many colours, so buyers can choose a colour that matches the carpet colour exactly, or other colours. Carpet floor mats also come with the option of being customised. They can be embroidered with a person's initials or a car logo, to name a few possibilities. A tailored carpet floor mat is an excellent option for drivers who want their mats to look as though they are part of the car, seeing as they match the car's interior. These mats are easy to clean, and can be vacuumed the same way a regular carpet is cleaned. Tailored carpet floor mats can be purchased directly from a car dealership or from an online store that sells car accessories.
Rubber Tailored Car Floor Mats
Rubber floor mats are a great option for a person looking to protect the car from mud, moisture, spilled drinks, or any other wet elements that can damage the car's carpets. Rubber mats come in various colours and can be laid down directly over the car's carpet or existing carpet floor mats. A rubber floor mat is a practical thing to have especially during road trips when food and drinks are consumed in the car. Anything spilled is easily wiped off and rinsed off the rubber mat. This kind of car mat is also a great option for climates that get a lot of rain and snow, seeing as the moisture can set into the carpets causing mildew to grow. Rubber floor mats are easily cleaned. The water collected on a rubber floor mat can either be wiped off or the mat can be taken out of the car to drain or let dry. Rubber mats can be customised as well, with car logos or names, or left as a solid colour.
All-Weather Tailored Car Floor Mats
All-weather car floor mats are a great options for overall value. No matter what elements a car's floor is faced with, they need protection. Regardless of the weather, wear and tear happen, and all-weather mats can be used all year round to protect the car's floor from whatever the day may bring. Like carpet and rubber mats, all-weather car floor mats come in various colours. They are made of sturdy materials, like rubber and rubber blends. Some all-weather car floor mats have a carpet liner on top to blend in with the car's floor, but are backed with a thick, durable rubber liner. These mats protect from snow and slush, mud and coffee, to just the everyday foot friction that happens when a person gets in or out of the car.
Fashion Tailored Car Floor Mats
Fashion car floor mats do not necessarily protect as well as some of the other types of car mats. Their main purpose is to customise the way a car looks on the inside. Whether the mats display your favourite sports team logo or a cute animal, or a special symbol or name, fashion car mats give your car a special look that matches your style and personality. Most fashion car mats are made of a thinner carpet material, but rubber options are available as well. These mats are not as durable as other car floor mats, but still offer protection from daily wear and tear and foot friction.
Clear-Protector Tailored Car Floor Mats
Clear protector mats are essentially a clear plastic liner that is intended to lay over existing car floor mats that come with the car. The mats have little pegs on the back side to ensure the mat does not slide around when a person is getting in and out of the car. The plastic is typically on the thinner side, and the mats tend to need replacing once a year. While the lifespan of a clear protector floor mat is shorter than that of other floor mat options, it does keep the original car floor clean. The plastic is water resistant and protects from spills and stains. This is a good option for a person looking to spend little money but still wishing to protect the car's floor.
Sizing Tailored Car Floor Mats
When purchasing car floor mats, no matter what the type, it is important that they fit well. This ensures the mats properly protect the car floor, and that they do not slide around, causing a person to trip when getting in or out of the car. While some mats come in a universal size, most come specifically sized to fit the car based on the make and model. When buying car floor mats directly from a dealership, they often come with the car logo embroidered on to it. When searching for tailored car floor mats in other places, such as online stores, be sure to choose a mat that fits the car's make and model. Each car has a unique build, causing the floor area to have different shapes and dimensions, so it is very important to purchase the proper size car floor mat for a good fit.
Find Tailored Car Floor Mats on eBay
eBay has an extensive collection of tailored car floor mats to choose from. You can choose from a wide selection of new and used floor mats, so finding an option that meets your specific wants and needs while staying in your budget is easy. If you are not sure of exactly which type of tailored car floor mat you want to purchase, start with a general search by typing 'car floor mats' into the search box on the home page. This shows you eBay's many search results where you can read product descriptions and compare different products.
If you do have an idea of which kind of floor mat you wish to purchase, try searching with some specific keywords. This provides search results that more specifically meet your wants and needs in a car floor mat. If you find an option that you like but it is out of your price range, try looking for a used version. Before making a purchase, be sure to read the product description. And do not forget to check that the mat size is correct and fits your car properly.
Conclusion
Tailored car floor mats are a great investment to make to protect your car's floor from wear and tear and to enhance the look of your car. Not only do they help to keep the car looking clean, but floor mats also prevent the car carpet from being damaged. Whether it is from snow and mud, or rain and spills, car floors are prone to stains and dirt. Even foot friction from getting in and out of a car causes a car's floor to wear down. A tailored car floor mat helps to prevent all these damages. Rubber car floor mats protect from snow, water, and mud. Carpet floor mats blend right into the vehicle's interior, while protecting the floor from foot friction, stains, and dirt.
Buyers should consider the benefits that each type of mat offers before making a purchase. If they are not sure of which type of mat provides them with the right protection, an all-weather mat is a great choice. eBay offers thousands of options, and is a great place to search for tailored car floor mats.