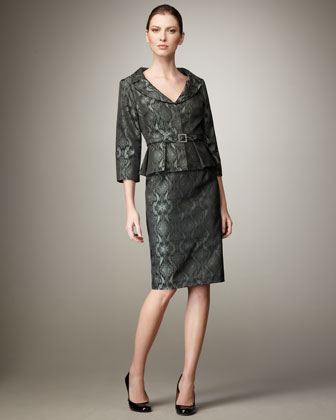 Tall women are advantaged when it comes to fashion because of their height. Even though it may sometimes seem difficult to find clothes that are suitable for a tall figure, the results are rewarding. Tall women can either look for clothing that accentuates or minimises their height and there are plenty of options to choose from when it comes to women's suits.
Women's suits are essential pieces in any woman's wardrobe, especially if she is working in an office. Suits are also a great option for casual or elegant wear, being perfect for a night at the theatre or a special evening event. Tall women have plenty of options when choosing a new suit, whether they are looking to buy it in high-street stores or online. Several tips are worth considering when shopping for tall suits to increase your chances of finding a suit that fits perfectly and accentuates your silhouette. Knowing how to choose a suit for a tall figure can help you make an informed choice when investing in a new suit.
Tips for Choosing a Tall Suit for Tall Women
When you are tall, chances are your trousers are never long enough, or if you manage to find the right length, they are simply too large everywhere else. The same goes for sleeves, which are often too short, forcing you to tug them whenever you reach the bar on the bus. Unlike in the case of petite women, altering the suit is not an option, as there is not enough fabric for making the sleeves and legs longer. This is why tall women should purchase a suit that fits them properly from the start.
If you want to make the most of your height and accentuate your tall silhouette, opt for striped suits (especially vertical ones), because this is a sure way to add a touch of boldness to your height. When opting for a tall skirt suit, knee-length is the best way to accentuate your figure and obtain a slimming effect if you are curvier. Shorter skirts are not recommended for tall women because the overall effect could be a disproportionate one.
For tall trouser suits, opt for jackets that never go above the waistline of the trousers. The trousers themselves can have a low, regular, or high waist. Women who wish to accentuate their height should opt for regular or high-waist trousers, while those who would like to appear shorter should consider trousers with a low waist because they may make the legs look shorter.
When it comes to colours, tall women should try to avoid patterns because they may make their figure longer than it actually is. Mixing both dark and light colours is always a good idea, with the resulting outfit being flattering because it does not attract attraction to a specific part of the body.
Tall women are often feeling self-conscious about their height and for this reason they slump their shoulders when walking or sitting. This is not just unhealthy, but it also looks rather unattractive. When wearing a tall suit, try to pay close attention to your posture because this way your clothes may look better on you.
How to Wear a Tall Suit
When wearing a tall suit, it is not only important to select one that fits properly but you should also pay attention to accessories, tops, and shoes. These details can make or break an outfit, so it is essential to get them right in order for the outfit to be a flattering one.
Tops
Tall suits are best worn with contrasting tops. This means that if the suit is dark, the blouse or shirt should be light and the other way round. Tall women should opt for shirts that are slightly larger than their regular size when wearing them with a suit. In order to obtain a visual break between the torso and the legs, tuck the shirt into the trousers. Even though tall women should stay away from patterned suits, bright colours and prints can work to your advantage on shirts, especially if you have a bigger bottom half, because they can draw attention away from it.
Accessories
Accessories are essential for a tall suit, whether you opt to wear it for a business meeting or a casual evening. If you are looking to break up your silhouette and draw attention away from your height, choose thick belts in contrasting colours. Large-sized accessories are not suitable for tall women who wish to appear shorter. Thin bracelets and bangles, studded earrings, and simple necklaces are accessories that go perfectly with tall suits. It is a good idea to wear a small handbag rather that a huge one with a tall suit. Tall women should also pay attention to underwear garments, and wear bras that are flattering their figure. Padded or gel bras are ideal for creating some cleavage, especially for women with smaller chests.
Shoes
Choosing flattering shoes for a tall suit depends on the occasion and whether you are looking to accentuate your height or downplaying it. Women interested in downplaying their height should opt for flat shoes or low heels, while tall women who would like to show off their height can go for stilettos or high block heels.
Getting the Sizing Right
Finding a women's tall suit that fits perfectly can be something rather difficult to achieve, particularly because not all manufacturers cater for the needs of all heights. For instance, numerous brands have lines designed especially for petite women, but not all do the same for tall women. This is why tall women should pay close attention to the sizes of their favourite brands in order to always get a suit that fits right.
If you want to buy a suit online, paying attention to sizing is vital, especially because you are not able to try the suit on before buying it. Taking accurate and up-to date measurements is the safest way to get the right size from first try. All online retailers provide their customers with sizing guides and charts, so it should not be too difficult to find out what size would look good on you. Use a cloth tape measure to take your measurements and consider the lengths of the sleeves and legs besides your regular bust, waist, and hips numbers. The chart below offers some guidelines for choosing a tall suit in the right size.
| | | | | | | | | |
| --- | --- | --- | --- | --- | --- | --- | --- | --- |
| UK Size | 8 | 10 | 12 | 14 | 16 | 18 | 20 | 22 |
| Bust (cm) | 82 | 86 | 91 | 96 | 101 | 106 | 112 | 118 |
| Waist (cm) | 65 | 69 | 74 | 79 | 84 | 89 | 95 | 101 |
| Hips (cm) | 90 | 94 | 99 | 104 | 109 | 114 | 120 | 126 |
You should always keep in mind that sizing may vary greatly from one brand to another. However, most of the manufacturers who cater for tall women simply lengthen the garments proportionally in order to accommodate the needs of taller customers.
How to Find Tall Suits for Tall Women on eBay
If you are looking for a new women's tall suit, a good place where you have hundreds if not thousands of options to choose from is eBay. Before starting your search for the perfect suit, decide on where you wish to wear the suit, in order to browse for an appropriate style. The easiest way to find a suit that actually looks good on you is to browse through as many styles as possible.
eBay is perhaps the most convenient way to shop for tall suits for tall women, especially because of the wide selection of styles available, so you should find the suit of your dreams in a matter of minutes. Simply type "women's tall suit" in the search bar on any eBay page and you can instantly get several pages of relevant results. If you feel overwhelmed by the number and variety of the results, try refining your search results by size, colour, brand, style, location, and more. In order to avoid the hassle of returns, try to read the product descriptions carefully, especially when it comes to sizing information.
Conclusion
Tall women may often worry about not finding a suit that flatters their figure, simply because not all manufacturers offer this kind of garments. This is not necessary, however, because the Internet is a goldmine when it comes to finding a tall suit. eBay offers a large selection of such suits and it should not be too difficult to find the one you need when browsing through their styles. The user-friendly search system of the website is ideal for finding the style you want without hassle.
Women's tall suits come in numerous styles and fabrics and it is important to know what works best for you before purchasing a new one. A high-quality suit, whether used for work or special occasions, can last for years and buying one should thus be treated like an investment. Make sure you know what styles are the most flattering for your tall figure and make your purchase accordingly.