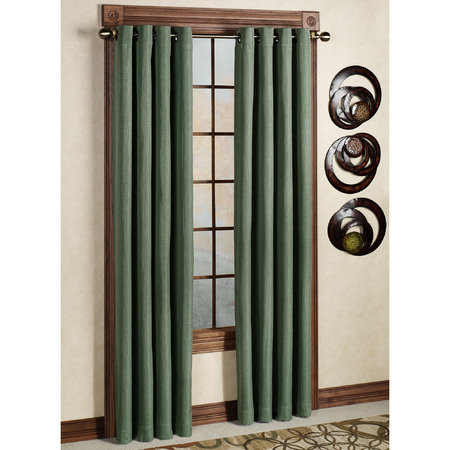 Looking for an inexpensive, yet practical way of keeping light and warmth in any room of the house? Then look no further than thermal fabric curtains. This guide fully covers everything that a buyer needs to know about thermal fabric curtains, and also how to purchase them. Firstly, they are created in a diverse range of designs, fabrics and colours to accommodate every home.
eBay offers an extensive collection of Thermal Fabric Curtains that are available for immediate purchase or bidding, and would match a variety of styles in any home. These can be purchased either pre made, made to measure or linings to fit the buyer's exact tastes and style.
Explaining the Benefits of Thermal Fabric Curtains
Curtains are lengths of fabric that are hung vertically next to a window across a drapery rod that pull together and apart to block light entering a room and provide insulation. What separates thermal fabric curtains from regular curtains is that they use a tightly woven fabric that adds a wealth of different features that are both stylish and practical to the modern home. There are many benefits of purchasing and installing thermal fabric curtains, and these include:
Keeping in Warmth: The fabric that is employed to make the curtains has an intricate design that is primarily used to lock in warmth in the room in which it is located. The inner lining and heavy multiple layering perfectly retains the heat inside the room, preventing any warmth escaping through any windows.
Complete Blackout: Similar to that of a blackout curtain, they add an extra sense of ambience to the room, and are a great way of blocking unwanted light. Using their multiple layers in a shielding manner, thermal fabric curtains give an encompassing blackout to the room when they are completely shut. These give premium light exclusion and dramatically block daylight instantly
Control of Noise Properties: As an added bonus, thermal fabric curtains fully let the user control the acoustics of the room, as the thick thermal lining acts as bowl, which magnifies the sound across the length of the room. The heavy coating provides a sound protector, making less sound escape, while at the same time protecting loud noises from disturbing the room.
Adding Body and Weight: Due their multi-layering the curtains have a heavy density that adds style and gives a more atheistically pleasing look.
Privacy: The thick lining allows for users to gain more privacy in their home without the risk of shadows, whilst also still matching the décor of a room.
Thermal fabric curtains work best in rooms that are constantly exposed to direct sunlight, or windows that are heavily exposed to outside elements. They are a perfect feature for night workers, children, elderly or just people looking to be more economic, as they are a premium way of cutting down on heating bills. When placing thermal fabric curtains in a bathroom, it is ideal to choose a waterproof fabric that will withstand humidity and prevent mould.
Types of Thermal Fabric Curtain
There are many types of thermal fabric curtains available for purchase. It is important to know type of curtain before you buy as different types create a different set up. Key factors that come into effect, when choosing a type, include:
Price range
Colours
Designs
Installation Options
Quality
Availability
These key factors all contribute when deciding what type of curtain is the best choice. The types of thermal fabric curtain can include:
Ready-Made: Ready-made thermal fabric curtains are widely available and are often the most popular choice, as they are simple to install and are often the most inexpensive choice. They simply hook into place either on the already existing curtain or on the rail above the window.
Made to Measure: Made-to-measure thermal fabric curtains are an ideal way of getting professionally designed curtains that are made to exact specifications. As they are made to the buyer's wants and needs, they can be made to have various hanging methods, including rod pockets, eyelets, grommets and tab tops.
Home Crafted Lining: Home crafted lining provides the user the opportunity to fully design their curtains so they can fit any window size, and be crafted to any shape and design. This lets the user have full control over what the length and width of the lining is, so they can match it perfectly to their required specifications. These can be easily sewn, and are simple to hang up.
It is important to consider the type that is correct for not just the buyer, but for the type of window and room as well.
Taking Proper Care of Thermal Fabric Curtains
To take proper care of thermal fabric curtains it is vital to always follow the manufacturer instructions for cleaning and caring for them, which should be included, or attached to the curtains. Most of the time, clean velvet or cotton fabrics use a gentle wash cycle, but if tumble drying, they require a low heat and should be removed from the dryer slightly damp to reduce wrinkles. Before washing any types of thermal drapes and curtains that contain various colours, be sure to test a patch for colourfastness so you know the colours won't bleed.
Where to Buy Thermal Fabric Curtains
Thermal fabric curtains can easily be found on the high street, in megastores or on online. However, eBay has a distinctive advantage, as the website has an extensive choice, along with written facts that give honest descriptions of the product. Though, the best bet is to browse the selections online, as this gives a more wholesome idea of the whole market and the variety of types. eBay has a wide variety of ready-made, made to measure and home crafted linings that all readily available at the click of a button.
Typing 'thermal fabric curtains' into the eBay search engine provides a varied list of curtains and linings that are sorted by either:
Best match
Price
Distance
Condition
Time
From this point, buyers can manually pin down their preferences and narrow down their search in terms of selecting the ideal choice
When purchasing a thermal fabric curtains on ebay it is important to read the seller information and their ratings, so you can buy with confidence. The important factor about eBay is you can easily view the contacts, payments and delivery costs the buyer sets out.
Just because buying thermal fabric curtains through eBay may be more affordable than purchasing one in a high street or a megastore doesn't mean that there is less quality in the product. In most cases, people are genuinely trying to sell thermal fabric curtains at a cheaper price to guarantee a quicker sale, so don't be too wary. eBay sellers are known for competitive selling so expect a variety of prices with flexible payment options.
In fact, in some cases, buying through eBay is an extremely safe and timesaving way of buying thermal fabric curtains. An easy to use menu to clearly displays the lengths and widths of the curtains, making the purchase of small or bulky items extremely easy.
If deciding to buy from eBay there are a few tips that will ensure a smooth and safe purchase:
Read the description of the thermal fabric curtains and all the conditions as specifications can differ greatly and it is important to get the correct item
Read the reviews of the seller and their feedback ratings. Are their ratings positive or negative and how many of each do they have?
Check how many sales the seller has completed, if they have had a lot of sales they are experienced and therefore trustworthy.
See if the seller provides a money-back guarantee if you are unhappy with the product
Check if there is there a warranty still valid in case the product is damaged, faulty or breaks
Check if the delivery conditions acceptable, if the product is a 'collection only' listing, do you live within a reasonable distance to pick it up?
Make sure to ask the seller any questions if there are any doubts over the product
Check all the details in the terms and conditions
If you decide to buy some thermal fabric curtains on eBay then there a variety of ways the seller will let you purchase them, Place a Bid, Buy it Now, or put down your Best Offer. Buying with PayPal will ensure the transaction will go effortlessly, and the website's Buyer Protection Program protects all eBay shoppers. Thermal fabric curtains can be found in the Home and Garden category.
Conclusion
Thermal fabric curtains are a clever way of adding that extra touch to a room, as they can be both practical and incredibly stylish. Ranging from 'make your own' linings to more expensive hand crafted designs, eBay has a wide selection to choose from, which are easy to read and sort. eBay also provides an added confidence when purchasing online offering support along with lengthy product descriptions.
If you still need further advice, you can contact any online suppliers or customer support, as they possess a wealth of knowledge on the subject. Before making the purchase, consider all options and be sure to ask our reliable eBay sellers any questions relating to the individual product listings. Experienced sellers on eBay can guide potential buyers though all their concerns.