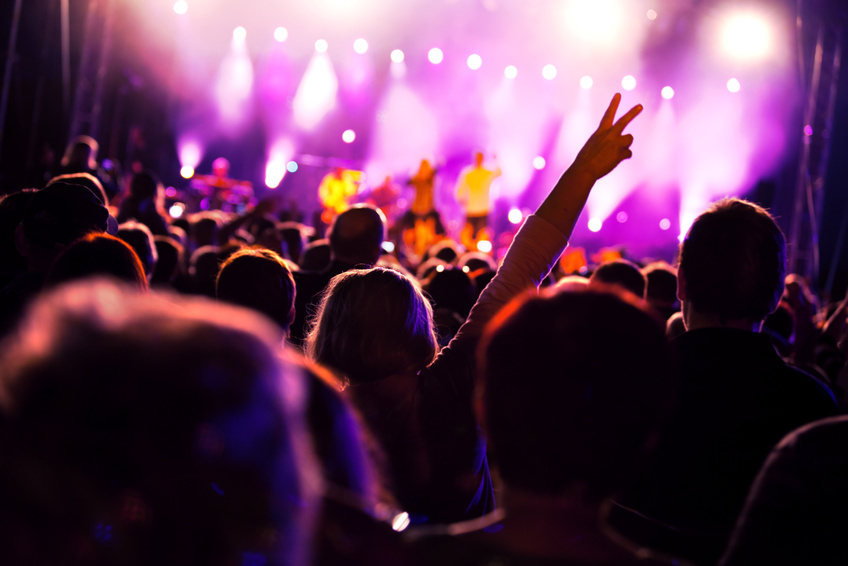 The Eden Sessions is a very unique music festival that takes place at the world renowned Eden Project in Cornwall, UK. The Eden project is comprised of large, artificial biomes, or domes, that house an impressive number of rare plants. Needless to say, attending a festival that takes place in this one of a kind environment can be a memorable experience for anyone. Each biome mimics a different real-world ecosystem including tropical and Mediterranean climates. Air filled plastic cells in various shapes are wrapped around the frame of the dome enclosing the entire micro-ecosystem.
Impressive as the science surrounding the Eden Project, are the Eden Sessions. This festival has gained popularity since it began in 2002. The Eden Sessions series features well-known artists that play in front of intimate, relatively small crowds in an unforgettable environment. The food is also featured at the Eden Sessions and is all locally sourced from sustainable providers. The Eden Sessions occur over the course of the summer, so planning is critical so that visitors coordinate their visit with desirable festival events.
The Eden Project
The Eden Project consists of a path that wanders through the two biome areas that feature rare plants, vegetable gardens, planted landscapes, and unique art sculptures. This includes banana trees, coffee, rubber, and giant bamboo plants. In addition to the two outdoor biomes, the surrounding outdoors act as the third biome. The Eden Project is located in a temperate biome, so temperate plants abound in addition to the indoor tropical and Mediterranean plants. Interestingly, the unique shape of the Eden Project biomes produces excellent acoustics making it even more well-suited to host a concert.
The Eden Sessions
The Eden Sessions has attracted big names to its one of a kind venue since its inception. Well known bands such as Blink 182, The Flaming Lips, Amy Winehouse, and Jack Johnson have all been featured. The concerts typically try and tie into the natural surroundings the Eden Sessions festival offers by having an environmental message. Buying tickets for the Eden Sessions can be done through their website or third parties such as brokers or sellers on eBay. The Eden Sessions can be a great experience that is family friendly, but some extensive planning is necessary to ensure the experience is a positive one.
Planning
Planning is essential when it comes to attending the Eden Sessions. There are a variety of obstacles that festival goers must overcome in order to enjoy the show. The following chart outlines some of the challenges when it comes to planning a trip to the Eden Sessions Festival.
| Obstacle | Options |
| --- | --- |
| Lodging | Hotel, Campsite, Guest House |
| Transportation | Foot, Bike, Auto, Bus, Train, Air |
| Food | Dining at Eden Project |
The Eden Project is located in a somewhat remote and rural location. Logistically speaking, simply getting to the Eden Sessions can be a difficult task. In addition, once arrived at the Eden Sessions, lodging options are limited so this should be taken care of early. The food is also somewhat limited at the Eden Project, although they offer high end cuisine that is prepared on site by local butchers and chefs. Attendees of the Eden Sessions Festival need to consider the following three things and make appropriate arrangements well in advance.
Hotels, Guest Houses, and Campsites
Hotels, guest houses, and campsites are available within a reasonable distance to the Eden Project. Campsites are the most affordable and also pet-friendly, but offer the least in terms of accommodations. Hotels are widely available and may be the safest and most reliable option. Guest houses present another interesting option as these arrangements are often very flexible and can be customised to the needs of the buyer. If the right guest house can be secured, it can truly be an ideal lodging option.
Transportation
Transportation presents an interesting challenge as well. Since the festival and the Eden Project itself emphasise environmental awareness, discounts are given to those individuals choosing to travel by foot or bike. The reduced carbon discount is an interesting incentive to those looking to either save money or be an environmental steward. Driving to Cornwall is always an option, although parking is an additional fee and no discount exists.
The Eden Project is only a short distance from the airport, making it convenient for international travellers. Also available is a train. There are also buses that may be available from major urban areas. Attendees who travel by train or bus also receive a reduced carbon discount on their ticket. There are many options for transportation so festival goers should be sure to select the one that best meets their needs.
Food
The food at the Eden Sessions Festival is also an interesting attraction. However, the options for alternative food is limited, therefore those with allergies or specific dietary restrictions need to plan accordingly. The food at the festival is locally sourced, sustainably produced, and organic where possible. Much is grown in the surrounding countryside, as well as on the grounds of the Eden Project. Chefs with different skills staff the Eden project, so butchers, pastry chefs, and cuisine chefs are constantly preparing an ever changing menu. This is also an effort toward localisation and environmental stewardship.
Items to Pack for the Eden Sessions
There are a variety of items that attendees of the Eden Sessions might consider packing. A camera is an excellent idea as the unique landscape combined with the incredible performances make for a memorable experience. Due to the enclosed nature of the biomes, and the tropical climates they are intended to mimic, attendees should bring appropriate clothing for those such climates. It may seem odd to bring shorts and sandals to a concert in the winter, however once inside the biome, the temperature should be warm and humid.
Camera
A camera, whether video recording or still photos, is a great idea to bring along on any trip to the Eden Sessions. A camera can capture great moments not only on stage, but also amongst family and friends, and take in the beautiful landscapes and biology of the Eden Project. Video cameras may be useful but they may not be permitted during the concerts themselves. Still photo cameras may be better suited for this purpose.
Apparel
Clothing is important to pack when attending a few days of the Eden Sessions. The biomes themselves are enclosed ecosystems that have their own climate, independent of the weather outside. Since the concerts take place inside the biomes, attendees must be comfortable when travelling to the biome, as well as once they are inside. This may require two very different wardrobes, one to ward off the cold and another to relax in a tropical climate. Good preparation and forethought typically leads to appropriate packing which should greatly increase the concert goers enjoyment.
How to Buy Tickets for the Eden Sessions Festival on eBay
Buying tickets for the Eden Sessions festival is easy and safe when shoppers use eBay. eBay has a broad range of options which might include different shows dates, different packages, and different prices that are all available to any buyer. The best way to start is to conduct a general keyword search by entering broad terms related to the product into the search box located on every page of eBay's website. This produces the broadest range of results unless the shopper adds additional specificity with more relevant search terms.
Shoppers can also arrive at the broad results by navigating eBay's intuitive categories. Once the results are displayed, shoppers can sort and filter them in a variety of useful ways. They can be narrowed by feature which might include dates, musicians featured, and package offers. The results can also be organised by buying format or even by time left at auction. eBay has great deals in many ways that are sure to suit any shopper's needs.
Conclusion
The Eden Sessions festival is a progressive series of concerts that take place at one of the most unique venues on earth. The natural biome settings offer excellent acoustics in a natural environment with an emphasis on environmental stewardship and sustainability. There are various lodging options so it is important for festival attendees to plan appropriately and make accommodations early. Transportation is also an issue as there are discounts for reduced carbon modes of travel and since food options are limited, they need to be considered.
Items to bring to the Eden Sessions include a camera to document the experience. Whether it is a still or a video camera, it is a good idea to capture once in a lifetime moments with family, friends, and the performers. Apparel is also important to consider as the biome climate may be much different than the climate outdoors. Concert goers need to be prepared for many different environments in order to ensure a positive experience. The Eden Sessions festival is a great way to enjoy music and nature in a truly one of a kind setting, and eBay is a great place to make all the plans necessary to get there.