With the distinctive styles and recognisable brand name, Tom Ford sunglasses are some of the hottest pieces of eyewear on the market. Dozens of styles are available, and you can choose as many pairs as you want to complement your wardrobe. Learning about some of the popular products and key features can help you locate a great pair of Tom Ford sunglasses.
Choose a Style

The first step in selecting Tom Ford sunglasses is choosing a style. As with any fashion accessories, there is no right or wrong choice. Any pair that appeals to you is perfect for accenting your wardrobe and helping you stand out from the pack. Tom Ford makes sunglasses for men and women, and dozens of styles exist for each. Check out the Alana Aviator sunglasses for women if you want a distinctive frame that outlines the glasses and leaves an open space between the lenses. Other popular women's glasses include the Whitney and Jennifer models. For men, consider the Elliot Square sunglasses. The frame supports the lenses from below, and a slight gold band runs along the top of the lenses. In addition to sunglasses, Tom Ford also designs optical glasses.
Choose a Colour
Many of the sunglasses in the Tom Ford lineup are available in more than one colour. For example, the Alana Aviator comes in either black or black horn. The black horn colour features a deep brown in flowing stripes that alternate with a mix of other colours. The men's Elliot Square is available in dark havana, matte black, and shiny black.
Try Them On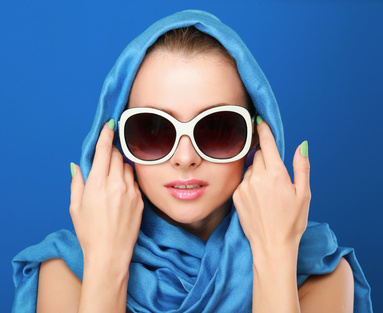 You can look at images of sunglasses all day long, but you may not know if they are right for you without trying them on. If possible, try the various styles on before purchasing them. This ensures you do not end up with expensive sunglasses that are not the right style for you.
Check for Authenticity
Due to the high price and desirability of Tom Ford sunglasses, counterfeit items sometimes hit the market. Authentic sunglasses should have retail boxes and cases with the Tom Ford name on the top. The box contains a booklet and authenticity card. Counterfeit copies commonly have misspellings, unusual fonts, or poor print quality on the booklet and certificate. In addition, authentic glasses have 'TOM FORD' spelled out in all capital letters along the top of the left lens, and the Tom Ford logo appears on a small metal plate on the outside tip of the right arm. The left arm has a model number and other information. These numbers should match the information in the booklet.