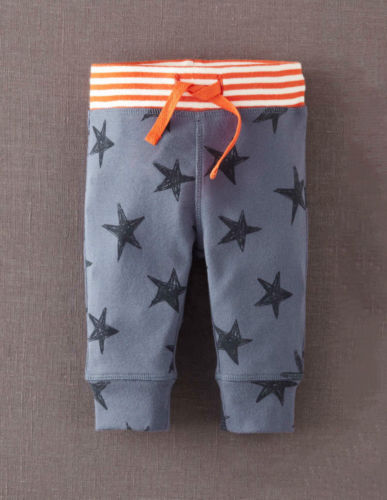 Trousers for baby boys are a very fashionable item. Many times it is not always easy to find ones that fit properly. Just like any other person of any age, the bodies of babies come in all different shapes and sizes. One way to alleviate this problem is to get used to buying trousers and other items of clothing according to the child's height and weight. One thing that is useful to remember though is that babies grow rather quickly. Some may grow at a steady pace, while others tend to have growth spurts. It is helpful to know how to properly measure and weigh a baby to keep up with these growth patterns.
There are various types of trousers that can be located at maternity and baby shops, as well as online at eBay. Understanding how to properly measure and weigh a baby to find what size of trousers best fits them as well as knowing what types of trousers are available can help take the guesswork out of which type to buy.
Brief History of Trousers
Trousers for males have been around a long time. They actually date back to more than a few thousand years ago when men began riding horses, especially the warriors. This is true for almost any ancient civilisation that adopted the use of wearing trousers while in battle. In early history, most warriors wore robes, such as the Greeks, Romans, and Native Americans. The same holds true for warriors in Japan and China, although they did take longer to make this change than most of the other cultures. And it all stems from the introduction of the horse as an animal that could help serve the purpose of going into battle and taking on the enemy more swiftly, although horses were ridden for other purposes as well.
Over the centuries trousers started gaining popularity as a fashionable choice of clothing option in Europe, especially after the eighth century as the look was likened to that of the knights who regularly wore trousers. Today, they are common for males almost anywhere a person chooses to go. No wonder trousers are such a popular item for baby boys.
Sizing Trousers for Your Baby Boy
Since babies tend to often grow in leaps and bounds, parents find that the baby does not stay in the same sized clothes for long. Having a baby clothes size chart is often helpful in deciding what size clothes fits the baby, as a parent cannot always rely on the pants size alone as a determining factor in choosing the ones that fit the baby well. The table below gives information on what size clothing to look for based on the weight and height of the child.
| | | |
| --- | --- | --- |
| Trouser Size (months) | Weight of Baby (kg) | Height of Baby (cm) |
| Newborn | up to 3 | up to 43 |
| 0 - 3 | 3 - 5 | 43 - 50.8 |
| 3 - 6 | 5 - 7 | 50.8 - 68.6 |
| 6 - 12 | 7 - 9 | 68.6 - 73.7 |
| 12 - 18 | 9 - 11 | 73.7 - 78.7 |
| 24 | 11 -13 | 78.7 - 83.8 |
The information contained in this table is the suggested size for the weight and height requirements for a majority of clothing manufacturers. This suggested height and weight chart gets the buyer within closer proximity to a baby's true trouser size.
Weights and Measures
When your baby is born, the doctor or nurse weigh and measure him or her. Although this information is helpful, it is just a starting point, and it is a good idea to remember that your baby is probably not going to stay that same weight or length for very long. Weighing and measuring a child monthly gives a more accurate picture of their growth change. Weight and length play a big part in whether articles of clothing fit properly or not. Knowing how to obtain your baby boy's weight and length at home is one way to keep this information up-to-date.
Taking Your Baby's Weight
Taking your baby's weight is actually very simple. All you need to have is a typical beam scale or an electronic scale. Before placing your baby on the scale, make sure that the infant is completely undressed, which means taking off the diaper as well. If you want to be as precise as most doctor's offices in recording the baby's weight, then make sure when weighing your child to take the reading to the closest tenth of a kilogramme.
Measuring Your Baby's Length
Removing a child's clothing is not necessary before measuring a baby unless they are wearing shoes or a hat of some kind. Articles of clothing should be removed from both of these areas, and the baby should be placed on a flat, even surface where there is no danger of falling. It is ideal to have a changing table or a crib with a headboard that the child can be placed against or other similar item. Then, place the babys head at the top. You may also place something at the bottom of the baby's feet to keep them in an upward position for proper measurement if you would like, as this is typically how measurements are taken in doctor's offices. Next, while gently holding the legs and feet still, measure the child's length from the top of the head to the bottom of the foot at the heel.
Types of Trousers for Baby Boys
No matter what your taste in fashion is for your baby boy, it is very likely that you can find the ones that fit the needs of the baby. Although trousers for baby boys come in just as many fabrics as the ones for adult males, the three most popular types are listed here.
Cotton Trousers
Cotton is one of the most comfortable fabrics for a baby to have next to their skin for many reasons. It is not only soft, but the material is breathable as well, which means that the baby's body heat does not get trapped inside, so it reduces the risk of overheating. For individuals who enjoy buying products that are organic, there are even organic cotton trousers to choose from as well. Furthermore, cotton trousers come in a variety of patterns and colours for baby boys.
Polyester and Cotton Blends
Polyester and cotton blended fabrics are popular choices for trousers for a baby boy because not only are the trousers easy to care for because they are wrinkle-resistant, but they are also often cheaper than purchasing ones made entirely from cotton alone. Another added benefit of purchasing trousers in polyester and cotton blends is that there is no shrinkage when washed, which might occur with other types of fabrics.
Waterproof Trousers
Waterproof trousers are a very popular choice amongst parents who have baby boys. They help protect the baby's skin from becoming wet and irritated. There are many varieties of waterproof trousers for baby boys available that have additional features added to the material to not only keep water out but let perspiration escape also. This helps the baby to stay dry and comfortable all day long by placing a waterproof barrier between the outside of the baby's clothing and his delicate skin.
Conclusion
It is not always easy to choose clothing for a person of any age without first trying them on to see if they fit. While most older children are easily able to try on clothing by themselves or with the help of another person, it is not as easy to dress and undress babies in this fashion. Most babies can become very agitated and do not have a lot of patience for it. This is why it is helpful to know what size the baby boy wears before shopping for trousers, or any article of clothing.
Taking measurements on a monthly basis can also help to alleviate confusion on size requirements and gives the parents a guide to follow as the baby grows. It is worthwhile to know what types of fabrics are available to help the baby stay dry and comfortable as well. Shopping for trousers for your baby boy is less frustrating when armed with useful information that helps eliminate confusion while buying trousers.