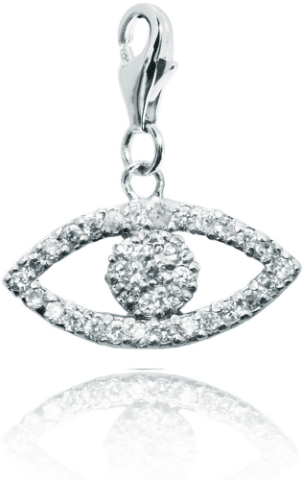 Charm bracelets have existed for thousands of years. Early on, individuals wore charm bracelets as a form of protection. More recently, people primarily wear charm bracelets for sentimental reasons. The charms on a charm bracelet sometimes represent important events and areas of interest in a person's life. Those who wear a charm bracelet or want to buy one as a gift can find charms constructed of a variety of materials, including silver, gold, ceramic, and more. Shoppers can also buy charms for necklaces, anklets, and earrings.
Shoppers can find a variety of different charms for a charm bracelet, necklace, anklets, or earrings, with those made from gold or silver costing more than other charm material types. Shoppers can save money by purchasing used charms instead of new ones. Whether buying charms for their own jewellery or for a loved one or friend, shoppers need to determine the type of charm needed, including material type. If buying a bracelet, also find out how to measure for size. Shoppers can find charms for their jewellery at local jewellery shops or they can look online on eBay.
Types of Charm Bracelets
The first step when searching for used charms includes determining what type of charms to buy for a bracelet, necklace, anklet, or pair of earrings. If buying for a bracelet, shoppers have a few choices. The table below lists the types of charm bracelets available, including traditional, Italian, and European styles.
Bracelet Types

Description

Made of a strong chain

Typically held together with a clasp or jump ring

Has a variety of charms available for all occasions

Constructed of stainless steel, fits any wrist size

Charms lay flat against the wrist and make no noise

Consists of a rope chain

Not as flexible in sizing as an Italian charm bracelet

More elegant than its Italian cousin
Charms are typically adaptable from one charm bracelet to another, and most charms can fit most bracelet types. When shopping for charms, keep in mind any special events that could be commemorated, such as a wedding, anniversary, birth, and more.
Used Charm Materials
Charm material construction plays a large part in the cost of a charm, with gold and silver costing more than other material types. The following table lists the different charm materials available, including silver, pewter, and bronze. The type of material chosen depends solely on shopper preference, budget set, and the look shoppers want to create.
Material Types

Description

Heavier than other charm materials

Best suited for necklaces, anklets, and bracelets

Have an antiquated or distressed look

Available in a variety of silver types, including sterling and Tibetan silver

Costs more than other charm materials

Suitable for all users

Add a rustic look to a jewellery piece

Lightweight

Suitable for uses on all pieces of jewellery that use charms

Metal-based items covered with enamel

Durable

Overall weight depends largely on the weight of the base metal

Charms typically formed in moulds

Weight of charms depends largely on whether hollow or solid

Heavyweight charms often used with wood or glass beads

Best suited to necklaces, anklets, and bracelets Cast in special modes

Most expensive charm material

Gold-plated charms cost less than fully gold charms

Lightweight and suitable for all jewellery types

These charms incorporate crystals into their design

Price largely depends on the type of crystal used

Lightweight
If shopping for a gift, keep in mind the cost range of different charms. Charms for children tend to cost less, while those for adults more than likely require more expensive materials to make.
Parts of a Charm Bracelet
While charms are also used on necklaces and earrings, bracelets and anklets make up a large part of the charm market. The sections below detail the various components of a charm bracelet and their function, including clips, spacers, safety chains, clasp types, and dangle charms.
Clips
Some charm bracelets, such as Pandora bracelets, use threaded clips to help space out charms and help even out the weight of the bracelet to keep it from stretching. This divides such bracelets into thirds, with the threading on the end meant to provide a connection for the safety chain.
Spacers
Spacers help keep charms from rubbing against each other, as well helping to fill gaps on the bracelet that cannot quite fit a charm. On Pandora bracelets, spacers come in two thicknesses. The smaller ones slide onto the threaded clips, while the larger ones screw directly onto the threads.
Safety Chains
Attaching to the each end of the bracelet, a safety chain helps hold a bracelet on when removing the bracelet. This in turn keeps the bracelet from falling off and hitting the ground, potentially damaging more fragile charms. The types of safety chains available include a safety chain that clips onto the actual chain and those on a Pandora bracelet that attach to the end threads.
Clasp Types
The ends of most charm bracelets attach through the use of a lobster clasp,, while bracelets such as Pandora bracelets allow the use of barrel clasps.. The two sections below details both clasp types.
Barrel Clasps
Barrel clasps usually attach onto one end of the charm bracelet, while the other end of the bracelet screws into the end of the barrel-shaped clasp. Pandora bracelets tend to use this type of connector.
Lobster Clasps
Lobster clasps contain an end that features a spring mechanism that keeps the clasp closed until the lever is pushed. Easier to secure than a barrel clasp, lobster clasps comprise the most common clasp types.
Dangle Charms
Dangle charms hang down from the chain of the bracelet. Shoppers can use a pair of needle nose pliers to attach or remove dangle charms using jump rings. The number of dangle charms present on a bracelet largely depends on the preferences of the wearer.
Measuring for Charm Bracelet Size
Measuring for charm bracelet size allows shoppers to select the correctly sized bracelet. When measuring at home, shoppers need a cloth tape measure to complete the following three easy steps.
| Steps | Description |
| --- | --- |
| Step 1 | Take the cloth tape measure and wrap it around the widest point of the wrist |
| Step 2 | Add 3.81 centimetres to the measurement |
| Step 3 | Choose a bracelet close to this measurement |
When measuring, shoppers need to take into account the clasp as well. Choose a longer rather than shorter bracelet so that the wrist does not get pinched while wearing the bracelet.
What to look for When Buying Used Charms
A piece of charm jewellery can provide a great gift for a loved one or friend. And the charms bought for it can have a special meaning for both the buyer and the recipient. When buying used charms, shoppers should keep a few things in mind, including quality, simplicity, and versatility.
Quality
Buying quality used charms helps ensure that they last for years and remain a treasured keepsake for a long time. Shoppers should only buy charms from reputable sellers. Furthermore, they should stick to buying sterling silver and gold and steer clear of plated metals. While plated metals cost less than pure sterling silver or gold, the look of these metals diminishes over the years. Also, make sure the clasp is durable, with lobster claw clasps being a good choice. Toggles provide another good choice since they wear well over time due to a lack of moving parts.
Simplicity
Shoppers should also keep in mind the ability to add pieces to the charm jewellery in the future. Some charm bracelets, such as Italian charm bracelets, require a jeweller to add any additional charms if the charms require soldering. Shoppers should ask the jeweller if they add new charms for free. Most jewellers offer this service for free, especially when shoppers buy the charm from them. Pandora charm bracelets give jewellery owners the ability to add charms themselves, which eliminates the jeweller altogether.
Versatility
When buying a piece of charm jewellery, shoppers should consider the selection of charms available. Italian charm bracelets, for example, only have a certain type of charm available that bracelet owners can add. While popular now, if the popularity of Italian bracelets wanes, then finding charms for them in the future could prove difficult. Chain type jewellery, on the other hand, have a wide selection of charms available. Charms that attach through jump rings allow owners to attach them at home, saving a trip to the jeweller.
Buying Used Charms on eBay
For shoppers who want to purchase used charms or charm bracelets on eBay, remember to always research the seller before buying any products. A good way to assess a seller's past performance includes reviewing their feedback rating. This rating includes information from previous buyers about the seller's product quality and other key product measurements.
While searching for used charms on eBay, make sure to use the Search box that appears on any eBay page. Use terms like "used silver charm&" or "used charm spacer&", for example, to begin search for high-quality products. To narrow down the results of products available even further, just click on the categories options to display listings for used charms. Another great resource to use includes eBay's search tips page, as well as specific eBay shops that provide shoppers with even more product options.
Remember before buying any products to ask the seller any questions that are not already answered on the product listing page. To do so, click the Ask a Question link on the seller's listing page. After asking a question, the seller should respond promptly. Finally, make sure to ask the seller if they provide shipping insurance or if the buyer must pay for it.
Conclusion
Adding charms to a bracelet, necklace, or anklet allows those who wear jewellery to celebrate special events, as well as show their support for a favourite hobby or other area of interest. Shoppers can even buy charms for friends and loved ones as part of a piece of jewellery or separately to add to a charm bracelet already owned.
Another consideration when buying charms concerns the charm material. Materials, such as gold and silver, cost more than materials, such as pewter, ceramic, and others. Buying used instead of new charms allows individuals to save money and stay within any budget set. Finally, shoppers should know how to properly measure for charm bracelet size. Having the measurements ready when buying a bracelet or other piece of jewellery allows shoppers to find the correctly sized bracelet. Likewise, being clear on what type of charm, including material and theme, allows shoppers to more quickly find the charm they want either at a local jewellery shop or online at eBay.