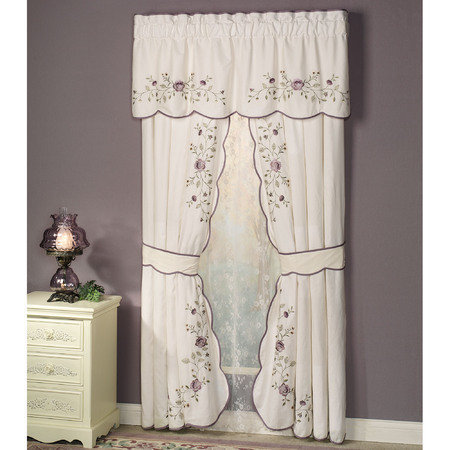 Most people enjoy windows with some sort of window décor. When you move to a new house or need a new look for a specific room, finding the ideal window treatment is important. You can buy curtains at your local home supply store, order custom-made drapes, or even make your own. While these are all guaranteed ways to obtain some curtains, they are not without their drawbacks. Budget and time restraints may have you wondering if you will ever find something suitable. That is precisely why many people turn to buying used curtains. Doing so allows you to choose the ideal style, save time, and keep your budget intact.
Purchasing used curtains from online marketplaces such as eBay can further benefit you by taking the uncertainty out of buying, while allowing you to search over a wide variety of curtain styles, fabrics, and colours. Before you begin shopping, you need to become acquainted with all the styles available. For example, there are formal, draped, heavy, and sheer curtains, just to name a few. You also need to measure the window you plan to cover, as well as pick out the proper curtain rods. Read on to find out more about buying used curtains.
Types of Curtains
When it comes to window curtains, choosing the right ones comes down to colour, fabric, length, and lining. The market contains a wide variety of curtain types, so prospective buyers will have little trouble finding used curtains to fit any budget range, home décor, or window size. With the many decisions that go into finding the perfect curtains for your home, the myriad choices available can become overwhelming. However, it does not have to be that way. Curtains can be broken down into a few simple categories that, once you know them, become very easy to decide on.
Blackout Curtains
Blackout curtains, also known as thermal curtains, offer protection from extreme temperatures. If you have an especially draughty home or would like to cut down on energy costs, these curtains are an excellent choice. Because of their extra-thick lining, many people use this type of curtain as a blackout tool to close off all light to a room. Fantastic for privacy, this can be especially helpful for those with non-traditional work schedules or those who are sensitive to light while sleeping. Except for the extra insulated layer, these curtains look much like any other type of drape.
Grommet Top Curtains
Grommet top curtains are a modern invention that allow the curtain rod to be passed through the top of the curtain by way of large grommet rings integrated into the material. Once the curtains have been hung, they create large pleats naturally without the need for a hot iron or special seams. These types of curtains give rise to a crisp look that is often used in modern or contemporary homes.
Ring Top Curtains
For those who like the look of draped curtains, ring top curtains are a good choice. These kinds of curtains are hung from decorative rings that are clipped onto the drapes at regular intervals across the top of the material. This allows you to gather the material in the draping style you wish to see without having to place it exactly across the curtain rod. Because of the rings, these curtains do not require a pull cord to open and close.
Rod Pocket Curtains
Rod pocket curtains, otherwise known as pole pocket curtains, are made with an overlapping material at the top. A curtain rod can be slipped through this casing to hang the curtains without the need for rings or drapery hooks. This type of curtain hides most of the curtain rod. While not ideal for showing off decorative curtain rods, it is one of the easiest curtain types to install.
Sheer Curtains
Designed to provide a bit of privacy while allowing in the light, sheer curtains are soft, airy, and perfect for a window that you want as little as possible added to. Sheers have less material than other curtains, so you will want approximately twice the length of the window to create a full look. This type of curtain can be hung from standard and decorative rods. Since sheer curtains usually have double rod pockets, you can design a different look by inserting the rod through the bottom pocket, allowing for a ruffle at the top.
Tab Top Curtains
Tab top curtains are perfect for a dressed, yet casual look in any room. These curtains hang from a rod by flat loops of material evenly spaced across the top of the curtains. Because of the tabs, they can be drawn open or closed as easily as curtains on rings and do not require a drawstring to do so. Be aware, however, that tab top curtains allow the light in through the top of the curtain, and cannot be used as a blackout option.
For clarification, use the following table to decide which curtains will best suit your needs and tastes:
| Feature | Blackout | Grommet | Ring Top | Rod Pocket | Sheer | Tab Top |
| --- | --- | --- | --- | --- | --- | --- |
| Minimal Installation Requirements | No | Yes | No | Yes | Yes | Yes |
| Needs Rings to Hang | Yes | Yes | Yes | No | No | No |
| Shows Curtain Rod | No | Yes | Yes | No | Yes | Yes |
| Hot and Cold Protection | Yes | No | No | No | No | No |
| Blocks Light | Yes | Yes | Yes | Yes | No | Yes |
| Freestyling | No | No | Yes | No | Yes | No |
In most cases, the best thing you can do when shopping for used curtains is to consider your home, personal style, and all associated requirements before you begin your search.
Measuring for Curtains
To ensure you create the best possible fit for your curtains, take a moment before beginning your shopping experience to measure the window. A metal tape measure works best for accuracy.
First, decide how you will hang your curtains. A track versus a pole, for instance, will cause the curtain to hang lower or higher. Ideally, curtains should be positioned 15cm above the window with hardware and extend 15-20cm on either side. Fit the hardware to the window first before you begin measuring.
You will want to measure the entire width of the pole or hardware you have chosen. The only time you measure the window itself is if the glass extends from wall to wall. If you plan to close your curtains, do not forget to measure for an overlap where the two panels will meet in the middle of the window. This usually warrants an extra 2.5cm, roughly.
The length of the curtains depends on your personal preference, whether it be from the window sill, below the sill, or the floor. Professional home decorators suggest that:
Sill-length curtains hang 1.25cm above the sill
Below the sill curtains hang 15cm from the sill
Floor-length curtains hang 1.5 cm from the floor
However, there are many other styles you can choose from. For example, a bohemian look, which allows the curtains to pool on the floor for a more relaxed, casual appearance.
Buying Used Curtains on eBay
One of the best places to buy used curtains of any style is at online marketplaces such as eBay. With a large community of buyers and sellers and a wide variety of styles, colours, and fabrics, shopping on eBay will suit nearly any buyer on any budget. Start your shopping experience by typing in a phrase such as "used curtains" into the search box that can be found on every eBay page. If the results turn up too many listings to sift through, use the many filters located on the sidebar to narrow the range of your search to only the results you want. You can also reorder the results page to show the listings in the order you would like to look at them, such as a price range or specific colour.
Once you have your ideal listings loaded, search each item for pictures, a description from the seller, price, and any shipping charges that may apply. Be sure to look at the sellers, as well, to find the best match to do business with. To do this, simply click on the seller's profile and read feedback from other customers, where they are located, and if they are offering any package deals to reduce shipping costs.
Conclusion
Curtains decorate the home, protect vulnerable rooms from harsh sunlight, and allow for privacy. Buying used curtains is an excellent way for anyone looking to add something extra to the home, while adhering to a budget, without having to miss out on the perfect colour, style, and fabric. You can find a wide variety of curtains that range from heavy materials to breezy sheers to specially lined drapes that literally black out a room. What's more, there are different hanging styles and various accessories available to further display your individual style.
Purchasing used curtains from online auction sites like eBay widens your options even further. Not only do you have a wider selection available, you may even find retired designs or a style you would never have considered before. Be sure you know what you want before you begin your shopping experience. Measure your windows and determine what curtain rods you will use to hang them. Regardless of the nature of your window, room, house or personal taste, there are many advantages to buying used curtains to spruce up an old look, finish a new one, or gain some extra privacy.