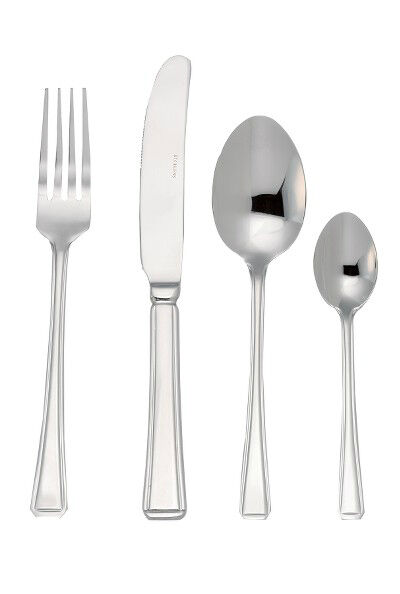 All homes require cutlery in some form, as it is essential for the preparation, serving and enjoyment of food. There are options available for all budgets, and buying used cutlery is an option to be considered when trying to obtain a cutlery set. Some sets, especially silver service or fine dining sets, may have had hardly any use, and buyers it is possible to obtain them for an affordable price.
About Cutlery
The definition of cutlery is instruments used to prepare, serve and eat food. In the UK, cutlery sets normally contain an equal amount of knives, forks, and spoons. Some cutlery sets will contain only one of each type of cutlery per person; other larger sets may include several different sizes and variants of the same instrument, each particularly suited to a different course of food.
Cutlery Etiquette
Cutlery is the key to fine dining, and knowing how to use it correctly is important. When a meal consists of numerous courses, it is commen practice to sit down at the table with all of the required utensils already laid. The knives should be placed at the right of the plate, and the forks to the left. Working from the outside and moving in towards the plate per course is the correct order in which the items of cutlery are to be used. As soup is one of the first courses, for example, the soup spoon will sit furthest to the right. Any dessert utensils should be placed at the top of the plate. Cutlery is also used to signify the end of a meal. When finished eating, place the knife and fork together and rest them on the plate. They should rest either straight up and down in the centre of the plate, or could also placed diagonally. This lets waiting staff know that the diner is finished with the course.
Simple, Everyday Cutlery Sets
Most families have a simple cutlery set that they use almost every day of the week. This may contain one of each type of instrument per person, for example one knife, fork, and spoon per person, although there may be additional items such as soup spoons or steak knives. Everyday cutlery sets provide enough cutlery for a normal one or two course meal; often there will be two types of spoons; teaspoons and dessertspoons. Diners simply use the implement that is most appropriate for the food they are eating. Everyday cutlery sets are usually made of hard-wearing, cheaper metal such as stainless steel. They may or may not have plastic handles. Really cheap sets may be made entirely from plastic – these are particularly suitable for children, or for occasional outdoor use such as for picnics, barbecues, and camping.
Family Dining or Fine Dining Sets
Family dining sets and fine dining sets often contain similar numbers of different knives, forks, and spoons, and may feature several of each to be used for specific courses. The difference between family dining sets and fine dining sets is normally the material they are made from, and the quality of the set – fine dining sets are generally made out of expensive materials such as solid silver, and are usually only used for the most prestigious of occasions. Fine dining sets are probably bought the least out of any type of cutlery set. Family dining sets contain most of the same implements, but are made out of a cheaper material, and, therefore, carry a cheaper price tag. This makes them suitable for special occasions when the family get together for a multi-course meal, but are more affordable for the average family. Many family and fine dining sets come in a presentation box so that they can be stored properly between uses, to preserve their condition.
Purpose of the Cutlery
As with new cutlery, make sure that when buying used cutlery its intended purpose and degree to which it will be used is clear. If looking for everyday cutlery for day to day use, look for sets that are strong, hard-wearing, and easy to keep clean and in shiny condition. If cutlery for use outdoors, while camping or on family picnics is needed, ensure that the cutlery is light in weight and also cheap to replace should items go missing. If a dishwasher will be used as the primary cleaning tool, double check to ensure that the cutlery is dishwasher safe. This should be checked before a purchase is completed. When buying cutlery for special occasions, consider cutlery that is heavier and suits the style of the table and table decorations. If the cutlery set contains a number of different types of knives, forks, and spoons, make sure that the contents of the cutlery set fully meets the needs. For example, a cutlery set that is missing steak knives is not suitable for a family who often cook thick pieces of meat to be eaten at family gatherings.
Available Budget
Budget is another very important consideration when buying used cutlery. Buying used cutlery is more budget friendly than is buying new cutlery, as it can often be found at a much lower price. Make a list of everything needed from the cutlery set, including how many of each item is required, and should also ensure that the set they choose contains all of this for the budget they have available.
Quantity of the Cutlery
A cutlery set will only be useful if it contains enough implements for everybody in the home that is sitting down to dine, plus a few extra for guests. This is especially important when it comes to used cutlery, as it may not be possible to buy more than one of the same set. When buying fine dining or family dining sets, it may be possible to supplement the set with some everyday cutlery or a similar set should there be more people at an event than the set allows for. Think carefully about whether using more than one type of cutlery at the table is a suitable option, should it ever be necessary. When buying used cutlery sets, ensure that it check whether any items are missing before they commit to purchase.
The Appearance and Condition
Appearance is one of the first things to review when buying used cutlery. Make sure that the condition of the cutlery is carefully assessed, as the set may be being sold as seen. This means that returning the goods due to damage is not permitted.
Finding Used Cutlery on eBay
Online auction sites such as eBay can be extremely useful for when searching for used cutlery. Finding suitable cutlery on eBay is very simple, and can be done quickly, by entering 'used cutlery' in the search bar on the home page. Buyers can then narrow down the items, which are displayed, saving them time, as they do not have to look through a list of unsuitable items. They can eliminate items based on factors such as price, brand, distance, and delivery options. Alternatively, used cutlery can be found by browsing the categories on the home page. Select Home, Furniture & DIY, followed by Cookware, Dining & Bar, followed by Cutlery. They can then narrow down the categories even further if they wish, for example, by selecting Loose Cutlery or Cutlery Sets. Used Cutlery sets can also be found by going to Home & Garden then Home & Garden again. From here, select Furniture & Living and from the drop down menu, choose Cookware, Dining & Bar.
Conclusion
Use online auction sites such as eBay to find and compare different used cutlery sets. Here there are listings for almost every type of cutlery set, including used sets. Before committing to buying a particular set, consider a number of things, including the use of the cutlery set, the style needed, and the budget available. In addition, be sure to find out about any defects in the item, for example scratches, as well as whether any items are missing.