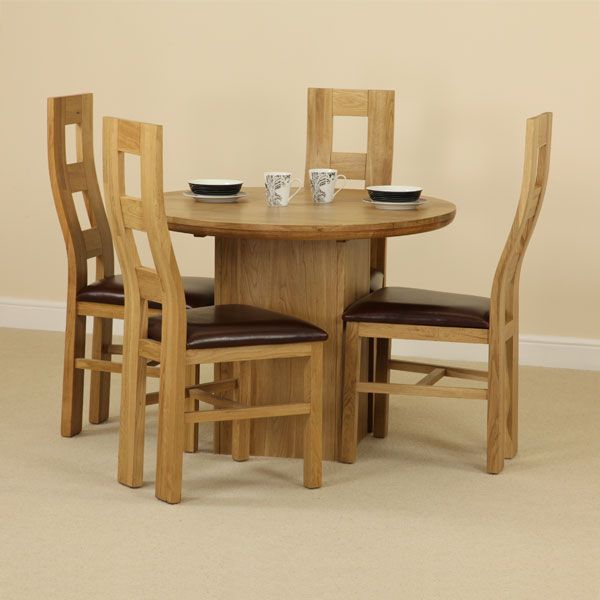 Nothing spruces up a dining room like a fresh table and chairs, or perhaps, even new chairs to match or complement an existing dining room table. When you're purchasing dining room chairs, buying used chairs from eBay is a great way to add some pizzazz to your home without spending too much. People spend a lot of time sitting down and eating dinner with family and friends, so dining room chairs should be comfortable, functional, and reflect the personal tastes of the homeowner.
Whether you're interested in wooden chairs that call to mind the shabby chic style of decorating, or more retro vintage dining room chairs, you'll have a large selection to choose from on eBay. Find the perfect chairs to replace old, worn out dining room chairs, or get a set of used chairs if you're moving and on a budget. No matter what your needs are, you'll find a great set of dining table chairs for your home or flat in just a few clicks. There are a few types of dining chairs you'll run into during your search, and you should choose the chairs that best reflect your own aesthetic tastes, style, comfort needs, and budget limits.
What to Consider Before Buying Used Dining Room Chairs
Before you start your search for some amazing used dining room chairs, you may need to consider first how many chairs you need. Chairs are sometimes sold separately, but most dining room chairs are sold as a set, with two, four, or six chairs in a set sold together. You also need to factor in the table the chairs are going to be used with; what material is the table made out of? Will the chairs match the table, or are you hoping for a non-matching, shabby chic look? Will the chairs fit comfortably under the existing table?
You may also consider what your budget is. Though used dining room chairs will be much more affordable than new chairs, some chairs may be more expensive than others, such as leather chairs. Think about the materials the chairs are made out of and make sure they complement other furniture and the overall look and feel of your home.
Common Types of Dining Room Chairs
When you're shopping for used dining room chairs on eBay, there are a few common styles you'll see frequently. Once you've decided which style of chair will go best in your home, it will narrow down the options and allow you to see what's available in that particular style. This will make your search for a set of used dining room chairs even easier and more convenient.
Wooden Chairs
Traditionally, wooden chairs are used in most dining rooms. These days, your selection of wooden chairs isn't limited at all. In fact, wooden chairs come in so many styles and even colours, it's a great and flexible option that will look good with a wooden table. Wooden dining room chairs can be solid wood, or they can have built-in cushions made of leather or cloth. The style of wooden chairs can vary, as they can be curved, have a straight back, be embellished with scrolls or carvings, or be quite simple and plain. Wooden chairs may or may not have arms or sides to them.
Shabby Chic
Shabby chic is a popular style of wooden chair that gives the room a funky, vintage, and retro vibe without actually being vintage chairs themselves. Sometimes shabby chic can simply mean mixing and matching chairs that aren't the same, or painting chairs to look distressed. The base of a shabby chic style chair is generally wood, and they may have embellished cushions. They may come in unusual colours such as blue, green or pink, and they look like antiques even though they may not actually be.
Shabby chic chairs are a great addition to an eclectic home or a home that has other antique or vintage style accents, and multicoloured or non-matching chairs add a whimsical look to the dining room.
Metal Chairs
Metal dining room chairs lend a more modern look to a home. They can look very minimal and simple. Metal chairs can also have wooden seats, or even wicker. Some metal dining room chairs may have pretty scrollwork designs at the top of the chair and a seat that matches the table. Metal dining room chairs can look funky and trendy, and they can look beautiful with a glass table. This provides clean lines and an elegant, simple complement to a dining room.
Vintage Chairs
For vintage furniture lovers, a set of great vintage dining room chairs that's in good condition can be an amazing find. Vintage chairs can come from any decade and be made of many materials. Some popular vintage chairs might be hoop back chairs from the 1950's, Formica chairs from the 1960's, or contemporary Art Deco style chairs from the 1970's. A set of vintage chairs can liven up a plain table, or even look great in other rooms of the house.
Vintage chairs, especially the wooden ones, tend to be well made and sturdy, so as long as the chairs are in good condition when you buy them, they should last for years.
Leather Chairs
Leather dining room chairs are comfortable and go well with traditional décor. They can either be made of real leather or faux leather, and obviously faux leather will be more affordable. These chairs can have high backs, or be curved such as tub style leather chairs. Leather chairs can come in a few different colours but are generally brown, red, cream, or black. The chairs come with various degrees of padding, and some may not be padded at all.
It's usually recommended to pair leather chairs with a glass table, but some leather chairs may have wooden accents which would make them quite complementary to a wooden table as well. The combination of a glass table and leather chairs creates a very modern, cutting edge look for the dining room.
Chair Cushions
For consumers that purchase wooden chairs but want some extra comfort, chair cushions can be easily added to most all types of wooden chairs. These cushions typically have strings that can be tied around the chair backs so they will fit properly. They come in many colours and designs and are made from cotton, microfibre, suede, or leather.
Match the chair cushions to your home décor, your placemats, or your tablecloth for a pulled together look in the dining room, or buy several types of chair cushions and change them out with the seasons or holidays.
How to Buy Used Dining Room Chairs on eBay
When you're looking for used dining room chairs on eBay, you can search dining room chairs, or simply chairs, then select used to narrow the field to only used chairs. From then, you can search for the chairs you'd like, or you can key in more specific search terms such as wooden dining room chairs, or leather dining room chairs. Some chairs will come individually, and some chairs will be sold as sets, so pay attention to how many chairs you can buy before you proceed with the sale. Make sure used chairs have no rips, tears, stains, or scratches.
Purchase dining room chairs from merchants that are Top-Rated Sellers, and check for feedback so you'll know you can buy with confidence. Shipping chairs can be expensive, so check for local sellers, sellers that will deliver by courier, or sellers that will send your chairs via Express Delivery if you live close by. Perhaps you can bundle other items with your chairs, such as chair cushions for a great rate on more products from the same seller. Buying used dining room chairs on eBay is more convenient and less frustrating than looking in every shop for the perfect chair.
Conclusion
There's so much joy when it comes to sitting around a table and sharing a meal with friends or family. Make that experience even more pleasant by purchasing some fabulous dining room chairs on eBay. The chairs can simply be functional and comfortable, or they can be cool, retro conversation starters. Make the dining room and kitchen the hub of your home by having some lovely, inviting dining room table chairs to complement your existing table and room décor.
You don't have to spend a fortune on dining room chairs, so when you buy chairs used chairs for your dining room or kitchen, you're getting great dining room chairs for the best price available. There are many styles to choose from, and the perfect dining room chair can enhance the way your dining room looks as well as add style to the overall look of your home. You don't have to replace your entire dining room set; if your table is still in great shape, simply switch out your old dining room chairs for some funky, cool, shabby chic chairs, or streamlined metal dining room chairs to update the dining room without replacing all of the furniture involved.