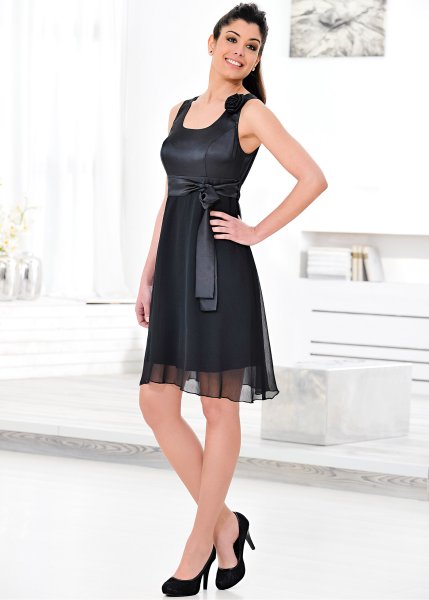 Once in awhile, every woman has to attend a formal occasion where formal dress is required. This might be one's own wedding, but it may also be a loved one's wedding, a formal dinner or cocktail party, a special ball or even a day at the races. As formal dresses can be quite costly - sometimes between several hundred and several thousand pounds - more and more women prefer to buy used dresses. But choosing a dress that is suitable for the occasion is not always easy, especially for women who do not attend formal occasions regularly. There are many important things for one to consider before purchasing a used formal dress.
This buying guide offers a quick tour of the world of women's formal dresses, hemlines, necklines, silhouettes, fabrics, and sizes. It also provides information on some of the considerations involved in buying a second hand dress. As well as covering several aspects of buying a used formal dress, this guide also offers some tips on buying used formal dresses on eBay.
Dress Codes
A formal dress may be worn on many different occasions. People may be allowed to wear whatever they want to a friend's wedding or party. However, there are some occasions where a dress code is required.
White Tie
White tie is the most formal dress code of all. It is only required in very formal occasions such as official state meetings, balls, and races. For men, it includes, among many other things, a tailcoat and white bow tie. For women, rules are not that strict, but a full-length dress such as an evening gown is expected, and sometimes colour choice is also restricted.
Black Tie
Black tie is slightly less formal but still formal enough. It includes a dinner jacket and a black bow tie for men, while women have a wide range of choices including dinner gowns, cocktail dresses, and little black dresses.
Semi-formal
Probably the most usual dress code. It is much less confining and women can choose from a variety of dress types according to the specific occasion.
Colour
Women generally have a much wider choice than men as far as formal dress is concerned. White is a common colour in weddings but should be avoided in other occasions such as balls as white may be reserved for debutantes. Sometimes colours are explicitly indicated in the dress code of an event.
Hemline
Formal dresses come in a wide variety of lengths. More precisely, they come in a variety of hemlines, starting with floor length or evening dresses, ankle length, mid-calf or tea length, knee length and mini. Mini in formal dress means anything above the knee. Of course, nowadays there are also dresses that do not fit within this strict length scale, as they may be asymmetrical. A dress with an asymmetrical hemline can be knee length on the right and tea length on the left side or, more dramatically, be floor length at the back and mini in front.
A dress may be accompanied by a train of varying lengths and shapes. Trains are nowadays mostly used on wedding dresses or ball gowns.
Silhouette
The shape of a dress is called a silhouette. The most popular silhouettes nowadays are:
The Ball Gown, which has a fitted bodice and a wide skirt below the waist. This dress is a good choice for full-figured and pear-shaped, but also for thin women.
The Empire, which has a high waistline, just below the bust. Good for women who lack a definite waistline.
The A-line which resembles the letter A, widening towards the floor. It can be worn by women of all body types.
The Trumpet, which starts widening at the middle of the hip.
The Mermaid where the fit is tight down to the knees and then widens to give a fishtail effect. The mermaid is the silhouette that accentuates a woman's curves.
The Sheath which fits tight right down to the ankles. Perfect for thin women.
Neckline
The neckline is important as it defines the first impression a dress can make. Dresses come with different types of long and short sleeves, but most formal dresses are sleeveless. They can have broad, thin, or even spaghetti straps, and the styles can be halter or one-shoulder, or they can be strapless. The neckline itself can be High neck, Bateau, Square, Scoop, Sweetheart or V-neck.
The choice of neckline is determined not only by a woman's individual taste but also by her figure, especially the bust. Again, two factors that must be taken into account are comfort and beauty.
Material
Formal dresses are made from many different kinds of fabric. A designer can make a dress airy, elegant or extravagant by using organza, chiffon, taffeta, satin, crepe, tulle and lace in different ways. What is important is to find a balance between the fineness and firmness of different fabrics to get the perfect effect on the dress. The fabric making up a formal dress must create a garment that fits and brings out the most beautiful figure in a woman without causing her any inconvenience. Usually a more sturdy material is used for the basis of the dress and finer and more exotic fabrics are added to decorate it.
Generally speaking, the main raw materials used are polyester, cotton and silk, in increasing price classes. Although silk and cotton in various types of fabric are the material of choice for a formal dress, a good quality polyester dress may offer a much cheaper alternative without sacrificing comfort.
A good practice when shopping for a formal dress online is to visit some brick-and-mortar shops first, accompanied by a good friend or relative, and try on as many dresses as possible to get acquainted with the feel of the different fabrics. This can help a woman decide what types of material she prefers, thereby making it easier to narrow the search.
Size
Size is one of the most important aspects when buying a formal dress. It is crucial for this special occasion that the dress is a perfect fit. Having a dress that's too wide will not show off your figure as it should and a dress that's too tight will certainly not let you enjoy the event. When shopping at a brick-and-mortar shop, it's just a matter of patience and time, and trying on different dresses until the perfect fit is found.
When buying online though, size can also be one of the most confusing and frustrating aspects of buying a dress, as there are so many different size systems used. Here is a useful table to easily convert women's US and European sizes into UK sizing. Also included are the measurements corresponding to the different size, but bear in mind that these may fluctuate between different models, brands and designers.
| | | | | | | | | |
| --- | --- | --- | --- | --- | --- | --- | --- | --- |
| International Sizes | | | | | | | | |
| UK | 4 | 6 | 8 | 10 | 12 | 14 | 16 | 18 |
| European | 32 | 34 | 36 | 38 | 40 | 42 | 44 | 46 |
| US | 0 | 2 | 4 | 6 | 8 | 10 | 12 | 14 |
| Measurements | cm | cm | cm | cm | cm | cm | cm | cm |
| Bust | 75 | 78 | 83 | 88 | 93 | 98 | 103 | 108 |
| Waist | 55 | 58 | 63 | 68 | 73 | 78 | 83 | 88 |
| Hips | 82 | 86 | 91 | 96 | 101 | 105 | 107 | 112 |
One solution with used formal dresses is to purchase a dress with a loose fit and have it altered by a professional tailor to fit exactly.
Buying a Used Dress
When buying a used dress, there are some points that always need to be taken into account. Size is very important, as was mentioned before. Also important is to know how often the dress has been used. A wedding dress is usually only worn once, but other formal dresses may have quite a bit of wear on them.
Of course, price is a very important aspect when buying a dress. A second hand dress is usually at least 50 percent cheaper than if it were new but in some cases formal dresses are sold for less than 10 percent of the original price. This, together with the sometimes exorbitant prices of a new designer formal dress, are the reasons that more and more women are buying used formal dresses.
Finding Used Formal Dresses on eBay
On eBay you can find an extremely large variety of used formal dresses. Just go to the eBay homepage and type your search for used formal dresses. You can then choose the category you are interested in, such as one for weddings or formal occasions. From inside a category, you can search by a variety of criteria such as colour, size, style, occasion, length, material designer and more, according to the category of the offered dresses.
As you are buying online, you can never be 100 percent certain about the dress you are purchasing. What you can do is establish a good communication line with the seller and ask all questions you would like to have answered. To send the seller a message, go to the seller's profile and click on the contact link. Make sure that you can return the dress in case it does not fit or in case there are stains on it that cannot be removed. Be sure to also ask how old the dress is and how often it has been used to avoid unpleasant surprises. The refund and exchange policies of the seller are very important.
Conclusion
A woman choosing a formal dress to wear on a special occasion, be it her wedding or another formal occasion, has to do a lot of research. She has to take into account the occasion and possible explicit dress code for the event and then decide on the preferred hemline, silhouette, neckline, colour, and many other aspects of the dress. Another decision is whether to go for a synthetic fabric such as polyester or a natural fabric made of silk or cotton. Of course, many women might want to go for silk, but polyester presents a much cheaper option. One has to be very careful about comparing sizes and choosing the right dress, and a good tailor can make alterations to make a loosely fitting dress into a perfect fit. The price and value for money are one more aspect to be considered. eBay is a great place to shop for a used formal dress, offering great variety and at the same time the authority and security needed for an online transaction.