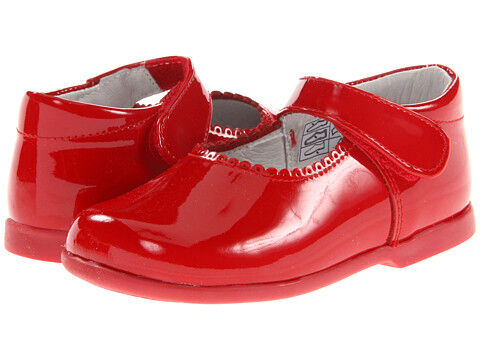 Small children, preteens, and teenagers outgrow their footwear rather quickly, making many parents reluctant to spend huge sums of money on buying fancy footwear for them. Girls especially do need many pairs of shoes in many styles, such as school shoes, dress shoes, shoes for sporting activities, rain boots, flip-flops, and sandals. When the occasion calls for it, and the family budget allows, it is sometimes desirable to splurge and buy a new pair of the child's liking. For everyday wear, however, parents should consider used shoes, which are inexpensive and will serve the purpose well.
It is advisable for parents to educate themselves before shopping for used girls' shoes and get a sense for the good-quality, inexpensive footwear available. As many kids outgrow their shoes before they wear them out, children's footwear can easily be cleaned and tucked away for use by a younger sibling later on, or sold and put to use again by a different child in a different family. Used girls' shoes are available in some stores but none with the variety of styles and price ranges offered on reputed online sources such as eBay. Once the online shopper settles on a choice of footwear, he or she may correspond with the seller in order to clarify all aspects before committing to buy. With an ever-changing selection, one is certain to find on eBay a pair of used shoes that will please both the parent and the girl.
Types of Used Girls' Shoes
Typically girls, especially teenagers, love to have a whole collection of various types of footwear, from flip-flops to snow boots, trainers to dress shoes, to go with various types of outfits. While younger girls should steer clear of heels and stick with sandals, flats, and trainers, older girls may wear a low heel when the occasion calls for it. Most popular types of footwear for girls are available second-hand, and at greatly reduced prices. However, the shopper looking to buy used girls ' shoes must exercise caution, read through the description thoroughly, and also closely examine the images of the product put up for sale.
Trainers
Created for walking, sports, and other physical activity, trainers are the most comfortable footwear and are good for the foot, providing adequate support for the arches and the heels. Besides being padded, trainers are also flexible, allowing for a wide range of movement while supporting the foot during activity.
Fashion Boots
Fashion boots come in a variety of heights. Ankle-high boots are often worn with jeans, while knee-high boots are a popular choice to go with minis and short dresses. Some fashion boots are also functional, such as winter boots that offer protection against rains or snows while also looking good.
Sandals
Sandals are a comfortable footwear choice during summer as they keep feet cool and aired, minimising sweating and prohibiting the growth of odour-causing bacteria that thrive when the feet are enclosed totally by the footwear. Many sandals can be slipped on and removed just as easily, making them a convenient choice; however, they do not offer total protection or support of the feet.
Flip-Flops
Another summertime favourite, flip-flops can be worn to the beach, poolside, or while shopping. However, flip-flops should not be used as an everyday shoe or during exercise, as they do not provide sufficient protection for the feet.
Flats
Flats are shoes in different styles with no raised heel at all, making them a good footwear choice for girls of all ages. Available in casual styles, dressy styles, and everything in between, flat shoes may have straps, laces, or may be simple slip-ons.
Heeled Shoes
Most school-age girls would do well to wear low heels, steering clear of high heeled shoes of 4 inches (10.2 cm) or more.
Points to Consider When Buying Used Girls' Shoes
When shopping for a pair of girls' used shoes, ideally one should look for a high-quality brand. A good brand generally makes shoes that are durable and long-lasting, allowing for even the used shoes to be in good condition after years of wear.
It is a good idea to closely read the item description and closely inspect the photograph, examining heels, soles, and toes thoroughly. Most images will have a zoom feature that allows one to see the product in minute detail. Check for creases on the uppers of the footwear, and soles by zooming in on the product from all angles. Reading the description will often tell the shopper how old or how worn the shoes are. Terms such as 'gently used' and 'barely used' indicate that the pre-owned pair is in good condition and likely a good buy. Using a sizing chart or corresponding with the seller can answer any remaining questions.
Many sellers state a reason that the used footwear is being sold. If the child outgrew the pair, or if it did not fit, chances are that the shoes have very little wear.
How to Clean Used Shoes
Some parents prefer to thoroughly disinfect used shoes before giving them to a child. Fortunately, there are simple ways to make the used shoes aalmost as clean as they were when new. Rubbing alcohol is a type of denatured alcohol and is an excellent disinfectant. Rubbing alcohol is 70 per cent or 95 per cent ethanol or ethyl alcohol, and may also contain methyl isobutyl ketone which is a chemical solvent, as well as acetone and water. Sometime a perfume base is added to this solution.
Fill a fine-mist spray bottle with rubbing alcohol and spray the liquid over the top of the footwear and even inside the shoes, so the footwear has rubbing alcohol coating it uniformly inside and outside as well. The footwear is then left to dry, preferably in direct sunlight, and drying happens quick as rubbing alcohol evaporates rather quickly, killing germs in the process.
Spraying the insides of the shoes with diluted bleach will kill germs and fungi as well. The shoes have to be thoroughly dried under direct sunlight before use. Check a small area of the shoe first to be sure it is colourfast.,
An antifungal foot spray used in the insides of the shoes will provide added protection from foot odour. Ensure that the shoes are dried well before wearing them.
Popular Used Girls' Shoes on eBay
Footwear in some specialised categories, such as sports and dance, are very expensive and most parents, especially parents of growing kids, appreciate a cheaper alternative. This also holds true in households that have a number of children in various sports, as buying new shoes for all could break the bank. Used shoes for sports and dance are plentiful on eBay. Sports trainers, hiking shoes, canvas shoes, and walking shoes for sports, and ballet shoes, tap shoes, and jazz shoes for dance lessons are just a few of the girls' shoes that the informed shopper can find at reasonable prices on eBay. Besides the budget, top priority should be that the shoes fit perfectly and that they are in good condition.
How to Buy Used Girls' Shoes on eBay
Shoppers looking to buy used girls' shoes on eBay can find a number of categories such as sports, dance, casual, dress shoes, and snow boots. These used shoes available for girls of all ages can be found by typing in 'used girls ' shoes' in the search bar. To find specific categories of shoes such as sports shoes, the shoppers may type 'used girls' sports shoes' in the search bar,producing lists of all the available shoes. The individual listing page of each item details item-specific information: seller information, details about the product, the item location, its price, where in the world the product may be shipped to, shipping charges, and more. Most often the seller has additional detailed images and description of the product, allowing the shopper a quick assessment of the shoes' condition. After narrowing down the choices and placing them in the cart, the shopper can review the purchases yet again before making a final decision. eBay offers numerous safe and secure payment options, so payment is quick and easy.
Conclusion
Growing kids need new footwear frequently, leaving parents poorer sometimes by substantial sums of money. With the availability of good used girls' shoes, parents need not worry about blowing their budget on repeated shoe purchases. Whether looking for used dance shoes or sports shoes or any other styles of used shoes, eBay has them all and makes shoes that are barely used or gently used easy. Sellers often provide an accurate and detailed description of the item's condition, along with images, helping with the decision-making process. Shoppers should use their discretion and select used shoes that will fit well and are in a good condition. While branded shoes are priced exorbitantly when new, getting the same shoes in used condition can satisfy all concerned. eBay has used shoes ranging from flip-flops and sandals to designer brands of footwear and young, fashion-conscious girls will be delighted by the variety, while their parents are relieved by the price.