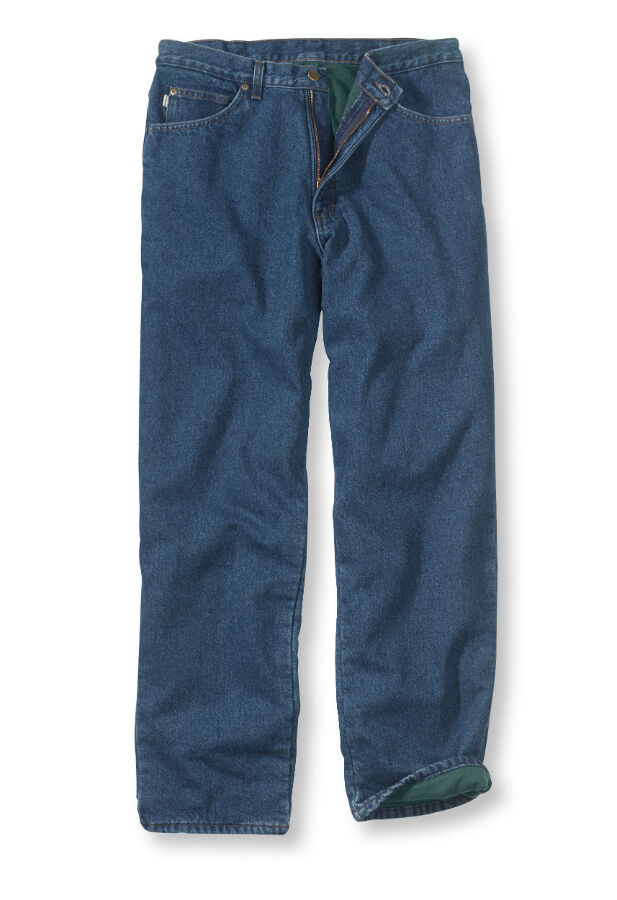 Yves St. Laurent once said that if he could start over, he would do so only designing and producing men's jeans. Jeans are an integral part of any man's wardrobe and men have numerous styles and cuts to mix and match with their shirts and shoes. The most popular component of a man's wardrobe can be worn during casual social events, as well as in more formal environments. Men even match suit coats with upscale jeans to establish a chic appearance. Regardless of the style of jeans and what purpose a pair of jeans serves, men can now buy virtually brand new jeans at discounted prices.
Used jeans, as with most men's clothing, carry a negative stigma. That should not be the case if a man shops shrewdly for a pair of used jeans. Men can find used jeans at consignment shops and retailers that specialise in selling secondhand clothing. The best venue for buying used jeans is online at eBay. First, men should learn about the styles of jeans, the types of cuts, and how to buy used jeans, which includes obtaining an accurate fit.
Styles of Used Men's Jeans
While there is virtually no difference between new and used jeans styles, there may be some confusion for men who cannot discern the difference between a pair of new dirty wash jeans and a pair of used stonewashed denim jeans. Men's clothing shop salespeople help men differentiate between similar looking new and used jean styles.
Washed Denim
As the most popular type of men's jeans, washed denim gets its colour from various shades of dye. Once a manufacturer constructs a pair of jeans, the jeans are then washed to rinse away the excess dye. This process creates the illusion that the jeans have been worn before and often leads to buyer confusion.
Raw Denim
Manufacturers leave raw denim jeans unwashed after colouring jeans with various shades of dye. This creates a darker look that fades naturally to give the jeans an authentic look of previous use. Raw denim jeans are popular amongst fashion-conscious consumers who value the cut that is more expensive than the cut employed on washed denim jeans.
Acid Wash
Once considered the epitome of chic, acid jeans have experienced a roller coaster ride in terms of popularity. A pair of used acid wash jeans can look good on someone who knows how to match the jeans with the right shirt, such as a simple, solid-coloured short sleeve shirt that does not button all the way down.
Dirty Wash
Dirty wash jeans are made from denim that is washed to the point that the jeans look as if they have been worn for years. Men should avoid buying used dirty wash jeans, since it is difficult to calculate how long the jeans have been worn. The distressed look of a new pair of dirty wash jeans comes from manufacturers integrating dark blue dye with a slight yellow or brown tint.
Stonewash
Manufacturers can utilise two different procedures to create stonewash jeans. They can either work with real stones to achieve the stonewashed look or use chemicals that achieve a similar effect. Men should look for used stonewash jeans that have been created from the classic use of real stones.
Vintage Wash
Vintage jeans are another pair of jeans that men should buy new, rather than used. The purpose of creating vintage jeans is to promote a worn appearance. Manufacturers work with a vintage wash that creates a pair of new jeans that many men believe are secondhand clothing.
Types of Men's Used Jean Cuts
Buying a pair of men's jeans requires buyers to decide on the type of cut. Different cuts of jeans go in and out of favour with men, and thus, a popular cut may add more value to a pair of used jeans. Cut decision mostly depends upon body shape and size.
Boot
Boot cuts work best for men who wear shoes that climb up the legs. It is a fashionable look that does not appear outrageous. The cut fits close to the shoe and it has a slight flare towards the leg opening. Boot cut jeans fit most body shapes, since they provide the perception of body balance.
Relaxed
Men who are above average in weight should consider the relaxed cut jeans. The loose shape of relaxed cut jeans do not accentuate curves and bulges. Slim men should avoid relaxed cut used jeans, as this type of cut can make skinny legs look fat.
Skinny
Skinny cut jeans look great on the man who possesses a slender frame and thin, muscular legs. This is an ultra-tight fitting cut that fits even tighter as used jeans. Fashion experts recommend that men who wear skinny cut jeans should match the used jeans with a fashionable sneaker to punctuate the chic appearance.
Slim
Slim cut used jeans are tapered in a similar manner as skinny jeans, but not to the same extreme. Hence, this cut of jean works for more men. It is the best choice of jeans cut for men who want to retain the slender appearance of tight fitting jeans, without having to worry about the jeans becoming too tight after frequent use.
Straight
Men who want to promote a conservative look buy straight cut jeans. It is the most common cut for both new and used jeans. Manufacturers neither taper nor expand the jeans excessively, which allows more body shapes to comfortably fit inside of the jeans.
How to Buy Men's Used Jeans
Men have to shop for a pair of used jeans in less conventional places. Most department and men's clothing shops do not carry used jeans. Consignment shops and secondhand retailers provide much of the brick and mortar stock. Men can purchase used jeans on eBay that have never been worn. Sellers offer mint condition jeans at discounted prices because they either bought the wrong size or wrong style. Men should look online for the best deals. Here are some other tips for learning how to buy men's used jeans.
Brand Name
Brand name jeans provide more durability than off-brand jeans, which is an important factor to consider for buying a pair of used jeans. Men should consider buying brand name used jeans from Levi's, American Eagle, Arizona, and Abercrombie and Fitch.
Return Policy
Whether men buy used jeans in person or online, make sure the seller offers a generous return policy. Used jeans may not fit or have defects that buyers did not see before making the purchase. A good rule of thumb is to buy used jeans from sellers who offer a 30-day return window.
Wash Used Jeans
The 30-day return window allows men to wear used jeans in different environments to test for quality and durability. However, men should always wash a pair of used jeans before they wear them. Washing used jeans not only ensures proper sanitation, it also determines if a pair of used jeans shrink after a washing machine cycle.
Wear and Walk
Store bought used jeans allow men to try the jeans on to make sure the jeans fit and look appropriate for their body shape. Men should walk around shop aisles to see if the jeans present any discomfort or have any concealed defects.
Fitting for Men's Used Jeans
Used jeans can shrink due to the type of fabric used to design the jeans or the frequency of washes. However, used jeans follow closely to the UK trousers size chart as listed below in centimetres (cm).
| Legs | Inside Leg (cm) | Waist |
| --- | --- | --- |
| Short | 167-174 cm | 74 cm |
| Regular | 174-181 cm | 79 cm |
| Long | 181-189 cm | 84 cm |
| Extra Long | 189-197 cm | 89 cm |
| Extra Extra Long | 197 cm and longer | 94 cm |
Men can either measure themselves to determine used pants size or obtain a measurement from a men's clothing salesperson. The measurement procedure remains the same regardless of who performs the measurements. Men should try on any pair of store bought used jeans, even if the measurements of the trousers coincide with their measurements.
How to Fit Used Jeans for Men
The used jeans fitting process involves three measurements. Men from the UK should use a measuring tape calibrated in centimetres.
Waist
The tip of the measuring tape should sit three centimetres above the navel. Stand straight and do not suck the stomach in as the tape circles around the stomach and back. Once a measurement is calculated, add another three centimetres to ensure the used jeans do not fit too tight. Men should also use the same measuring procedure for the hips. Waists that are much bigger than hips can create a dishevelled look for used jeans. Go with the larger measurement between the waist and hips.
Legs
Most shops provide men with a chart that matches waist size with leg size. This is only a standard comparison and men should measure their inseam to obtain an accurate leg measurement. Place the measuring tape alongside the crotch and let the tape fall until it reaches the top of the shoe. Wear the shoes that typically accompany the pair of used jeans being fitted. Shoes make the difference in obtaining an accurate measurement of the legs.
Buying Used Jeans on eBay
eBay sellers offer a wide selection of used jeans that can cost less than the used jeans bought in consignment shops. To find high-quality used jeans, men should type keywords into eBay's search engine and then navigate through the search results pages to find the sellers who match their shopping criteria. For used jeans, men should type brand names into the search engine, such as "Levi's used men's jeans" or "Armani used men's jeans". Men should shop for brand name used jeans to ensure quality. After finding the right seller, you should access the seller's product page to examine the enlarged product photograph, as well as learn about the seller's delivery terms and accepted payment methods.
eBay's Top-Rated Sellers offer the highest quality products and they offer generous return policies. Search for sellers who have the top-rated ribbon icon located next to their product photograph. You can also review seller customer feedback on the product pages. Look for sellers who have earned positive feedback over the previous 12 months and have received positive feedback for selling men's jeans. After you establish a business relationship with eBay sellers, you can check to see if the sellers offer products directly through an eBay store.
Conclusion
The negative stigma that has historically been attached to buying used clothes is finally beginning to wane. Because of this trend, men can now find brand name used jeans in consignment shops and secondhand clothing retailers. However, the best deals for used jeans is online at eBay, where many sellers offer practically brand new men's jeans at used jeans prices. This is because sellers may have bought the wrong size of used jeans or changed their minds about style. Regardless of the seller's reason, men should review the inventory of used jeans on eBay before deciding to shop in person.
As it is with shopping for any type of clothing, men need to do their homework before they shop for used jeans. Research the styles of jeans and understand which pair of new jeans can look identical to a pair of used jeans. Then, research the types of cuts to learn which cuts look best for specific body proportions. Follow a few used jeans shopping tips that include receiving an accurate jeans measurement. Buying a pair of used jeans can save buyers money, but the money goes to waste if the wearer does not properly prepare before stepping into a shop or going online.