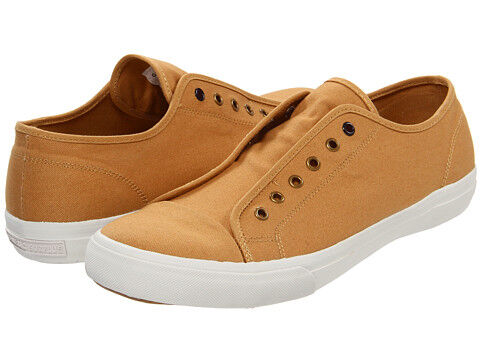 There must be something ineffably sad about putting up a pair of used men's beach shoes for sale on eBay. Think about the dream holiday they were probably bought for. What could possibly have gone so wrong that the wearer cannot foresee ever wanting to wear those shoes again? Do they remind him of an impossible romance? Did something unfortunate involving a shark occur? Maybe, on the other hand, a local fisherman came up with something better, transforming the seller's whole conception of appropriate footwear for the pearly-white, feathery-soft sands beneath his feet.
From the perspective of anyone who lives near the sea, the idea of buying used men's beach shoes might seem absurd since the sea delivers fresh supplies virtually every day; the only drawback being that seldom does the sea deliver a matching pair.
Varieties of Beach Footwear
As one might expect, the trade in used men's beach shoes on eBay is fairly light. On any given day, out of the thousands of pairs of shoe offered for sale in auctions and stores, used beach shoes number in the low hundreds.
Nevertheless, the opportunity is there for the canny shopper to pick up a bargain, or occasionally, a designer treat. Maybe someone is selling a pair of Gucci flip-flops, complete with elegantly polished wooden lasts to keep their shape while off the beach. One could mount them in a cabinet.
Flip Flops
The most familiar form of beach footwear is the "flip-flop&", a form of open sandal that gets its name from the sound the slapping of the sole against the foot makes. They are one of the simplest forms of footwear and also one of the oldest. Examples have been found among the remains of ancient civilizations, such as the Egyptians, dating to some 4,000 years BCE .The construction universally consists of a sole bound loosely to the foot by a Y-shaped strap that is held between the first and second toes, arching over the other toe to both sides of the foot.
The flip-flop of the present day became popular thanks to American soldiers returning from the Pacific campaign at the end of the Second World War. They brought with them a form of Japanese footwear called the zōri. Traditionally the most basic types are made from plant fibre, such as rice straw, but other materials, such as cloth, lacquered wood, or leather, could be used, and in modern times, rubber and synthetic materials have become common.
The simplicity of flip-flops makes them an attractive form of footwear in a variety of situations, but they offer little foot support, and extended wear can lead to strains and injuries. Thick, padded soles are one solution, and a strap design that minimizes the actual degree of flap, which it does by reaching towards the back of the foot, is also recommended.
Sandals
Like flip-flops, sandals are a form of footwear with a long history. Indeed, some items that appear in a search for flip-flops are more properly called sandals. The principal difference is that a sandal has binding at the heel that minimises or eliminates the flapping associated with the flip-flop. Nevertheless, the characteristic of a sandal that distinguishes it from other types of shoes is the extent to which the foot is exposed. A sandal is designed to protect the soles of a wearer's feet while enabling maximum sensory experience of the environment, for instance, walking on the beach through the tideline with wet sand crusting on the toes, which the lapping waters wash away. Practically speaking, sandals have the advantage in warmer climates of allowing the wearer's foot to breathe, minimizing the risk of developing fungal conditions, such as athlete's foot, which thrive in warm, moist environments.
Sandal Variations
There are many variants on the sandal theme from the minimal, low profile style many modern wearers favour to styles like the buskin, an open-toed boot historically favoured by hunters in warmer climates like classical Greece, because it combined the sandal's hygienic advantages with the boot's robustness.
Clogs
Among the variations are a form of footwear that deserves its own category: the clog. This type of shoe is more like a flip-flop than a sandal in some respects since the heel is typically exposed. On the other hand, the clog is more substantial than the flip-flop and less pronounced in its slapping against the heel. Traditionally made from wood, there are many lightweight models nowadays that utilise synthetic materials in bright and decorative colours.
Mules
Mules are a type of clog, normally with closed toes and open heels. Although the name comes from classical Rome, where they were distinctive shoes senior officials wore, in the present day they are associated with leisure wear. More often seen in women's styles, there are nevertheless a number of options for men who like this particular look.
Crocs
Crocs are a brand name that has spread, a bit like Hoover, to designate a particular look and style of footwear. The company specialises in a type of foam resin that has the property of being able to adapt to the wearer's foot. There are many Croc-like shoes now on the market, including such brands as Airwalk, Poliwalks, Dawgs, NothinZ, and Veggies.
Spa Shoe
Sometimes, the term "spa shoe" appears in search results. The Croc has been described, for instance, as having originally been designed as a spa shoe. The term conjures a leisured, pampered lifestyle at exclusive resorts focused on health and hygiene; beyond that, all of the shoe types already reviewed might be appropriate footwear in such a place.
Deck Shoes
Finally, there is a type of shoe that has a lot in common with beach footwear because of its association with holidays and leisure pursuits on the water. Deck shoes, or boat shoes, are specifically designed to be worn in the kind of wet and slippery conditions that one might experience on the deck of a yacht or small boat. They are typically fully formed shoes, either laced or elasticated, made in light materials suitable for use in a warm climate; normally, they are worn without socks. Additionally, they may be coated or oiled in order to make them water resistant.
The invention of this style is credited to Paul Sperry, whose Top-Sider brand remains one of the most distinctive in the market. Several of the major names in the shoe market, such as Timberland, also have deck shoes in their catalogue, while fashionable lifestyle brands like Ralph Lauren also include them.
Men's Shoe Sizes
With open backed shoes in flip-flop and sandal styles, there is more of a margin for error when it comes to selecting the right size compared to shopping for items meant for daily wear. Nevertheless, especially with moulded shoes, such as Crocs, it is best to get as close to a normal size as possible because the ridges and shallows are placed for maximum comfort. The right spot for a ridge underneath a size nine foot might be agony for a size eight wearer, for example.
| Mondopoint | Europe | Mexico | Japan | U.K. & Australia | U.S. & Canada | Inch | Centimetre |
| --- | --- | --- | --- | --- | --- | --- | --- |
| 228 | 35 | | 21.5 | 3 | 3½ | 9 | 22.8 |
| 231 | 35½ | | 22 | 3½ | 4 | 9⅛ | 23.1 |
| 235 | 36 | | 22.5 | 4 | 4½ | 9¼ | 23.5 |
| 238 | 37 | | 23 | 4½ | 5 | 9⅜ | 23.8 |
| 241 | 37½ | | 23.5 | 5 | 5½ | 9½ | 24.1 |
| 245 | 38 | 4.5 | 24 | 5½ | 6 | 9⅝ | 24.5 |
| 248 | 38½ | 5 | 24.5 | 6 | 6½ | 9¾ | 24.8 |
| 251 | 39 | 5.5 | 25 | 6½ | 7 | 9⅞ | 25.1 |
| 254 | 40 | 6 | 25.5 | 7 | 7½ | 10 | 25.4 |
| 257 | 41 | 6.5 | 26 | 7½ | 8 | 10⅛ | 25.7 |
| 260 | 42 | 7 | 26.5 | 8 | 8½ | 10¼ | 26 |
| 267 | 43 | 7.5 | 27.5 | 8½ | 9 | 10½ | 26.7 |
| 273 | 44 | 9 | 28.5 | 10 | 10½ | 10¾ | 27.3 |
| 279 | 45 | 10 | 29.5 | 11 | 11½ | 11 | 27.9 |
| 286 | 46½ | 11 | 30.5 | 12 | 12½ | 11¼ | 28.6 |
| 292 | 48½ | 12.5 | 31.5 | 13½ | 14 | 11½ | 29.2 |
A complication when buying secondhand beach shoes is that the seller quite possibly bought the item while on holiday. As a result, the size information might be in an unfamiliar format or system. The chart above compares men's shoe sizes, including the ISO standard unit, the Mondopoint, as well as Mexican and Japanese sizes. Note that Australian women's sizes differ from the British, but men's sizes do not. Also note that Mondopoint sizes generally include a value for foot width, which is not included here.
Buying Used Men's Beach Shoes on eBay
To start looking for used men's beach shoes on eBay, the quickest way is to type keywords into the search bar on the eBay home page.. General searches like "men's beach shoe&" will generate far more results than a detailed search such as "men's top sider deck shoes&". Although used beach shoes are relatively scarce on eBay, some searches will bring up several pages of results. You can filter these by selecting criteria that make the list more manageable in order to eliminate shoes you are not interested in.
Filtering options include size, brand, material, and condition. You can also set a price range, whether you are shopping on a budget or seeking to eliminate cheaper brands. Additionally, you can choose how your results are sorted. One good way is by price, but another, if you like hunting for last-minute bargains, is to sort by listing time. Bear in mind that the search window is always available and can be used to search within filtered results.
Conclusion
If you are heading off for a dream holiday in some warm and sunny spot far away from Britain's shores, you will undoubtedly want to pack footwear that is well suited to the environment you will find yourself in. Beach shoes let you feel the warmth of the sand and sea on your feet while protecting your soles from all the random hazards like jagged rocks, broken shells, and washed-up glass that you might encounter on a beachside stroll. If you do not want to spend a fortune on shoes, then eBay's auctions are a great place to look for bargains. But remember that although you can get away with more latitude with sizes when it comes to beach shoes, it is not a good idea to be careless. You could end up with blisters or sprains that might ruin your stay.
With its well-thought-out filters, convenient purchasing options, and the many ways that buyers can research or track the items they are seeking, eBay is the ideal place to search for used men's beach shoes. If you miss out on a pair of shoes you were watching, you can expect eBay to show you a selection of similar items that might fit the bill. If you are looking for a secondhand bargain, then it is worth bearing in mind that, although there are disadvantages both in terms of quality assurance and consumer protection, the advantages can easily outweigh them for the buyer on a budget.