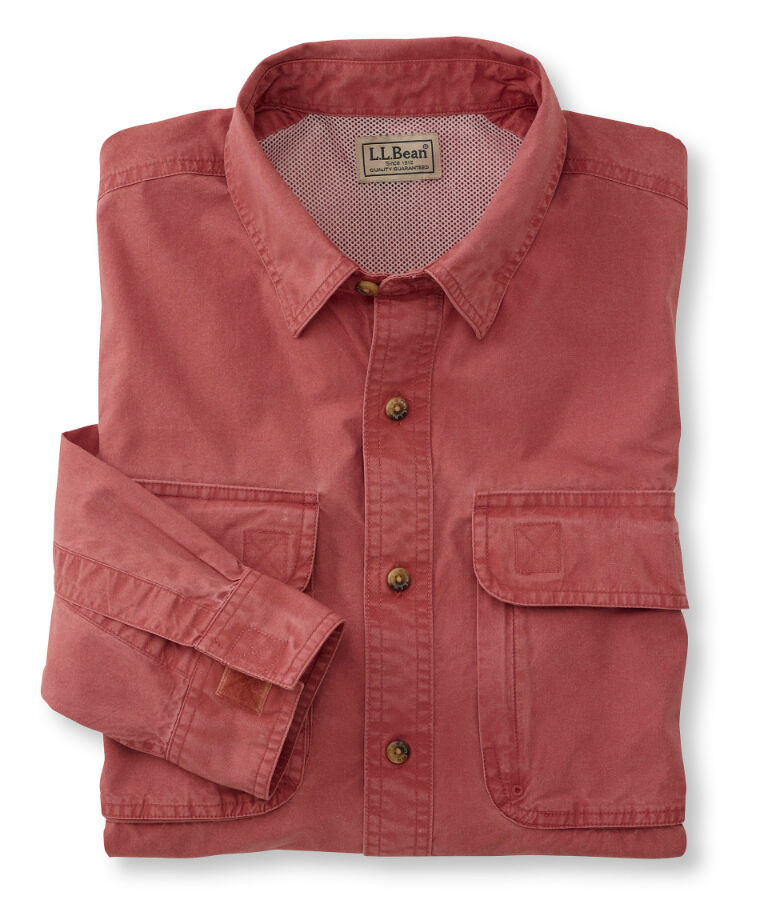 For the most part, men have fairly limited options when it comes to shirts that are acceptable in the workplace. Even in various nations around the world, men are stuck with button-up shirts with a tie. It is true that there are differences in colour and material, but for the most part, men are only allowed to have a bit of variety when it comes to their casual shirts. There are many different kinds of casual shirts available for men as well as many options in terms of colours, materials, and sizes.
Men can buy new casual shirts in clothing stores, but many men are finding that used, or "vintage" shirts are a viable fashion option. These used shirts can be found in thrift stores, but there are far more options available on eBay, where men may find low prices and great deals. When buying used casual shirts online, there are a few things to consider that will help to make the purchase process a smooth and efficient one. Not only should a buyer be aware of what styles of casual shirts are available, they should also understand the basics of fitting used clothing as well as some tips for shopping for used clothing in general.
Men's Casual Shirt Styles
For the most part, casual shirts are shirts can be worn when enjoying time off of work on a weekend and during the evening as well. These are clothes meant for relaxation and can be worn at either a sporting event or on a night out on the town. There are many different styles of casual shirts, consisting of both short and long-sleeved varieties. All of these various shirt styles are available used on eBay and would make a nice addition to any closet.
Polo Shirts
The traditional place to wear a polo shirt is on the golf course or when playing tennis, but for many men polo shirts are a solid choice for wearing anywhere. Polo shirts are typically comfortable to wear and provide a slightly more formal appearance. Polo shirts are easily identified by the collar and the row of usually three buttons from the collar down in a vertical pattern. Polo shirts are very commonly sold in solid colors, although there are striped polos available as well, making them easier to match up with a pair of trousers. Long-sleeved polo shirts, while not as common, are a viable option as well and can be a useful choice for wear in colder climates.
Button-Up Shirts
Button-up casual shirts have many similarities to formal dress shirts that are worn in an office setting. Casual button-ups, on the other hand, are usually designed to be worn with at least some of the buttons undone and are more often than not, intended to be worn with a tie. Casual button-up shirts come in a variety of different colours and patterns and can be quite eye-catching. These shirts also come in short-sleeve and long-sleeve varieties, with long-sleeve shirts being the more common of the two. Some men will even choose to roll up their sleeves during warmer weather rather than find a short-sleeve shirt. Casual button-up shirts typically come in a variety of materials, including synthetic materials and cotton.
Henleys
Henleys are shirts that resemble polo shirts, having a vertical column of buttons down the front, but lacking the collar. Henleys are shirts that have gone through many cycles of popularity and disfavor, but are a popular style of casual shirt for men. Like polo shirts, henleys can be found in both short-sleeve and long-sleeve varieties. There are many materials that henleys may be comprised of, but a common preference of customers is for them to be made of a thermal material that is both comfortable and suitable to wear in colder weather.
T-Shirts
T-shirts are quite possibly the primary staple of the used clothing industry. T-shirts are comfortable, can generally fit anyone, and often come with words, logos, pictures, and phrases printed on them. T-shirts are popular because they are generally less expensive and are easier to store. The rise in popularity of "vintage clothing" means that many T-shirts printed with images of forgotten events and pop culture references are quite popular and are commonly found for sale on eBay. Along with displaying possibly humorous images, T-shirts are commonly worn as layering underneath a heavier shirt such as a sweatshirt or hoodie and are often worn underneath casual button-up shirts.
Ensuring a Good Fit for Used Casual Shirts
Like most clothing, casual shirts are more comfortable if they fit properly. For this reason, it is important to determine whether or not an item of clothing will fit before making that purchase. There are a few things to consider regarding fit when it comes to buying casual shirts, and buyers should pay attention to clothing sizes, as well as measurements before making their purchase.
Clothing Sizes
Most manufacturers of clothing will include a size for a particular article of clothing, usually using the same categories such as small, medium, and large with sizes outside that range such as extra small or extra large. These sizes, however, may differ from manufacturer to manufacturer and one shirt that may be labeled "large" by one company may be smaller than one labelled "large" by another company. It is a good idea to understand what kinds of sizes work best for each individual in terms of what each designer makes.
Clothing Measurements
In some cases, clothing is sold as used when it is in fact new and has the tags removed. These items can be a great bargain deal, but it may be difficult to understand what size they are without the tags present. In many cases, clothing on eBay is described using actual measurements for exact specifications. This can be very helpful in terms of finding the perfect shirt for a man's body. Knowing what measurements work best with an individual is as easy as measuring a shirt that is already owned or using a measuring tape to get a good sense of how big an individual's torso is.
Used Clothing Care and Maintenance
For the most part, used clothing that is sold online has been worn previously and may have been washed at least once. It is important, however to understand what the care instructions for a particular item might be before making a purchase. Some articles of clothing will shrink after being washed and dried, which may make them unwearable. A shirt that is labeled as "large" may in fact be much smaller due to shrinking.
Tips for Buying Used Clothing
While most of the items sold on eBay are of good quality, it may be possible for a buyer to not fully know the details of the item they are in fact purchasing. It is important to take a few steps to ensure that each item of used clothing purchased is exactly what is wanted. One must take any and all necessary steps to ensure the quality of the item they are buying.
Read the Description
Casual shirts sold on eBay have a description that not only explains certain features to the buyer, but also what problems or flaws might be found in each individual product. Some articles of used clothing may be described as being lightly worn or may have no mention of how it was worn altogether. Some descriptions may have red flags for buyers such as a description including mention of stains, holes, or strong smells of any kind like that of tobacco smoke.
Examine the Photo
Pretty much everything sold online, including casual shirts, comes with a photo. Before making a purchase, it is a good idea to examine this photo and determine if there are any flaws such as stains, holes, and other problems, like a broken zipper than may make an item a less than ideal purchase.
Ask Questions
Those who sell used clothing online can be asked questions about various items in order to clarify any questions left after reading the description and viewing the photo. Asking questions is a good way to find out about care instructions and whether or not the item is pre-shrunk or if it will become smaller after washing if these things are not already mentioned in the description.
Buying Used Men's Casual Shirts on eBay
Men can find casual shirts in many styles, colours and fabrics in pretty much any clothing store on the planet, but there are also many options for casual shirts available on eBay. Shopping in an online marketplace like eBay gives users the benefit of viewing items that may not be found in local stores, for example vintage T-shirts. Shopping online may also offer potential buyers lower prices, even after shipping has been factored in and men can find the perfect casual shirt without ever leaving their home. In order to find casual shirts on eBay, a buyer may simply enter a search term into the search bar on the eBay home page. This search term may be as simple as "used men's casual shirts", or may include more specific terms referring to size, color, or style. Once a shirt has been selected, purchasing one is a simple task with eBay's user-friendly website.
Conclusion
With the right casual shirt, a man can relax and enjoy a moment at home after work or a night out with friends in style and comfort. Finding the right casual shirt need not involve buying expensive designer apparel as there are many options in terms of used casual clothing available online. When buying casual shirts, it is important to understand what kind of styles are available at any given time. From there, it is usually a good idea to determine what sizes might be the best fit for an individual as labels can vary and indicate a size that may not be the best fit for a particular person. After this, it is important to find out if a used article of clothing has any problems such as stains or hole before buying . Once all of these steps have been accomplished, buying the right casual shirt can be an enjoyable experience and allow men to build their wardrobe quickly and easily without breaking the bank.