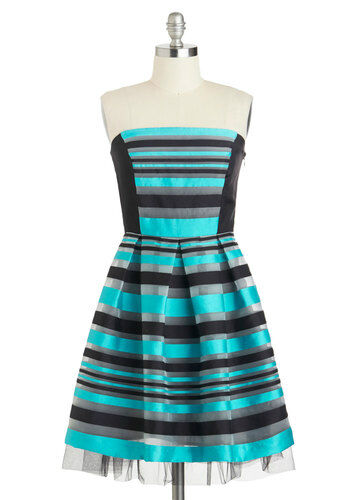 It may be attributed to the economic crisis or the sudden glamour of vintage looks, but used party dresses are becoming more popular. Party dresses often have a short life span, either because people grow tired of them when fashions change or simply because they do not want to be seen wearing the same fancy dress over and over again. Thus, buying used party dresses is a green practice, in that it reduces waste, as dresses that might have ended up in the trash are simply passed on to a new owner, often through online sales.
Buying used party dresses can be a fun and affordable way to create glamorous looks for any important event. This buying guide offers reasons on why purchasing used party dresses is a good idea, and it discusses the considerations involved in purchasing used party dresses online. Additionally, it provides tips to help the inexperienced online shopper become an expert at buying used party dresses.
Why Buy Used Party Dresses?
Fashions are cyclical. These days, they are more than cyclical; it seems that each season´s collection is a reworking of last year´s or a revival of certain styles that were "in" only a few years back. As fashion becomes more eclectic, it allows for the coexistence of a number of different styles. This means that with a different pair of pumps and a trendy hairdo, one can easily make a dress from last year look perfectly appropriate for today.
One other advantage of buying used party dresses is getting access to designer items at reduced prices. When one strikes upon something on eBay´s auctions section, the sky is the limit. One could easily buy a dress by a top fashion designer for a fraction of the price; the only drawback being that it might have been worn by someone else, possibly only a few times.
So, here is a list of some of the advantages of buying used party dresses:
Green solution
Affordable
Stylish, vintage
Fun: mix and match styles from different trends or years to create original looks
Access to dresses from all over the world through online shopping
Variety
Exclusive: an alternative to buying mass-produced party dresses at a local store
Finding the Right Used Party Dress
When striving to find the perfect dress, one must look for stunning designs without overlooking important aspects such as size, fabric, quality, and condition.
Design and Colour
When it comes to design and colour, the right dress is always the one that looks the best on the person wearing it. Therefore, one must always consider designs and colours that flatter skin tone and body shape, and accommodate personal preferences.
Wearing a dress that is totally wrong for one´s body shape may be considered a fashion mistake. A person who knows his or her own body should always choose a flattering design, even when the fashion of the time seems to be going in the opposite direction.
Just like a fitting design can highlight the best features of someone's body, the right colour or print can complement skin tone and eye-colour, creating a perfectly harmonious palette.
Fabric and Quality
The type of fabric a dress is made of is usually a decisive factor, yet a good cut and neat sowing are also essential when it comes to assessing any garment's overall quality.
Fabrics Galore
Different fabrics can make the same design look and feel very different. Some fabrics are enduring and require little care, while others are more demanding and only last if one is extremely careful about proper washing and storing.
Organic fabrics such as silk are soft and noble, yet they are usually expensive and require extreme care. Hybrid rayon, an artificial creation made from natural fibres, is often mixed with silk to make more affordable, less fragile fabrics such as silk satin, charmeuse, and shantung.
Textured silks such as chiffon, tulle, and organza are stiffer fabrics best suited for more structured dresses. When looking for this type of dresses, the synthetic taffeta is also a great choice: it is durable with a nice lustre, and it also comes in iridescent colours.
Satin and shantung are shiny finishes that can be found in both organic and synthetic fabrics. Polyester, acetate, and nylon are common synthetic fabrics that can be used to create the illusion of organic wonders: when the finish is good, one can hardly tell the difference.
While dresses made of 100 percent natural fabrics are rare and pricey, as a rule, it is advisable to look for a high percentage of natural fibre. However, in the case of used dresses, delicate fabrics can only endure the test of time if owners take great care of them.
In conclusion, it is always a good idea to do a bit of research into the fabric the dress is made of as well as its age. If the equation works, and it can be determined that the condition looks good, the dress can certainly be a good choice.
Quality
It can be tricky to evaluate the manufacturing quality of a dress over the Internet. Hems are always a good place to look: if they seem untidy or loose, that alone should set off an alarm.
The quality of the sowing can easily be assessed online, provided the sellers have taken good close-up photos of the dress. Seeing the dress on someone in a photo is also a good way to determine quality, as poorly-cut dresses seldom stand the test.
Naturally, when the dress is from a famous brand or designer, one usually knows what to expect, and this is always a seal of quality that must not be overlooked.
The Holy Grail of the Perfect Fit
Even more important than the quality of the fabric and the trendiness of the design, a good fit is everything when it comes to picking an outfit. Dress sizes vary from country to country and even from manufacturer to manufacturer. Therefore, one must always make sure what the exact measurements of the dress are.
The charts below provide information about dress size conversions and standard size measurements. While established online retailers usually have some charts on their websites, in the case of people selling their own used dresses on eBay, it is important that the seller provides the actual measurements of the dress.
Women's Dress Size Comparison Chart
This is a dress size conversion chart comparing standard sizes used in the US, the UK, France, and Italy.
| | | | | | | | | | | | |
| --- | --- | --- | --- | --- | --- | --- | --- | --- | --- | --- | --- |
| US | 0 | 2 | 4 | 6 | 8 | 10 | 12 | 14 | 16 | 18 | 20 |
| UK | 4 | 6 | 8 | 10 | 12 | 14 | 16 | 18 | 20 | 22 | 24 |
| France | 32 | 34 | 36 | 38 | 40 | 42 | 44 | 46 | 48 | 50 | 52 |
| Italy | 36 | 38 | 40 | 42 | 44 | 46 | 48 | 50 | 52 | 54 | 56 |
Though these conversions are generally reliable, sizes may vary from one manufacturer to another.
Dress Size and Measurements Chart
This chart pairs five common standard sizes from different countries with the corresponding hip, waist, and bust measurements.
| | | | | | |
| --- | --- | --- | --- | --- | --- |
| UK | 6|8 | 10 | 12 | 14 | 16 |
| US | 6 | 8 | 10 | 12 | 14 |
| European | 36 | 38 | 40 | 42 | 44 |
| Japanese | 7 | 9 | 11 | 13 | 15 |
| Bust | 81 cm | 86 cm | 91 cm | 97 cm | 102 cm |
| Waist | 61 cm | 66 cm | 71 cm | 76 cm | 81 cm |
| Hip | 89 cm | 94 cm | 99 cm | 104 cm | 109 cm |
By looking at this chart with one's own measurements in hand, it is possible to quickly determine whether a dress fits or not.
Condition
A party dress must look flawless even if it has been worn before. If the dress has visible flaws or marks, it should not be worn to a party.
It is always preferable to buy from a reliable seller with a long track record and flawless reputation. However, honest sellers who might say things like "the hem needs to be fixed" are also giving an indication that they do not want to say anything that is not true about their product.
Asking to see a lot of photographs of the dress from many different angles is always a healthy practice to ensure that everything is in order.
The Right Used Party Dress for the Right Price
While some people buy used dresses to save money, others do it for different reasons. It can be tricky to decide what a good price is for a used party dress. As a rule, pre-owned items have to be substantially cheaper than the original purchase price.
A little research is always in order in this respect. When dealing with designer items, it is not hard to check out the prices of new dresses and what other similar used dresses by the same designers are going for. On the other hand, when the used dress at hand is not from a reputed brand name, it is just a matter of supply and demand. In fact, some people might pay a lot of money for outfits they have fallen in love with, especially in the case of rare items. Moreover, recurring fashions can also make a used dress suddenly become more popular.
How to Buy Used Party Dresses on eBay
There are many reputable sellers offering great used party dresses on eBay. In many of the cases, you may end up dealing with sellers who have not listed too many items and do not have solid track records. However, there are so many things to consider when buying a dress, that your priority may often be to choose the most suitable dress rather than the best-rated seller.
When you are looking to buy a used party dress on eBay, the first step is naturally to conduct a basic search. To begin, you should always do a very comprehensive search. Some good examples for search terms are "used party dresses" and "used formal dresses".
If you are fond of a certain kind of fabric or colour, or even a famous designer, you can add one or two keywords to narrow down your search. For example, you may input "Stella Mccartney dress" for a shot at getting a hot pre-owned designer outfit for the price of a non-brand garment.
Once you have found the dress of your dreams, it is time to ask questions. Especially when the purchase involves a seller who does not have an extended track record, asking questions is the only way you have to get to know the seller and the product.
Finally, reading the small print of shipping and return policies is always a must, because even when you take every precaution, the dress might not fit and you need to be sure that things will go smoothly, for example, if you need a different size.
Conclusion
Buying a used party dress can have many advantages. An exclusive brand-name dress in perfect condition, with a trendy design regardless of its age, can certainly make for an extra-glamorous party look.
The most important aspects to take into account when buying a used party dress are: selecting a flattering dress, checking size and measurements, assessing the quality and condition of the dress, and reviewing the seller's track record. Priorities may vary from buyer to buyer, as some individuals may prefer beauty over quality and durability. However, anyone who takes all of the above mentioned aspects into consideration during the purchase is on the right track.
Whether buying from an individual seller or a reputable online retailer, acquiring pre-owned garments is a fun and exciting way of finding the perfect party dress for the right price. With its numerous pre-owned dress listings and safe shopping environment, eBay can make the process of finding and purchasing used party dresses extremely easy and satisfactory for potential buyers.