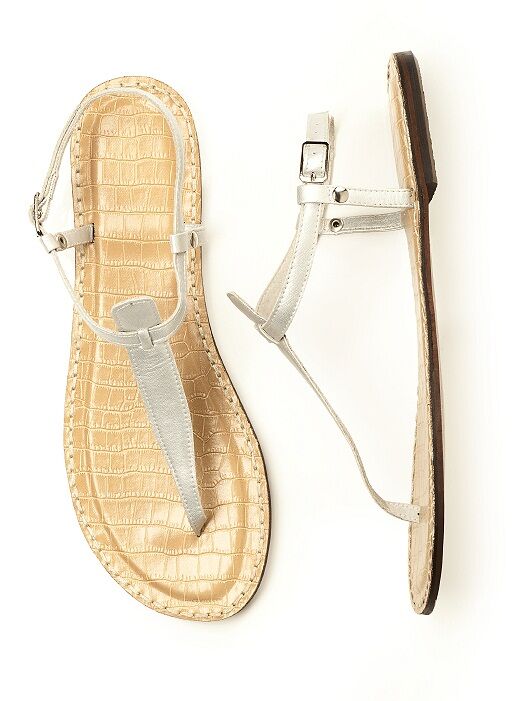 Sandals are generally made with a sole and straps of varying materials that cross over the instep and around the ankle. With most sandals, the upper part of the foot remains exposed, especially the toes. Sandals can be worn for a variety of reasons. The main reasons are for comfort in hot weather and price, as sandals tend to be less expensive than other types of footwear. Sandals are worn in warmer climates and during the spring and summer. However, there are those hardy individuals who refuse to give in to the weather and choose to wear their sandals year round.
Sandals have soles made from rubber, leather, wood, rope or other materials, and are held to the foot with strips of materials that pass between the first and second toe, or across the arch or around the ankle of the foot. The styles of sandals vary from flat soles to wedge heels.
When looking for used sandals, search in shops on the high street, charity shops, or online locations such as eBay. The important things to remember when searching for used sandals is to look for obvious wear and tear and to consider the style, how heavily the sandals were used,, and the material from which they are made. eBay has an extensive variety of used sandals from which to choose, making it easy as well as convenient to shop online for used sandals.
A Bit About the History of Sandals
Sandals are one of the oldest known forms of footwear. It has been determined that our ancestors were wearing sandals 10,000 years ago. The name 'sandal' comes from the Greek word 'sandalon'. Ancient Egyptians also wore sandals. These were made from the leaves of palm trees and papyrus. Many statues that date back to Ancient Egypt depict pharaohs and mythical figures wearing sandals. Herodotus, an ancient Greek historian wrote in 450 BCE that papyrus sandals were part of the required dress code for Egyptian priests.
Tips for Buying Used Sandals
When looking for used sandals, determine what brand of sandal you like. It should be a brand that you know and trust. Different brands of sandals fit differently, so when looking for used sandals, you want to make certain that the pair you select will not only fit you well, but still has a few seasons of wear left in it. Choose a sandal that can be worn with a variety of outfits and is appropriate for different occasions and settings. Matching your sandal choice with what you have in your wardrobe will make it easy to wear them any time and look great.
Go With What You Know
Be sure to look for sandals that you know to be comfortable. Buy sandals that will not cause blistering, balance issues, or discomfort when wearing them. The best way to determine these things is to choose a sandal style that has worked well for you in the past. Even though you are buying used sandals, there is no reason to go on a guess. Go to a nearby retailer and try on various styles to see which oneS you like the best. Note the fit, size, materials and brand. Then you can choose a pair of used sandals confident in the knowledge that you know what you are getting.
Arch Support
The most important aspect to consider when looking for used sandals to buy is how they will support your foot. Any sandal, whether new or used should provide excellent support to the foot, making it possible to walk with the correct posture, so avoiding the pain that results from ill-fitting shoes. Many types of sandals have built in arch support while others mould to the foot when worn, such as cork sole sandals.
Sandal Soles
The sole of the sandal should be thick enough to protect your feet from accidental injury while walking, but also to keep your feet cushioned enough to absorb the impact of your feet striking the ground. Thin soles do not provide adequate protection to the feet. Along with a thick sole, choose a sandal with comfortable straps that will not cause rubbing, resulting in blisters.
Determine the Correct Size
Be sure to look for shoe size in the description of the used sandal. Look for the length of the sole as well as the width. Sandal length should be slightly bigger than your foot length to avoid having your toes hanging over the front end or your heel hanging off the back of the sole. Before buying any sandal, new or used, you should first find out what your exact shoe size is. To easily determine the size of your foot, you can either go to a shoe store and measure your foot using the shop's measuring form, or you could measure your feet yourself, using paper, measuring tape, pencil, and tape.
Sizing Your Foot at Home
After taping a piece of plain white paper to the floor, sit on a chair with your leg slightly bent and your shins in front of your ankles. Place your bare foot on the paper and trace the outline with the pencil. After you have traced your foot, measure it with the measuring tape from the top of the outline to the bottom and record this number to the nearest centimetre without rounding up or down too much. Repeat the process for the width of your foot and record all the measurements.
Using your recorded measurements, subtract 0.48 centimetres from each. This represents the difference between your measurements and the tracing, and this is your actual shoe size and width. The final step is comparing your size with a chart to determine the correct shoe size and width.
| Sizes | Centimetres |
| --- | --- |
| 2 | 20.8 |
| 3 | 21.6 |
| 4 | 22.5 |
| 5 | 23.5 |
| 6 | 24.1 |
| 7 | 25.1 |
| 8 | 25.9 |
| 9 | 26.7 |
| 10 | 27.6 |
If the size in the item description is in the US or Euro standard rather than the UK shoe size standard, make sure to consult a conversion chart to ensure that you are buying the correct size for your foot. As the best prices for used sandals are to be found online on eBay, it is unlikely that you will be able to try on the sandals before you buy them. This is why its is important to get accurate measurements of your feet and to enquire with seller about the length and width of the sole.
Ask to See Photos of the Used Sandals
Ask to see photographs of the used sandals offered for sale. They should not be stock photos but photos of the used sandals themselves. If the seller has only posted a photo of the sandal but no close up photos of the straps, the buckles, or the soles of the sandals, request to see these photos. You should look for obvious signs of wear and tear. You will want to buy a pair of used sandals that still has a few summers of wear in it. Look at the buckles and where the straps connect to the sole of the sandal. Also note how worn down the soles are. You may be able to repair some issues, but then you should negotiate with the seller to get a lower price for the sandals, as you will need to outlay money to get the sandals repaired.
Disinfecting Used Sandals
Buying used sandals can be tricky, as it is hard to know whether the last owner had any foot issues that could cause you problems. The best course of action is to disinfect the used sandals prior to wearing them. There are three steps that should be followed to disinfect used sandals appropriately. To kill any lingering bacteria, pour one half of a bottle of rubbing alcohol onto the sandals and let them sit for five minutes. Once dry, saturate the sole of the sandals completely with an antibacterial spray. Because germs will live anywhere, disinfect the sandals even if they appear to be barely worn. You cannot be too safe. Put the sandals in an airtight bag and place them in the freezer for 24 hours to kill any fungus and eliminate any odours.
How to Find Used Sandals on eBay
No matter what style of sandal you are looking for, whether it is a pair of flip-flops or a pair of rope-soled sandals, start your search on the eBay home page. Simply type keywords into the search engine at the top of any page to bring up a results page that lists the used sandals currently listed for sale. For example, if you type 'leather sandals', the site's search engine will populate a results page with listings that match that description. Next specify the gender on the results page. In this case you would select 'women ' s shoes'. To show only listings for used shoes, select 'used' from the menu.
If you are planning to buy a specific pair of used sandals check with the seller first to be sure that they will agree to exchange the item, or provide a refund, should you find that the sandals do not fit properly. To find information regarding the seller's refund or exchange policy, size or age of the sandals, go to their member profile, click on their contact link, and ask them about these specifics.While there, consider reviewing the feedback scores to see what other buyers have posted about the seller. This information is pertinent prior to buying the sandals to allow you to make an educated decision about whether or not to do business with that seller.
Conclusion
Sandals can be paired with a variety of outfits. Choose a pair of slip on sandals to wear with your capris and a colourful vest for a casually cool look. Buy a pair of wedge sandals to wear with a peasant skirt and a flowy blouse for a breezy and comfortable look when going out to dinner. No matter what occasion or setting, sandals can be paired with casual wear or when a specific occasion requires a more formal look, a pair of strappy sandals with an evening dress is an elegant and chic choice.When looking for a pair of used sandals, the best place to browse and buy is eBay. With literally thousands of used sandal listings available for you to choose from on eBay, selecting a pair of sandals from the huge variety of choices is easy and fun. With so many listings for used sandals, you simply cannot go wrong.