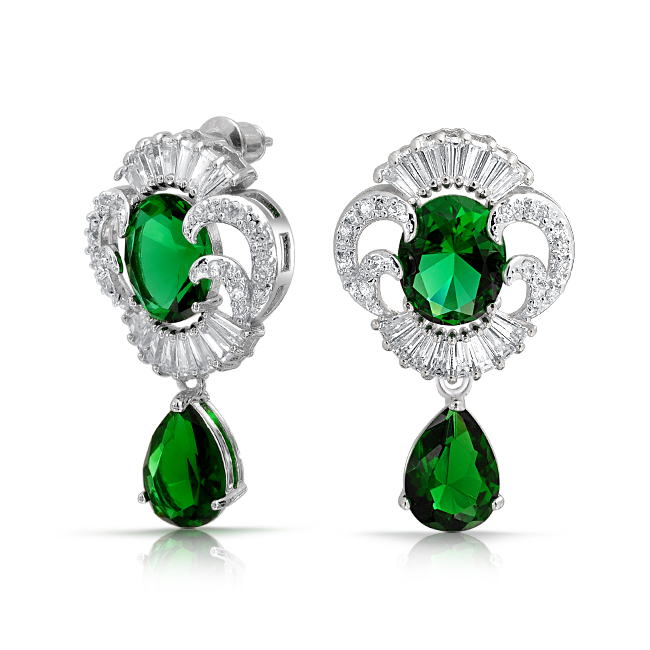 There is a vast selection of vintage art deco jewellery pieces available on the market today. They can be purchased at a local vintage or antique shop or at online auctions, like eBay. The Art Deco Movement originally took place in the 1920s and 1930s beginning in France. It was a period of vibrant colours, styles, and ornamentation. There are many examples of this movement in buildings, artwork, and jewellery. Some of the styles still flourish in many areas and vintage art deco jewellery is one of them.
A good place to search for the perfect art deco jewellery piece is the popular auction website, eBay. Telling a vintage art deco piece from a reproduction can be difficult. The signs of a vintage piece are usually subtle, and looking for them can mean the difference between purchasing a reproduction and a vintage piece. There are a variety of companies that manufacture art deco jewellery during this time period. When searching for a piece of vintage art deco jewellery, a person first needs to know what art deco jewellery is, then know who manufactured it and if it is hallmarked, and finally how to search out the perfect piece of art deco jewellery on eBay.
What Is Vintage Art Deco Jewellery?
Vintage art deco jewellery is a style of jewellery that was made during the Art Deco period. This was a period of vivid colours, abstract styles, and excess. Many of the jewellery pieces from this time period reflect the carefree nature of the art deco movement. Each piece of jewellery can be called a work of art in itself. All forms of jewellery were cast during this period: necklaces,, bracelets, skirt pins, brooches, rings, and hat pins were all made in this style. The first thing one must do is familiarise themselves with the art deco style.
Art deco is recognised by a few attributes that are difficult to miss. The first is geometric shapes: polygons, rectangles, squares, chevrons, and starbursts were all used liberally throughout the pieces. Contrasting colours and industrial designs were also incorporated into this style of jewellery and art. There are many different facets of the art deco movement that have remained until today.
Some of the most startling examples in the United Kingdom are the buildings that remain from this time period. What remains is the Arsenal Football Club's old home at Highbury, London Borough of Islington, which is constructed in the art deco style. Some of the homes as well as the London Underground still sport examples of art deco style architecture.
Many of the surviving pieces of jewellery also remain in the United Kingdom. They can be found on eBay, in vintage shops, and at car boot sales across the country. There is very little differentiation between the forms of art deco from the different areas of Europe and the Americas. The jewellery came in a variety of styles, most of them focused around geometry of some kind.
Bracelets
A vintage art deco bracelet comes in a few basic styles. These styles are flexible, plaque, flexible link, band, straight-line box, and strap. Each of these styles are built off of the basic geometric shapes that are often adorned with French cut diamonds or other precious stones. These pieces were frequently decorated with both vibrant red rubies, sapphires, and emeralds. These decorations are made from both real and synthetic stones, depending on the budget of the wearer.
Watches
Art deco watches are often called cocktail watches.. This term, and many others featuring the word cocktail, are a direct result of prohibition and the desire to mock it. Cocktail watches are often tiny with miniaturized working parts and graceful delicate bands inset with diamonds and other precious or synthetic stones.
Necklaces, Chokers, and Other Jewellery
Many of the dresses in the art deco era were fringed with decorated drops, which could be removed and used as jewellery if the wearer chose. Cultured pearls were worn in loops around the neck or wrist and brooches became a raging fashion. It is said that Cartier designed clips for clothing as a jewellery fashion accessory, called dress clips,, while watching a woman hang clothing out to dry. Other types of vintage art deco jewellery include: the teardrop, chandelier,, and chain earring.
Prominent Art Deco Jewellery Designers
Most prominent art deco designers designed many of the high-end vintage pieces that are still in circulation. These designers usually hallmarked their creations with logos so they could be judged as authentic, and therefore, a status symbol. The main designers of art deco jewellery were Cartier,, Mauboussin, Boucheron, Lalique,, Templier, Dunand, Brandt, Despres, and Sandoz.
There were also design houses that specialised in art deco pieces, including jewellery. These houses were Marcus and Company, Crump and Low, Tiffany, Black, Starr, and Frost, Shreve, and Winston. These all produced some of the more memorable pieces of jewellery, as well as some of the most unique pieces that remain. Many of the lesser known pieces have wandered into obscurity, but the well-known ones are generally extremely valuable as vintage pieces.
Art Deco Jewellery Materials
Some of the finer materials that art deco jewellery is made from consist of precious, semi-precious, and synthetic stones. Bakelite, celluloid, filigree, and marcasite were also used in many of the more solid pieces. Dress clips and brooches of this era were made from all of these materials, including some more high-end pieces in platinum and other noble metals. Most of the lower-end pieces were made from potash, and white gold.
Styles of Art Deco Jewellery
Some of the favoured styles in jewellery were constructed to represent all things fast, including: rockets, airplanes, sports cars, greyhounds, and cheetahs. Some of the more delicate designs were butter wings, birds, and what was known as "fruit salad&" jewellery, all of which were not an exact copy of what they were called, but a deco rendering of them. The use of birthstones and other personal stones were used as centrepieces for necklaces, duets, clips, brooches, and bracelets.
Searching for Art Deco Jewellery on eBay
When searching for art deco jewellery on eBay, one simply needs to go to the eBay website and type in the keywords for the product of which they are searching, and then click search. An example of this is "vintage art deco brooches". These search terms populate a list with all of the listings that contain the keywords "vintage", "art deco", and "brooch". If this search is too broad, it can be narrowed by adding more keywords, such as "butterfly vintage art deco brooches&". The search can be expanded by dropping words, for example, the search terms "butterfly vintage art deco" could be used to return a result that is not just brooches, but all of the listings that match.
Once this is done, browse through the listings to find the one that is desired. Click on the listing, and a more detailed description appears. This should give the name of the item, a photo, and a description. It also gives the seller's name, price, shipping, and return policies. These items are all important factors when finding exactly what is wanted.
Buying Vintage Art Deco Jewellery on eBay
Before making a purchase, it is good to take a look at a few things on the listings on eBay.. The seller's return policies, in case the piece is not as expected or arrives damaged, are always good things to know before purchase. There is also a feedback rating and buyer feedback on this page. Take a look at the buyer feedback to be sure that it is more positive than negative. Too much negative feedback could mean that a seller is not reputable, is slow to ship, or has other issues. Positive feedback allows you to purchase a piece with confidence.
Another part of a listing is the option to ask the seller a question. If not all of the item is pictured or if there are no sizes, type, or authentication listed, or another piece of information is missing, then simply ask the seller. Most sellers on eBay are happy to answer any questions that you may have. The Top-Rated Seller rating on eBay is also important. Top seller is a specific designation given to those sellers who have sold on eBay frequently and have a good reputation.
Conclusion
Art deco jewellery can be a nice addition to an existing art deco collection, or it can be a beautiful piece to wear. Vintage art deco has always been fashionable at one time or another. The designer and type of jewellery is very important to the value of the piece. Purchasing vintage art deco jewellery does not necessarily mean a trip to the antique shop. It can be easily purchased from the comfort of home at the online auction house, eBay.
Most sellers on eBay are knowledgeable about their pieces and it helps to know a bit about art deco before making a purchase. No matter which type of jewellery is desired, it is usually available on eBay. You must be careful to make sure that the jewellery is, in fact, vintage as there are a lot of replicas on the market today. As it becomes more popular, more people begin to reproduce vintage art deco jewellery.