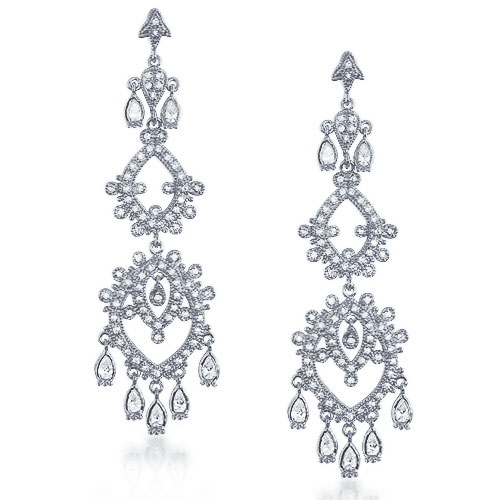 Earrings are among women's most versatile accessories. Women can wear plain hoops or studs with outfits for typical workdays and then switch those earrings with dressy ones for evening activities. Earrings come in many shapes, sizes, and lengths. Some are costume jewellery, others are created by designers, and still others fall somewhere in between. One popular style is chandelier earrings. These earrings are usually delicate, intricate, and multilayered. Fans of chandelier earrings should consider including some vintage pairs of chandelier earrings in their jewellery collections. The charm, character, and craftsmanship of these older earrings make them ideal statement pieces.
Buyers are able to find vintage chandelier earrings in local antique shops or jewellery shops and from online retailers such as eBay. Before they select vintage chandelier earrings, however, buyers should know what features to look for in these unique accessories and how to wear them with different outfits.
About Chandelier Earrings
Chandelier earrings are so called because of their resemblance to traditional chandeliers. A chandelier typically has more than one central ring, hanging from which are crystals, chains, or other glittering objects. Chandelier earrings are similar in that they have a central ring or base, from which the other tiers of the earrings are hung. Typically, chandelier earrings are narrow at the tops and widen toward the bottoms.
Style Elements of Vintage Chandelier Earrings
Vintage chandelier earrings are usually quite ornate, featuring intricate metalwork. They may incorporate lacy designs, floral elements, or lavishly embellished loops and curves. Vintage chandelier earrings are often made with sterling silver or gold. Cheaper versions incorporate other metals, but still have either gold or silver as the base colour of the metal.
The framework of vintage chandelier earrings is often studded with tiny gems, beads, crystals, and other objects. In addition, each earring has tiny pendants made of glass, crystal, pearls, beads, or gemstones. The gemstones or beads in vintage chandelier earrings are white, pink, amber, green, brown, blue, turquoise, or other colours.
How to Select Vintage Chandelier Earrings
Vintage chandelier earrings are beautiful pieces. As they dangle from the earlobes, the pendants and inset jewels often catch the light, drawing the eyes of onlookers to the wearers' faces. Buyers who are interested in a pair of vintage chandelier earrings should think about the specific style they want, the length that is most flattering and appropriate, the weight of the earrings, and the type of back that the earrings have.
Thinking About the Style
Before shoppers search for their vintage chandelier earrings, they should look through their closets and determine which outfits they plan to accessorise with their new earrings. This affects the choice of length, colour, and style. For instance, a pair of dress pants and a purple blouse works well with a short, simple pair of vintage chandelier earrings set with purple and lavender stones. A black cocktail dress, on the other hand, is beautifully accessorised with silver chandelier earrings set with diamonds. More formal chandelier earrings are sometimes longer than those worn with a business look or a casual outfit.
Choosing the Length
When shopping for chandelier earrings, buyers should choose earrings which are the right length. Vintage chandelier earrings come in many different lengths, from those that fall just below the earlobes to others that reach past the jawline. Longer earrings are usually worn by younger women, while older women typically prefer shorter earrings.
Considering the Weight
Shoppers of any age should remember that the longer or more ornate the chandelier earrings are, the heavier they are. Earrings made of gold are also much heavier due to the natural qualities of the metal. Large jewels or pendants add weight as well. If women frequently wear heavy earrings, their earlobes are under perpetual stress. The ear piercing on each ear sometimes begins to stretch, causing the entire earlobes to sag. After years of wearing heavy earrings, women sometimes find that their earlobes sag even when they do not have earrings in. In some cases, the stretching of the ear piercings lead to swelling, reddening, and infections.
For these reasons, buyers need to be sure to select earrings which do not put too much strain on their ears. Their vintage chandelier earrings should not be too heavy and solid, but should instead have an open design with lightweight pendants and embellishments.
Selecting the Back
Earrings must fasten securely to the ears. This is usually accomplished by piercing the ear lobes or the upper part of the ears and using posts or hooks to affix the earrings. Some women enjoy wearing more than one set of studs or earrings and have multiple piercings to facilitate that.
The three most common types of earring backs are hooks, posts, or clip-ons. The type of back buyers choose is typically dictated by their personal preferences.
Hooks
Many vintage chandelier earrings are worn using hooks which pass through the piercings. Tiny back pieces are sometimes slipped over the end of the hooks after they are inserted through the earlobes. The earring backs prevent the earrings from working themselves out of the ear piercings and being lost. Most hook earrings are sharply curved enough to wear without back pieces.
Posts
Other vintage chandelier earrings may have simple, straight posts rather than hooks. Post earrings must include backs to keep the earrings in place. If buyers are purchasing pre-owned vintage earrings, they should ensure that the backs are included with the earrings. If they are not included, buyers may be able to use backings from another pair of earrings. However, they should be sure that the backs they use fit tightly and securely. This is particularly important if the earrings are valuable.
Clip-Ons
Clip-on earrings are a slightly older style. Rather than using ear piercings, these earrings have metal discs which compress the earlobes between them. The clips have to pinch tightly enough to keep the earrings from slipping off, but not so tightly that they cause constant pain. Some clip-on earrings include tiny pads to soften the pinching effect on the earlobes. Chandelier earrings with clip-on backs are rare. However, if buyers do not have pierced ears but still like to enjoy the chandelier style, they should be able to find an assortment of vintage clip-ons that work for them.
Considering Other Factors
Some women have allergies to certain metals. One common metal which causes breakouts, redness, and itching is nickel. Nickel is sometimes used as an alloy, so buyers with nickel sensitivities need to be very careful to check the label or the details of the earrings that they are considering.
Many modern jewellery manufacturers have developed entire lines of hypoallergenic or nickel-free pieces. However, the selection may be somewhat more limited for vintage chandelier earrings. Shoppers with sensitivities to nickel and other metal impurities should choose pieces which are gold-plated, solid gold, or sterling silver. The sterling silver earrings must include an alloy other than nickel, such as copper.
Buying Vintage Chandelier Earrings on eBay
Antique shops often have vintage jewellery for sale. However, an ideal place to shop is eBay, which is a vast online shopping destination. You can start on eBay's main page and type in a simple term, such as "earrings" or more specific terms, such as "vintage chandelier earrings". Then, you can narrow the results down by selecting the period, the gemstones, the condition, the metal, the seller, and the shopping options which you prefer. eBay Shops is another area of eBay's website where you can find more listings for vintage chandelier earrings. eBay also offers a save a search feature which allows you to receive notifications every time a seller posts a new listing for an item matching your search.
Earrings are small and lightweight, so sellers may offer free P&P or charge very low shipping fees. Some also bundle items together, offer a package deal, or supply a return policy. You should also look for listings which have a Top-rated seller seal, indicating that the seller who posted that listing is one of eBay's highly rated and reputable merchants. Top-rated sellers usually ship items quickly and offer swift, professional service to their clients. If you need to ask any eBay seller a question, click "Ask a Question" in the item listing or go to the seller's profile and click on "Contact Member".
Conclusion
Vintage chandelier earrings are a classic accessory choice. They can be simple and elegant for the workplace or highly embellished and glamourous, carrying outfits from day to night with ease. Women who want to begin wearing chandelier earrings should take care to match them with the right clothing ensembles. Since chandelier earrings are such eye-catching statement pieces, they can clash with outfits or overwhelm outfits. However, when paired with the right pieces, they enhance the natural beauty of the ladies' faces and add charm to entire ensembles.
Authentic vintage jewellery has likely been worn by a previous owner, and if this is the case, it should be carefully examined for flaws, damage, stains, tarnish, and grime. Before wearing vintage chandelier earrings, buyers should clean them thoroughly. Once the vintage earrings are clean and sparkling, owners can wear them to work, to school, or to an evening gathering with friends or family.