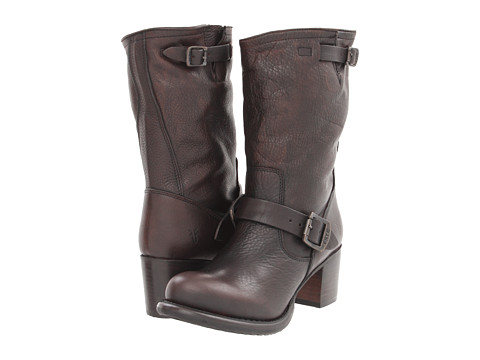 Cowboy boots have been a popular style in Britain for a long time, going back to at least the 1970s and the time when a growing familiarity with American popular culture introduced new styles of dress to the mass market. As a result of this history, there are two important aspects of buying a vintage cowboy boot. The first involves boots that are in themselves old. They can endure repeated repairs, so with careful maintenance, it is possible for a pair to remain serviceable for decades.
The second aspect is more about the craft of boot-making. Identifying a vintage cowboy boot from this perspective is more a question of understanding the different types of leather that might be used and the techniques used to finish the more elaborately decorated styles. This guide covers both sides of the topic and provides some tips about boot maintenance, so that they too can last for decades.
Cowboy Culture
The cowboy boot, and the working culture that it comes from, has a long history. It begins in medieval and renaissance Spain. The colonies established in Central America imported horses and the hacienda, a land management regime that granted large tracts to gentlemen and aristocrats. Typically, the land was particularly suited to cattle farming, especially near the border with the U.S. The scale of these operations required horsemen, known as vaquero derived from the Spanish for "cow", to drive herds from pasture to pasture and then to market.
After the American Civil War, settlers moving west encountered this Spanish culture in the south-western states and adapted it. The Spanish vaquero became the American cowboy, who often admired the fine hand-tooled Spanish leather boots and saddles that preserved a craft tradition reaching back to medieval Cordoba, the Moorish capital of Spain.
After the first flush of migration, the American west settled into law-abiding order. At that time, a number of misfits with a tendency to express militant dissent became outlaws, and they were popularly referred to in a derogatory way as "cowboys". In modern popular culture, this renegade, counter-cultural association has blended with the positive, working landsman connotation. Therefore, vintage cowboy boots project a self-reliant and somewhat insouciant persona.
Characteristics of Vintage Cowboy Boots
The cowboy boot resembles a wellington boot in that it is pulled on, fits loosely around the calf, and typically reaches the mid shin. Unlike a wellington, however, the material used in its manufacture is normally leather. Also, a cowboy boot is originally designed to be worn with spurs, which means that there is normally a fairly pronounced heel. While the vast majority of cowboy boots reach the mid-shin, there are variants, known respectively as tall and short, that reach to just below the knee in the former case and the lower shin in the latter.
Soles are usually made from leather too, and they are stitched to the upper in such a way as to make repair and replacement a relatively straightforward task. Cowboy boots are not usually lined in the leg though they may be across the foot. The form is optimised for working in a hot climate, so added insulation is not a priority.
What distinguishes "vintage" cowboy boots from other boots is, generally speaking, the quality of the finish. This is true whether the item falls into the former category mentioned at the outset or the latter. What makes an old pair of boots worth contemplating is the same thing that marks a contemporary pair as "vintage". In particular, buyers are looking out for hand-tooled decorative finishes with the elaborate patterns in the Moorish style being particularly prized. Having said that, some vendors simply use the term "vintage" to mean "used".
Types of Leather
Since the idea of using Spanish Leather was made famous by cologne of the same name and a Bob Dylan song, it is worth pointing out first of all that Spanish leather is not an actual type of leather. The term, as it applies to boots, more commonly refers to the decorative finish previously described. Leaving aside the various exotic hides that can be worked into leather crafts of one sort or another, there are four basic types of leather.
The first is full-grain leather. It is usually the first selection made from hides with the least blemishes, imperfections, or natural marks. There is no need to treat these hides with abrasives or polish. As a result, the grain retains maximum resilience, and the finished leather retains its natural moisture conducting characteristic. Next, and more common, is top-grain leather. It is thinner than full-grain, and its surface is typically sanded and finished with treatments that reduce its capacity to breathe with the foot. Nubuck is a variant of top-grain; it is buffed to give it a velvety surface. The term "top3 does not mean "best" but derives from the tanning process, which involves splitting the raw hide into layers, of which the top grain is the outermost, weather-exposed side.
Corrected-grain leather requires more intervention to make it into an attractive shoe-making material and typically has an artificial grain impressed on its surface after which it is coloured with dye. Finally, split leather is made from the lighter and more fibrous part of the hide that remains after the top-grain has been separated from the hide. Split leather is often used to make suede.
Uses of Cowboy Boots
On the ranch, the narrow toe of the cowboy boot suits the stirrup, the heel suits spurs, and the shin-height leather affords protection against snake bites. These characteristics transfer surprisingly well to a motorcycle although clearly snakebites are not so much of a hazard in the U.K. Therefore, they can be a flexible alternative to a biker boot, especially for use with a smaller machine.
More often than not, however, vintage cowboy boots are worn as part of the leisure lifestyle that revolves around country and western music. Many of those settlers heading west in post-bellum America had their roots in rural Scotland, Ireland, and northern England, and they brought their folk music with them. Many of these communities continue to enjoy the traditional music and dancing as well as their related commercial forms, and participants like to dress the part.
Care and Maintenance
Because they can be expensive items, vintage cowboy boots need to be looked after with care. Methods of primary care, including getting rid of the dirt that accumulates in ordinary wear, vary according to the way the boots are used. If they are mainly worn indoors, then regular brushing with a shoe or boot brush should suffice, with the occasional application of polish or oil, depending on the type of finish. If the boots are worn outdoors and frequently get muddy, then a soft cloth and plain, cool water should be used to remove the majority of the dirt. After this kind of treatment, allow the boots to dry naturally because heat can damage leather. Once they are dry, remove the remaining dirt with a brush, and apply treatments if necessary.
For regular outdoor use, it is a good idea to apply waterproofing treatments from time to time. With new boots, such treatments can appear to be ineffective at first with some finishes, but over time the oils work their way into the leather and aid its preservation. The traditional treatment, which keeps leather supple and watertight, is neatsfoot oil. This can be applied with a soft cloth or a brush.
Size Guide
When it comes to cowboy boots that are vintage by virtue of age, some care is necessary when evaluating their size. The numbering system is different between Mexico, the U.S., and the U.K. Older boots are unlikely to indicate which system they were numbered in, and in some cases they may not be numbered at all. In such instances, a dialogue with the seller is advisable if there is any doubt.
The chart below shows the U.K. standard men's shoe sizes alongside the U.S., Mexican, and Japanese systems. Cowboy boots are popular in Japan, and there is the occasional chance that a pair originating from there might appear in eBay's lists. Beside the systems are their equivalents in inches, centimetres and mondopoint, the ISO standard for shoe size.
U.K

U.S. &

Canada

Mexico

Europe

Japan

Inches

Centimetres

Mondopoint

3

3½

35

21.5

9

22.8

228

3½

4

35½

22

91/8

23.1

231

4

4½

36

22.5

9¼

23.5

235

4½

5

37

23

93/8

23.8

238

5

5½

37½

23.5

9½

24.1

241

5½

6

4.5

38

24

95/8

24.5

245

6

6½

5

38½

24.5

9¾

24.8

248

6½

7

5.5

39

25

97/8

25.1

251

7

7½

6

40

25.5

10

25.4

254

7½

8

6.5

41

26

101/8

25.7

257

8

8½

7

42

26.5

10¼

26

260

8½

9

7.5

43

27.5

10½

26.7

267

10

10½

9

44

28.5

10¾

27.3

273

11

11½

10

45

29.5

11

27.9

279

12

12½

11

46½

30.5

11¼

28.6

286

13½

14

12.5

48½

31.5

11½

29.2

292
Especially with older boots, the reliability of a stated size number might be a matter for concern, but standards have been in place since the First World War. Provided the boot was made more recently than that time, the number should be comparable to a modern equivalent. Finally, there are occasionally foot size gauges available for sale on eBay, which are especially useful when buying new footwear.
Buying Vintage Cowboy Boots on eBay
Turning now to the topic of locating vintage cowboy boots on eBay, start on the home page and use the search bar. A general search for a term, such as "cowboy boot", should maximise the results. At this point, you may wish to narrow the search using eBay's filters. With such a general search term, results will include categories other than those specific to men's footwear, and this might be especially useful if you are looking for an old pair of boots that perhaps is being sold under a heading appropriate to memorabilia. On the other hand, the cowboy boot is a favoured symbol on a number of emblem designs, so a wide search will probably include a lot of things that are not helpful.
Vintage boots that are also old will most likely be sold in the auction format by private vendors. The results page can be fine-tuned. A search for "men's vintage cowboy boots&" should provide a respectable number of results. On the other hand, the term "vintage" might exclude new boots in the vintage style, so "men's cowboy boots&" might work better although the likelihood is higher that the results will look more like Chelsea boots or biker boots.
Conclusion
Cowboy boots are a type of footwear with a rich history, and they represent a style that has enjoyed a long popularity among Britons. As a result there is a healthy market for trading on eBay's lists, both in used boots and brand new items. While the term "vintage" has a certain latitude, enabling it to signify a variety of overlapping ideas about the object in question, there is no doubt that a pair of boots that truly corresponds to the best sense of vintage will be a durable, comfortable, and above all, stylish addition to a man's wardrobe.
Even if "vintage" only means "old", the boots still stand a very good chance of being a good, solid purchase with plenty of life left in them. Whichever way it goes, eBay is the ideal place to hunt down a bargain thanks to its handy research tools, its extensive filtering options, and its flexibility in terms of purchase options.