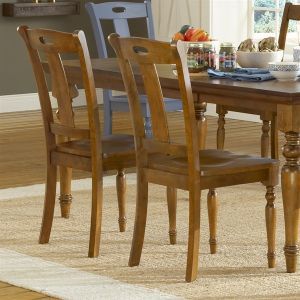 The home is a place where an individual can give full expression to their personality. The furniture and accessories within the home, reflect the individual's particular style. Vintage is a popular style that draws inspiration from decades past. To be vintage, an item, whether it be a piece of furniture or an article of clothing, must be at least 30 to 100 years old. Any item older that 100 years is considered an antique. Any furniture or accessories made within the last 30 years is considered retro. Vintage furniture, especially vintage dining room chairs, is a specific style of furniture that is not considered 'old' furniture. It reflects a popular fashion of a certain period. Quality vintage furniture is usually more affordable than new furniture. It is environmentally-friendly because it preserves product materials such as wood and finishes from being eliminated as waste. Whether purchasing vintage dining room chairs from a thrift store, estate sale, or an online marketplace like eBay, it is important to know the identifying characteristics of vintage dining room chairs.
Identifying Vintage Dining Chairs
There are several factors to consider in identifying vintage dining room chairs. Vintage dining room chairs usually incorporate simple designs with graceful lines. For example, vintage chairs from the Mid-Century Modern Period have hardly any decorative features. The legs of the chair are straight not curved or clawed. For identification of the chairmaker, tags are usually attached to the chair's upholstery. Sometimes there is no mark of identification. The upholstery uses man-made materials such as polyester rather than natural fibres.
The frame also incorporates man-made materials such as plastic or metal rather than strictly wood materials. Teak and walnut are the most common wood types used with vintage dining room chairs. The buyer should also examine the chairs for finishes or painted surfaces. Do the chairs have a muted, lacquered finish or are they vibrantly painted? Popular colours of the period include greens and yellows. Once these factors are considered, the buyer can then select the type and style of vintage dining room chairs that will work best with their dining room table.
Types and Styles of Vintage Dining Room Chairs
The Mid-Century Modern Period for vintage dining room chairs ushered in an eclectic assortment of designer names, styles, and product materials never seen or used before in furniture-making. Danish designers came to the forefront during this period. The period encompasses the 1940s through the 1960s. It highlights simple design lines with a casual, comfortable feel. The following types and styles of vintage dining room chairs are examples of some of the most popular dining chairs of that period.
Plastic Dining Room Chairs
Many dining room chairs of the Mid-Century Modern Period meshed innovative plastic seat bodies with metal leg supports. Vintage plastic dining room chairs are made from polypropylene, a safe, non-hazardous plastic material. The plastic can be moulded as one continuous piece or used in combination with a wood-base platform and steel or wood legs or rods.
One of the most popular vintage plastic dining room chairs is the Eames Eiffel Chair. It is a classic, affordable chair that embodies a wide variety of colours. Its comfortable, moulded seating is made of durable plastic. The bucket seat easily supports the body without additional cushioning or support. The moulded plastic body of the chair is supported with steel or wooden rods that give the chair base its 'eiffel' look. It is easy to clean.
The Verner Panton S Chair is an award-winning chair design from the Mid-Century Modern Period. Its modern, sleek S-shaped body is comfortable yet stylish. It comes in a wide variety of colours and is very durable. Its continuous, plastic body shape is created through a process known as injection moulding. It is weather-resistant, easy to clean, and can be used outdoors.
Upholstered Dining Room Chairs
Vintage upholstered dining room chairs are another popular choice for the dining room. The chairs can be upholstered in fabric or leather. A metal base and metal or wooden legs provide proper support for the seat.
Arne Jacobsen, a Danish designer, created the still-fashionable 'Series 7' side chairs. The dining chairs are upholstered in either fabric or leather. The supporting base and legs are steel. Although the chair boasts a slender shape, it is still comfortable and supportive of the body. Wood and plastic variations are also available.
Eero Saarinen's Executive Chair is an upholstered dining chair that can be used as an armchair or a side chair. The upholstered body has a fibreglass shell with wood or steel legs. A swivel base is also offered.
Wood Dining Room Chairs
Vintage wood dining room chairs are usually made of teak, beech, or walnut woods. The legs and seat base are wood. Additional seat cushions in various colours may be added for comfort.
Danish chair designer, Hans Wegner, designed the popular wishbone chair. The frame and legs are wood, and the seat is cane. The Y-shaped back gives the chair its name. The chair is lightweight, comfortable, and small enough to fit with most small dining tables. The curved back and arm rail easily supports the back. Seat cushions can be used with the cane seat.
Norman Cherner's armchair features an innovative chair design of sweeping curves and sturdy support. The curved arms extend from the chair's back to the chair's seat in one continuous, fluid motion. The seat and arms are made from beautiful beech wood. Because of the large, sweeping arms, this type of chair is used best with larger dining tables.
Metal Dining Room Chairs
Vintage metal dining room chairs offer a modern look with classic appeal. The metal frame and legs come in a variety of metals such as aluminum, steel, or chrome, and in a selection of powder-coated finishes. Many of the chairs are complemented with colourful seat cushions.
Harry Bertoia's bent metal side chair offers a clean, simple look in a variety of finishes. Although the body's frame appears fragile, it is very sturdy and durable. The two metal legs easily support the body's shifting weight. Some chairs come with seat cushions. There is also an upholstered version too.
The Emeco Navy Chair was a popular chair in the 1940s and is still extremely popular today. The highly-durable aluminum chair is lightweight, and resists corrosion. The aluminum frame and legs are stronger than steel. Its slatted back is comfortable and appealing for any dining table.
The following table summarizes the different seat and leg materials that can be used with the different examples of vintage dining room chairs.
| Chair | Seat Material | Leg Material |
| --- | --- | --- |
| Eames Eiffel Chair | Plastic, Fabric, Leather | Steel, Wood |
| Panton S Chair | Plastic | Plastic |
| Jacobsen Series 7 Chair | Fabric, Leather, Wood, Plastic | Steel |
| Saarinen Executive Chair | Fabric | Wood, Steel |
| Wegner Wishbone Chair | Wood | Wood |
| Cherner Armchair | Wood | Wood |
| Bertoia Chair | Metal, Fabric | Metal |
| Emeco Navy Chair | Metal | Metal |
This chart details differences in seat and leg materials used with various examples of plastic, upholstered, wood, and metal vintage dining room chairs. eBay offers these types and styles of vintage dining room chairs along with many other styles for any dining room decor. Whatever the buyer's fashion preference, eBay offers stylish, quality choices for any budget.
Buying Vintage Dining Room Chairs on eBay
eBay offers the buyer the convenience of shopping online for various types and styles of vintage dining room chairs. To begin shopping online with eBay, go to the eBay homepage and type in "vintage dining room chairs" into the search bar. If you know the name of a specific vintage chair such as Eames Eiffel Chair, type the chair's name into the search bar instead, for a more specific search request. You will then see a results page that lists all the descriptions of vintage dining room chairs available for sale on eBay. The chair descriptions will usually indicate if the chair comes as a single chair or a pair of chairs.
Each description indicates if it is a top-rated seller listing. A top-rated seller listing means that a seller has achieved top rankings in the areas of quality customer service and delivery. To sort the listings by top-rated sellers, go to the left of the page of vintage dining room chair descriptions. Under the heading "Seller", select "eBay Top-Rated Sellers". It is also important to know if the seller accepts returns. This is usually indicated under the seller's profile information.
Conclusion
There are several factors to consider in buying vintage dining room chairs. First, properly identify the dining room chairs. Are they vintage, antique, or retro? Examine the different types of product materials used to make the dining room chairs. Are they plastic, wood, metal, or fabric? What type of material or combination of materials will work best with the dining room's decor? Is there a particular style of chair that is appealing? For a vintage wooden dining table, a selection of vintage wooden dining chairs such as the wishbone chair might be a good choice. For a more modern twist, the buyer might select an upholstered executive chair instead. The buyer can always mix different vintage styles and materials to create their own individual style.
eBay offers the buyer a huge range of quality, affordable choices that meet the highest standards of fashion and taste. No longer does the buyer need to rummage through thrift stores or journey to estate sales looking for hard-to-find vintage dining room chairs. From the comfort and convenience of home, one can browse eBay listings of vintage treasures.