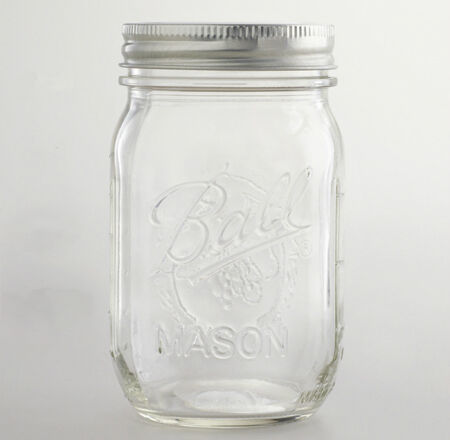 Most modern kitchens feature a shelf or two laden with glass jars of various shapes and sizes containing all sorts of cooking ingredients and foodstuffs, such as pulses, flour, biscuits, coffee and sugar. Practical as such an arrangement might be, things could be greatly improved if those same items were stored in some impressive vintage jars. Filling those creaking shelves with a series of beautiful vintage jars will instantly remove any trace of the higgledy-piggledy jumble conveyed by a more haphazard collection of vessels. Who really prefers a jumble of recycled jam jars and pickle jars, when a kitchen can be made to look special with the inclusion of some well-chosen vintage designs?
Many individuals above a certain age will be able to recall those rather splendid, curved and dimpled glass jars, filled with brightly coloured sweets in the window of the sweetshop on the corner. Such jars didn't just happen, they were carefully designed to fulfil that purpose – displaying sweets to lure in young and old customers to buy some mint humbugs or delicious treacle toffees. Such retro jars are still available and there is now a burgeoning demand for jars designed with that great look, even amongst the owners of the most modern-looking kitchens. For those that would like to bejewel their kitchen shelves with some lovely vintage glass jars rather than simply stacking them with boring utilitarian wares, here is a quick guide to buying vintage jars on eBay.
Types of Jars
To bring a little order to the huge range of different styles available under the general title of vintage/retro – a term that covers designs from the eighteenth century to the time of the Second World War, through the nineteen sixties and seventies – the information detailed below covers the subject through the materials used to manufacture the various types.
Glass Vintage Jars
Glass vintage jars are amongst the most numerous of designs - and for good reason. They are often enchantingly ornate and quaintly-shaped works of art rather than mere storage vessels. They range from bulbously charming goldfish bowl-like containers to glass-topped vintage Kilner jars, to Victorian-style sweet jars with exquisitely ribbed surfaces and undulating contours. While they would clearly be stylishly at home in traditional and farmhouse kitchens, they can also add a touch of retro chic to many contemporary kitchens.
Kilner Jars
It is impossible to talk about storage jars with any authority without mentioning the Kilner jar. With its patented airtight lid mechanism, the jar was invented in 1842 and was manufactured by the British company John Kilner and Co, then based at Castleford in Yorkshire. The company gradually expanded as the demand for the jars increased, and by 1894 the factory was producing 300,000 bottles and jars each week. The unique design of the Kilner jar has certainly stood the test of time, as these jars are still available to buy new. With the invention of domestic freezers the preservation of foodstuffs took a completely new turn and the demand for preserving jars, such as the Kilner, fell away. A company that acquired the rights in 1937, after the Kilner business went bankrupt, is presently still manufacturing them, albeit in a slightly updated design. They perform their intended function of preserving and pickling fruit and vegetables extremely well, and still feature as an important utensil in the kitchen of some cooks.
Ceramic Vintage Jars
Ceramic vintage jars are just as popular as their glass cousins, and it is easy to see why. From understated polished white jars adorned with tasteful Italic script to the ostentatiously colourful "peacocks" amongst storage jars, ceramic vintage designs have yielded some of the most aesthetically satisfying and tactile vessels for the kitchen. It is almost impossible to resist touching them upon passing them by. And they are easy to clean as well as being very handsome. Some famous potteries are associated with the production of ceramic storage jars, notably Hornsea, a company that was based in East Yorkshire for many years. The jars produced there featured distinctive earthy colours. The Hornsea Pottery Company produced a varied range of jars and tableware from 1949 until it finally went into receivership in 2000. During the most successful period for the factory its tableware range was in such demand that it had to be rationed out to retailers. The famous Portmeirion pottery in Wales has produced pretty jars with floral designs and wooden lids for many years, and its products are still in great demand. Even such revered names amongst collectors as William Moorcroft of Burslem, Stoke-on-Trent - the birthplace of high-quality English pottery and porcelain - have featured storage jars in their collections over the years. The company's vintage ginger jars are especially desirable and are beautifully decorated. Be prepared to pay a lot of money if you would like to acquire a vintage Moorcroft storage jar.
Enamel Vintage Jars
These really conjure up a sense of long ago, from splendid enamel biscuit or pasta jars that wouldn't look out of place at the turn of the last century, to sugar and tea jars that seem to leap straight out of the roaring twenties. To excuse a pun, none of these enamel vintage designs would "jar" with contemporary kitchens and would make beautiful adornments in traditional and farmhouse kitchens. Durable, stylish and hygienic, they are currently rising in popularity.
Plastic Vintage Jars
Plastic hardly sounds like a vintage material but modern moulding and injection techniques make it a highly versatile option for recreating delightful vintage shapes and styles, especially those delightful sweet jars from the corner shops of yore. Vintage jars made from other materials, such as stoneware, earthenware, terracotta and wood are also readily available.
Find Vintage Jars on eBay
For buyers that want a more generic search result, simply entering the term "vintage jars" in the search box will display everything on eBay falling under that description. But for those who know exactly what they want, there is no need to wade through page after page of product descriptions. eBay's search tools will deliver fast and accurate results when they are used properly. Just find the All Categories tab at the top of the home page (it is next to the search box), scroll down the drop down menu and select Home, Furniture & DIY. Once the new page appears, select Cookware, Dining & Bar from the list appearing in the left of the page. From the next left-hand list on the new page, select Food & Kitchen Storage, then (on the next page) select Canisters & Jars (all selections refer to the categories included in left-hand list). All that remains to be done is to tick the Jar box (under Type) followed by the Vintage/Retro box under Styles. The search can be further refined by going on to tick boxes under the other headings that include, Material, Style, Condition, Price, Brand, Colour, and so on. Because it is a rather niche category, it generally wouldn't take too long to browse through all the products on eBay that come under the description "vintage jars" simply by entering that term into the search box. Even so, for those who "know their onion jars", as it were, and have a clear idea of what kind of vintage vessel they are looking for, eBay has some nifty search tools to help pinpoint the desired items without lengthy detours or delay. They key is to navigate through the categories on the left side of the page when searching – a simple procedure which will refine the search and bring up the sought-after products with minimum delay. Once a potential buyer has got the hang of eBay's search capabilities, it won't take them long to find the item they have been picturing in their minds (or on their kitchen shelves).
Conclusion
Locating and buying a particular product on eBay is very straightforward. By using the eBay search refinements described here, purchasers can target their chosen vintage jar with accuracy, speed and efficiency. Research, search and intelligent informed bidding, are the key to success when buying on eBay.