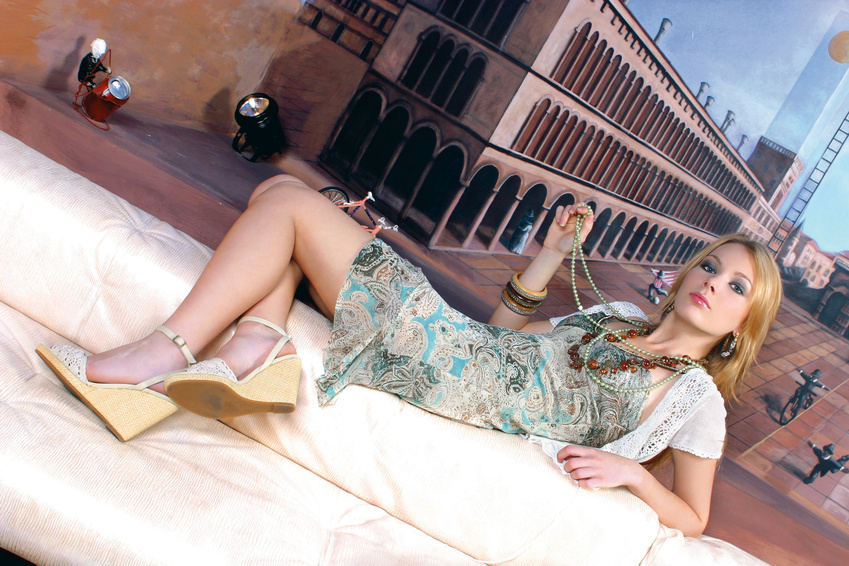 Platform sandals are a fashion compromise between casual flat sandals and upscale strappy heels. Manufacturers continue to construct platform sandals from designs that originated more than 20 years ago, which defines the amount of time to pass before a product receives the vintage designation. Women searching for vintage platform sandals need to consider a few buying factors to help them reach purchasing decisions.
Choosing the Right Platform Height

Women who have problems maintaining their balance in heels should carefully select a vintage pair of platform sandals. Although platform sandals provide more support along the ankles than the support provided by high heels, the shoes can still create balance issues, as well as cause discomfort if women select the wrong height. Try on different vintage platform sandals of varied heights until you find the right pair that ensures walking balance and enduring comfort. Walk in the shoes on surfaces such as pavements to gauge the sandal's stability and comfort.
Matching Vintage Platform Sandals to Your Wardrobe
Vintage platform sandals, especially pairs designed during the 1960s and 1970s, can present flamboyant colours and patterns that may not complement a woman's wardrobe. Women can find vintage platform sandals in a wide variety of bold colours and designs, but they also can purchase platform sandals that match neutral coloured blouses and skirts. Manufacturers often enhance vintage platform sandal designs by adding snaps, grommets, and zippers. Wedge platform sandals match well with earth-toned skirts and dresses and metallic platform sandals typically enhance the appearance of skinny jeans.
Vintage Platform Sandals Sizes

Size matters more for selecting the right vintage platform sandals than it does for any other type of women's shoe. Platform shoes require a snug fit to prevent the feet and ankles from rolling on undulating surfaces. Women who shop for vintage platform sandals should consider trying on pairs that measure at least one-half size lower than the size they measure for other types of women's shoes. Although women can lower platform sandal height to ensure stability, choosing the right size that secures the feet and ankles is equally important.
Open or Closed Toe Platform Sandals
Most platform sandal manufacturers construct the women' shoes to include several openings along the feet and ankles that encourage breathability. However, vintage platform sandals can vary by closed or open toe design. Open toe vintage platform sandals allow more air circulation to dispense foot perspiration, which augments comfort and reduces the incidence of fungal growth. The only argument against open toe vintage platform sandals is reduced foot stability. Open toe platform sandals allow the feet to move back and forth inside of the women's shoes.