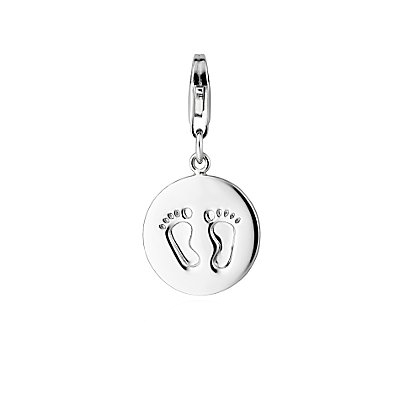 Charm bracelets are a wonderful way to commemorate one's memories. Those who are interested in collecting charms should check out vintage sterling silver charms if they like silver. Many different designs have been produced throughout the years, and these charms often have a lot of character. Vintage charms are charms that were generally produced before the 1980s. The general consensus is that a charm has to be at least 100 years old to be an antique.
There are a number of different vintage charm designs, so a collector should easily be able to find something that he or she enjoys. Some of the different themes include religion, holidays, animals, architecture, and some very unique items. When buying a vintage charm, a buyer should consider the size of a charm and how to choose what kind of charms to collect. He or she should regularly clean his or her vintage charms to keep them in the best condition possible. Buyers can search on eBay to find numerous choices for vintage sterling silver charms.
What Are Vintage Charms?
A vintage charm means that it is a charm that is quite a number of years old, although it is not antique. To be considered antique, a charm generally has to be at least 100 years old. Vintage charms are newer than that, but the term usually does not apply to charms that are any younger than the 1980s. Sometimes it can be hard for a buyer to figure out the age of a charm. That is particularly true if the charm is a style that has been reproduced many different times throughout the years. When trying to determine the time period for a charm, the buyer should know which styles were common during different eras. Hallmarks and makers' marks often provide clues about the age of a charm, as well.
Sterling Silver Charms
When looking for silver vintage charms, the buyer should make sure that they are actually sterling silver. If a charm is sterling silver, it means that it is at least 92.5 per cent pure silver. The rest of the metal consists of alloys, such as copper. This is a good mix of alloys and silver because it creates a metal that is both durable and pliable. In addition to sterling silver charms, a buyer may find charms made from other types of silver, including Mexican silver and fine silver.
Popular Designs for Vintage Charms
Many different styles of vintage charms are available. Some of the various charms include hearts, which are a classic symbol of love, and animals. Collectors can also find charms that represent different holidays, sports, architecture, religion, and other very unique events.
Hearts
Hearts are one of the most common styles of vintage charms. In addition to normal hearts, a collector can also find hearts with arrows through them, hearts with flowers, and even hearts with sayings on them. There are also many other charms that are symbols of love, including cherubs and flowers.
Animals
Animal charms are also very popular. There are all sorts of animal charms that feature pets like dogs and cats and wild animals like elephants and alligators. Bird charms, such as doves, ducks, and penguins, are also popular. A collector may be able to find a charm with his or her favourite animal unless it is something extremely rare.
Sports
Another category represented by a lot of charms is sports. The variety of different sports that are available includes baseball, football, ice skating, and soccer. Some of these charms may include ice skates, baseball gloves, baseball bats, tennis racquets, ski poles, and basketballs. These are just some of the different options, and a collector should be able to find something for his or her favourite sport.
Holidays
Many charms have also been created to celebrate different holidays. These charms may include charms with symbols for Christmas, including wreaths, trees, and presents. A collector can also find charms for other holidays, including Easter, Halloween, and New Year. Some other motifs a buyer could look for are bunnies, Easter eggs, pumpkins, ghosts, and party hats. It is not surprising that Valentine's Day is one of the most popular holiday themes for sterling silver charms.
Architecture
Buildings are actually a popular vintage charm theme, as well. Some of these vintage charms depict cute cottages. However, it is also easy for a collector to find landmark buildings and monuments, such as vintage charms of the Eiffel Tower. A collector could also search for charms that reflect places he or she has visited or lived.
Religious
It is also rather easy for a collector to find a variety of different religious charms. Some popular motifs for this type of charm are religious texts, doves, crosses, and praying hands. Christianity is usually well represented, but a collector may have to look harder to find charms for other religions.
Unique Charms
Many different unique charms that collectors love are available. Regardless of what a collector's interests are, he or she should be able to find charms that reflect that interest. Some of these unique charms may include cartoon characters or charms that relate to beloved fairy tales. Other unique charms include abstract shapes, miniature food, and housewares.
Considerations When Purchasing Vintage Silver Charms
There are many things that a buyer should think about when looking for vintage charms. He or she should think about the charm sizes to purchase. For use on a bracelet, it is important to know that the charms are the same size and that the buyer has an idea of what types of charms he or she wants to collect.
Charm Sizes
When shopping for vintage charms, the size of the charms is important for uniformity. Charms come in different sizes, but 3 centimetres is a standard size for sterling silver charms. Larger charms that are about 4 centimetres and up are well suited to children's bracelets.
Choosing Charms to Collect
There are so many different types of charms available that a buyer could very easily be overwhelmed. That is why it is a good idea to have a theme in mind for what kinds of charms to collect. Love is a very common theme, but a buyer can also look for charms that reflect important memories in his or her life. Regardless of the type of theme a buyer chooses, it is important to pay attention to how charms look together if they are going to be placed on the same bracelet. For example, a collector could create a seashore bracelet that features lighthouses, ships, waves, and sea animals, or an animal lover may enjoy a bracelet filled with charms of many different animals and birds.
How to Clean Vintage Silver Charms
Every collector should also know how to properly care for his or her sterling silver charms. A buyer can make a solution of water and soda bicarbonate and soak the charms in the solution. The charms should then be rinsed and dried. If the silver charms are tarnished, the collector may need to use a polish that is designed for cleaning silver, although this should be used as a last resort. Silver polish should be completely and carefully removed after it has been used.
When sterling silver charms are worn all the time, they develop a patina, which is a glow with some darker areas. If the collector prefers shiny jewellery, he or she can use a polishing cloth to restore the shine to the charms. It is a good idea to store silver charms away from humidity or other elements that could damage them. Vintage charms can be stored in the compartments of a jewellery box.
Finding Vintage Sterling Silver Charms on eBay
If you are looking to find vintage sterling silver charms, you should use some of the tools that eBay offers. The search tool is one of the best places to start. You can start by typing keywords, such as 'vintage sterling silver charm', into the search box. If you find that there are too many listings for you to look through quickly, you can try to narrow the results down by using filters or sub-category options. You can continue your search with some of the other eBay tools, as well.
Another feature you should check out is the feedback feature. This lets you see what other buyers have said about a seller, and it is a great tool for new buyers. When reviewing feedback, you can consider both what other buyers have said and how many buyers have weighed in on a seller. After you have made a purchase, you can leave feedback to help future buyers have a better purchasing experience, as well.
Conclusion
Silver vintage charms are very popular collectors' items that have been loved by many throughout the years. Even in vintage styles, a collector can usually find charms that reflect his or her interests. Vintage charms are not as old as antique charms, but they are not typically younger than the 1980s. A charm that is sterling silver contains at least 92.5 per cent pure silver, with the remaining content consisting of copper or other metal alloys.
A new collector may be surprised by how many different themes there are for charms. Options include religion, holidays, love, sports, other hobbies, animals, and other unique choices. The buyer should consider the size of the charm he or she is buying, and it is also important for a collector to properly care for his or her sterling silver charms. The number of vintage sterling silver charms available on the market is impressive, and buyers are almost always able to quickly find charms they adore on the eBay shopping site.