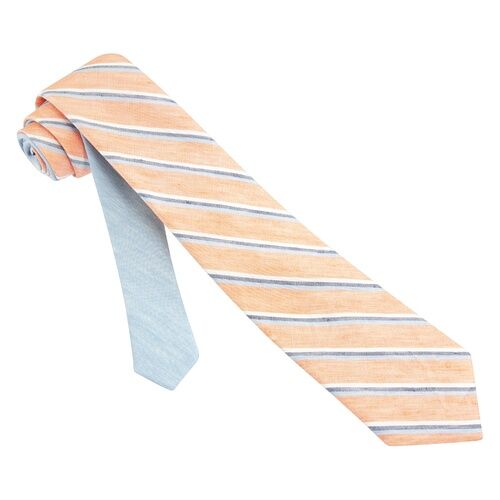 The first step for novice buyers to knowledgeably purchase vintage ties is to do a little research. Knowing what is on the market and what types of vintage ties might have the most appeal is a good place to start. This research helps in making an informed decision and enables one to understand the origins and different types of vintage ties, knots, and their traditional and nontraditional uses, amongst several other things. Vintage ties are available in different brands, colours, materials, conditions, price ranges, and buying formats and now can easily be purchased online. Some websites permit buyers to search for ties based upon a particular decade or era. Some offer vintage ties (produced roughly between the 1920s and 1960s), some retro or 'vintage style' ties (imitating the style of an era), while others offer reproduction/repro ties (honest replicas). eBay boasts a wide collection of vintage, reproduction, and retro/vintage-style ties, and buyers can select the most appropriate tie(s) according to their taste.
Origin of Vintage Ties
Deadstock fabrics (those typically scrapped after production) along with fine vintage, even sometimes dating back to the World War II era, are normally used in the making of handmade ties. Since the early 1990s, the demand, public awareness, and acceptance of vintage ties, along with other vintage clothing, has increased exponentially. One factor credited with this changing trend is their popularity in the celebrity circle. Also, not all vintage ties have been previously worn, as the dead stock and NOS (new old stock, i.e., stock manufactured long ago but never used) may have flaws; a small percentage of vintage ties are available with original tags, and are therefore more valuable.
Vintage Ties
Anyone willing to acquire a vintage tie should be aware of these often misleading terms, sometimes cleverly used by sellers to fool consumers: Vintage, Vintage Style, Vintage Inspired, and Vintage Reproductions. The original vintage ties that belong to a particular decade are simply called 'vintage ties', and all other terms do not legitimately qualify to be called 'vintage'. The older an item, the more valuable and harder to find it is. For example, finding a tie circa 1920s is comparatively more difficult than finding one that originated in later decades. Thus, the value of a vintage tie dating back to the 1920s is greater than one from the 1960s, and so on.
Vintage Style Ties
The original ties from an old collection are vintage ties while vintage style (retro) ties are those that imitate the style of a particular era or vintage tie. Regardless of the extent of similarity between the two, these are not the actual vintage ties and buyers should be aware of this.
Vintage Inspired and Vintage Reproduction Ties
Vintag e reproductions are faithful, newly made copies of vintage ties. Vintage-inspired ties also do not qualify to be called 'vintage' and are often seen by collectors as a way to deceive consumers. Lacking the quality of workmanship and fabric, these are mass-produced ties that are not unique and do not date back to a past era, which is the basic definition of vintage.
On the other side of the picture, these non-vintage but close-to-vintage ties serve a few purposes as well. Consumers, sellers claim, now have a lot of options, as they are available in a range of colours, styles, sizes, prices, and fabrics. Admirers of old style who prefer a modern interpretation seem to benefit from these types of ties. These, however, can't be categorised as 'vintage ties' and collectors should always make this distinction.
Types of Vintage Tie Knots
There are several ways to tie a tie. Tying a vintage tie is similar to tying a common tie. The four most well-known types of knots are: Four-in-Hand Knot, Pratt/Shelby Knot, Windsor Knot, and the Half-Windsor Knot. Tying the Windsor Knot involves the most number of steps and is the thickest of these four. In the 1990s, two researchers, using mathematical modelling and limiting the number of moves required to tie a knot to nine (because more moves are deemed as leaving the free ends of a tie too short and the knot too thick), came to the conclusion that 85 knot variations are possible with a common tie. They published their findings in a scientific journal and, for laymen, they wrote a book titled: 'The 85 Ways to Tie a Tie'.
Based on their symmetry and balance, 13 out of these 85 knots were categorised as 'aesthetic' knots by these researchers. Coincidentally, four of them are the same as the ones mentioned above. Out of the other nine, some are considered by experts to be codified for the first time, while others have seen very limited use.
Other types of knots include the Small/Oriental/Kent Knot, Nicky Knot, Atlantic Knot, Prince Albert/Double/Cross-Victoria Knot, Victoria Knot, Christensen/Cross Knot, Ediety/Merovingian Knot, etc. The Small Knot is the smallest possible knot and is triangular (equilateral) in shape just like the half-Windsor, but a little more packed. The Nicky Knot, the alternative, favoured, and more balanced version of the Pratt Knot, is self-releasing. The Atlantic Knot, which is tied backwards, is the reversed form of the Pratt Knot and highlights the usually hidden parts of a tie knot. Prince Albert Knot is a variant of Four-in-Hand Knot and slightly differs from the Victoria Knot. When the tie is only knotted through the outermost loop, the knot formed is the Victoria Knot, whereas when the wider flap of the tie is given an extra turn round the front of the tie before it is passed through both of the resultant loops, a Prince Albert Knot is formed. Knotting the tie through the double loop on the front side forms a cruciform structure. Most effectively knotted with thin ties of consistent width (common in the 19th century), the distinguishing feature of Christensen Knot is its cruciform structure – it's a symmetrical and elongated knot. The Ediety Knot is simply a doubled Atlantic Knot, in which the thin flap of the tie lies over the thick flap. It is not categorised by researchers in the 85 ways mentioned above because of the involvement of ten total steps, exceeding the set limit of nine.
Traditional and Nontraditional Uses of Vintage Ties
Some collectors on eBay have spent big money on ties painted with airbrushed gouache, for example, which shows that collectors have different tastes and they use vintage ties not only to wear but also to add unique items to their collection.
Vintage ties can be used to reflect membership in a particular group or organization. Kids of the same school are often seen wearing similar ties, which represents belonging to a particular school club. Similar is the case with vintage ties; they are unique and add to the perceived status of a club. For example, a group of vintage ties belonging to a particular era may be used by the members of a club to indicate exclusivity of their membership.
Some vintage ties of the 1930s and 1940s had political images and a political slogan, such as, 'Vote for Roosevelt', which can mark the start of a unique collection for people interested in politics. Vintage ties also make good gifts, especially for those who have lived their adult years during previous eras, such as a grandfather, or elderly uncle, as it can be a pleasant reminder of happy days, a bygone era, and treasured memories.
Vintage ties are not only popular with men but also with women. This popularity has inspired a number of hotels and restaurants to make them a standard part of their uniform. A particular restaurant can add distinction to the uniform of its employees by employing vintage ties rarely found elsewhere. The same applies to schools, colleges, and organisations, not to mention restricted membership clubs. Vintage ties have also been used by female celebrities as a fashion statement. In the 1970s and 1980s, in fact, ties were a part of casual wear for young women in the United States. In 1993, both in the United States and Europe, after a break of some years, ties reappeared as fashion accessories for women.
Places to Purchase Vintage Ties
Borrowing from friends and relatives has been one of the most widely observed practices, because of the rarity of vintage ties. Garage sales, flea markets, car boot sales, auctions, vintage clothing shops, textile fairs, etc., are some likely places to acquire vintage ties. The Internet boom has helped the collectors of vintage ties a great deal, and hard-to-get items are now often just a click away. Buyers can surf through the different options from the comfort of their own home. eBay also offers a huge variety of vintage (and similar) ties in auction.
Buying Vintage Ties on eBay
Vintage ties of different brands, colours, materials, conditions, price ranges, eras, and buying formats are available on the Internet, as well as in a number of vintage brick and mortar stores.
eBay features a wide collection of Vintage, Vintage-style/Retro, and Reproduction ties.
Alternatively, you can find the one you want by simply entering the words 'Vintage ties' in the search bar. You can also search 'retro ties', and 'vintage style ties'. Narrow the search by selecting a specific brand such as ''Vivienne Westwood Tie''. Entering your postal code under 'Distance' will help you find listings in your neighbourhood and perhaps see the item before purchase through eBay.
Conclusion
Some hobbyists collect vintage ties dating back to a particular era. Vintage ties span not only different eras but different styles, with corresponding accompanying knots. Proper research should be done before buying a vintage tie, and the buyer would be well served to familiarize themselves with the difference between actual vintage ties and those similar but potentially confusing or misleading terms coined by different sellers, in order to make a more informed selection.
With the Internet boom, buying vintage ties these days has become a lot easier. eBay offers a wide collection of vintage (and similar) ties and helps the lovers of vintage ties to further enhance their collections. A collector/purchaser ideally will know something about the origin of each vintage tie and the complementary types of knots, as it adds an interesting facet when sharing the details of their passion with loved ones, displaying, or generally discussing a beloved collection.