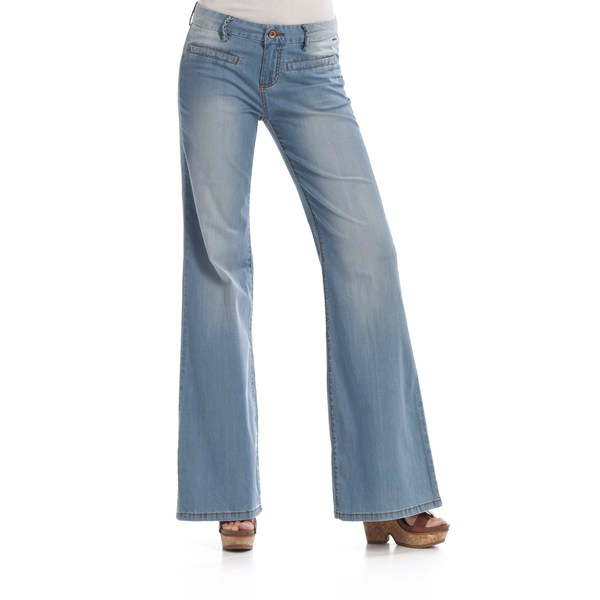 Jeans are a versatile fashion staple that can be worn with nearly anything. A great pair of denim never goes out of style, which is largely why vintage women's jeans are such a highly sought-after commodity. Rather than settling for high-priced knock-offs from trendy Shoreditch boutiques, shoppers can search for authentic vintage jeans from a variety of sellers. This guide offers tried-and-true advice for locating and selecting vintage women's jeans. To increase the chances of success on your next vintage shopping trip, start by reading up on where to look and what to look for.
Though it may take time and effort, it is possible to find vintage women's jeans that fit well and look great. Women who enjoy dressing in retro styles might be interested in jeans from a certain decade. Others might be focused on finding vintage women's jeans from a particular brand, such as Levi or Guess. Tell-tale signs of authenticity help buyers avoid modern jeans made to look vintage. Learning all you can about vintage jean styles and sizing will make it easier to locate vintage jeans that you will love.
Where to Find Vintage Women's Jeans for Sale
If you fancy owning a pair of vintage women's jeans, you first need to know where to shop for them. Finding vintage jeans is not as easy as visiting the closest high street shops. Instead, it may be necessary to peruse a wide variety of locations to find vintage jeans for sale. If you are not lucky enough to find a pair at the first place you visit, keep hunting and do not lose hope. The thrill of finding the perfect vintage jeans is well worth the extra effort. Try looking for them in any of the following locations.
Vintage Clothing Fairs and Boutiques
To maximise time spent shopping for vintage jeans, seek out dealers of vintage clothing. Like antiques appraisers, these individuals are likely to have a wealth of knowledge regarding vintage apparel. Many choose to sell their vintage finds in a boutique setting, while some prefer to travel to vintage fairs to show their inventory. Their prices tend to reflect the fact that they have already done the dirty work of finding vintage fashions for you. Certain vintage style connoisseurs specialise in a particular type or decade of clothing. Be sure to research vintage shops and fairs before visiting, so you do not waste your time travelling to locations that do not carry women's jeans.
Thrift Stores, Secondhand Shops, and Resale Stores
By scouring used clothing stores, you can often find desirable vintage women's jeans at discounted prices. Thrift shops do not always realise that they have a hot pair of designer vintage jeans on their hands. Owners might unknowingly hang their vintage clothing next to examples of more modern apparel. This means you are likely to pay a lot less than you would at a specialty vintage shop, but it also means you have to dig around to find what you want. People reselling their clothing on consignment might be more aware of the value of their garments. Though this could lead to higher prices for older pieces, shops that sell used clothing of all ages are generally easier on the budget.
Flea Markets, Estate Auctions, and Jumble Sales
To cut out the middleman, head straight for a flea market, garage sale, or estate auction. In fact, these places are often where dealers go to find vintage garments at rock-bottom prices. Arrive as early as possible so you do not miss out on the best offerings. The atmosphere at an open-air market or yard sale encourages haggling. Rather than paying the listed price, try talking the seller down for a better deal. Another approach is to wait until the end of the day when people are likely to sell for less to lighten their return load. Estate sales allow buyers access to entire wardrobes full of vintage pieces. If you happen to be the only bidder on an item at an estate auction, you have the chance of owning vintage women's jeans at a fraction of their usual cost.
Internet Retailers and Online Auctions
Web merchants and online auctions offer the opportunity to quickly search for vintage women's jeans from a wide range of sellers. The upside of online shopping is that price comparison is easy, but the downside is that it can be harder to know if vintage jeans will fit. To shop smart on the Internet, pay close attention to all the pictures and descriptive information offered about items up for sale. When in doubt, ask questions, and always research the seller's reputation to determine if they are a reputable dealer. Check to see if he or she has a generous return policy and whether or not shipping is free. As long as buyers do their homework, online retailers and auctions can be a plentiful source of quality vintage women's jeans at reasonable prices.
Vintage Women's Jeans Brands and Styles
There are several approaches to shopping for vintage jeans for women. Some ladies prefer fashions from a particular era, while others are more interested in a certain brand. Either way, it is fun to hunt down the exact pair of vintage jeans you are looking for. Those with no specific shopping goals are free to browse various vintage styles and brands until they find a pair they like. With plenty of vintage reproduction styles on the market as well, it helps to know a bit about authenticating vintage apparel.
Shopping By Decade
Shopping by decade helps buyers locate the exact style of vintage jeans they are interested in. Women putting together a period outfit often focus on jeans made during a particular decade. For example, greaser girls might be on the hunt for vintage high-waisted denims from the 1950s and early 1960s. Those who prefer a more Bohemian look will appreciate hip-hugging vintage bell bottom jeans embellished with embroidery. Would-be punk rockers can seek out impossibly tight vintage drainpipe jeans from the 1980s. As you can see, this approach is tailored to shoppers who want to hone in on the type of vintage jeans they need for a stylish retro outfit.
Shopping By Brand
While there are many kinds of vintage jeans available, some designers and brands are more popular than others. Credited with being the first denim pants to be sold commercially, Levi's are easily the most recognisable jeans in the world. Vintage Levi's are extremely desirable, making them among the more expensive vintage jeans on the market. Designer label jeans did not become widely popular until the 1980s when a number of high-end designers began selling them. Some women feel that a particular brand of vintage jeans fits better than the rest. Brand loyalty also drives people to stick with a particular designer. This approach certainly makes it easier to narrow down the available options when searching through numerous online offerings. Here is a list of several popular brand names to look for when shopping for vintage women's jeans:
Lee
Guess
Landlubber
Wrangler
Calvin Klein
Gloria Vanderbilt
Authenticating Vintage Women's Jeans
Newbie vintage shoppers may find it difficult to determine if jeans are truly vintage or just made to look that way. Sometimes, if the jeans fit well and the price is reasonable, authentic vintage status is not especially important. On the other hand, when you are paying top dollar for supposedly vintage duds, understanding the origins of your purchase is essential. Vintage clothing guides are one way to confirm a piece's authenticity. Brand details tend to change over time, so jeans are often dated by tiny, often overlooked characteristics like tags and buttons. Those who are new to vintage shopping are encouraged to research potential purchases carefully. With time, buyers will learn the nuances of identifying authentic vintage garments.
Don't Fret Over Fit
Vintage jeans that fit perfectly can be hard to find, so it pays to be flexible. If you happen upon vintage women's jeans that almost fit, consider taking them to a tailor for minor adjustments. Some jeans list inseam length and waist size on the label for easy reference. For numbered sizes, keep in mind that standards tend to evolve over time to match the average population. This means that the physical measurements corresponding to a particular size may not be the same today as they were twenty years ago. For this reason, do not be afraid to try on vintage jeans in a variety of women's sizes. You never know when a pair labelled with a size other than your own will actually fit quite well. To prepare for online vintage clothes shopping, be sure to take your size measurements with a flexible tape measure. Knowing the circumference of your hips and waist in centimetres and inches, along with your inseam length, will allow you to match your current measurements to a garment's size specifications.
British to American Size Conversion
While shopping online and in stores, there is a good chance you will come across vintage jeans labelled with U.S. women's sizes. To clear up any confusion and get a general sense of the size differences between U.S. and British women's clothing, refer to the following conversion chart.
| | | | | | | | | |
| --- | --- | --- | --- | --- | --- | --- | --- | --- |
| UK Size | 6 | 10 | 8 | 12 | 14 | 16 | 18 | 20 |
| US Size | 2 | 4 | 6 | 8 | 10 | 12 | 14 | 16 |
Since the sizes that each brand and designer uses varies slightly, trying on vintage apparel is the best way to decide if it fits properly. When you are buying vintage jeans online, do the best you can to match size specifications to your measurements, and stick to styles that commonly suit your physique.
How to Buy Vintage Women's Jeans on eBay
eBay gives you easy access to vintage clothing from a wide variety of sellers. To find vintage women's jeans for sale, think of two or three descriptive words and type them into the search box found on any page. If you want a large selection of styles to choose from, try using general search terms like "vintage blue jeans&". If a search produces too many results, you can narrow your options by condition, price, location, and a number of other refinements. To search for a specific type of vintage jeans, use targeted keywords such as "vintage women's Guess jeans" or "vintage acid wash jeans". If you want to restrict your search to sellers with an eBay Shop, or otherwise limit your results, try an advanced search..
Earn Nectar Points on eBay
Nectar, the UK's largest loyalty programme, is free to join and offers plenty of benefits. You can link your Nectar account to eBay to earn one point for every one pound spent on eligible purchases. To get started collecting points, simply join Nectar and register with eBay. Look for listings featuring the Nectar logo to earn points when paying with PayPal. Then you can spend your accumulated reward points on your favourite products and services.
Conclusion
Jeans seemingly never go out of style. They have been a staple of street fashion for many years, first gaining mainstream popularity with rebellious teenagers in the 1950s. Vintage jeans are useful for recreating past styles, but they are equally easily paired with modern pieces. Never-ending versatility is the true beauty of blue jeans, and vintage ones are no exception. Finding vintage women's jeans might take some extra legwork, but it is well worth the effort to own a little piece of the past. Vintage jeans add a unique element to any outfit, and they are likely to already be well-worn and comfortable to wear.
You may end up visiting several shops and sales before finding a pair of vintage jeans that fit you. Vintage boutiques make shopping faster, but flea markets and rummage sales tend to be more affordable. Success lies in the willingness to shop around for the right pair. Since factors, such as brand and age, influence sizing, do not let size labels scare you. Instead, try on a variety of styles and sizes to see what fits best. Online shoppers must rely on physical measurements to determine fit. Thankfully, many Internet merchants offer detailed garment specifications to help buyers find vintage jeans in the right size. To browse an extensive collection of vintage women's jeans, visit the eBay Shops and auction listings.