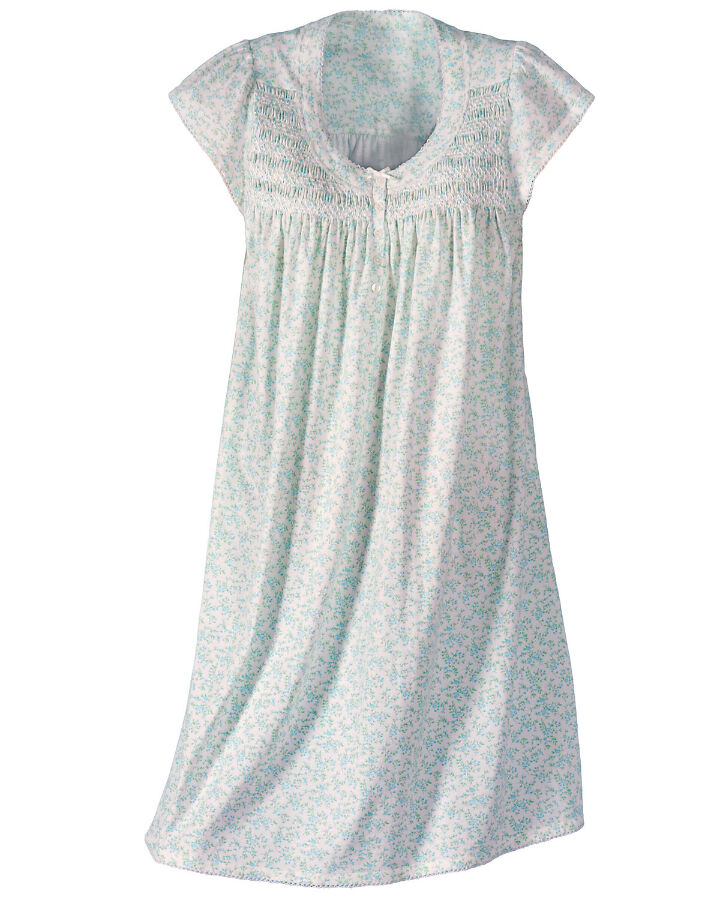 Vintage women's nightwear and lingerie can be both sophisticated and seductive, yet it's an easily overlooked category of classic clothing. Luxurious fabrics, decadent frills, and intricate lacework were staples of women's nightwear fashions from days long since past. For comfort and convenience's sake, it is more common for women these days to dress down rather than dress up for bed. Likewise, many modern nightgowns seem to lack the couture characteristics of their vintage counterparts. Women who wish to reconnect with their feminine side will likely appreciate the sheer girlishness of vintage pieces.
Of course, creative fashionistas know that vintage nightwear does not have to stay hidden in the boudoir any longer. With a little ingenuity, a vintage nightie can be transformed into an elegant cocktail dress or a trendsetting top. Vintage nightwear offers the opportunity to create a unique and stylish look all your own. This guide teaches you how to locate and select stunning vintage nightwear while sharing helpful buying tips for those who are new to the vintage shopping scene. Though finding vintage nightwear with definite fashion potential can take time, the results are sure to be rewarding.
Where to Shop for Vintage Women's Nightwear
The key to finding high-quality vintage clothing is knowing where to look. Prices for vintage apparel can vary considerably and are often dependent upon the source. The dearest examples of vintage nightwear fashions are often found at independently owned boutiques or vintage fairs. Vintage dealers make a living by stocking up on classic styles to sell to others, but their keen eye for fashion will cost you. If you would rather hunt down affordable vintage women's nightwear, consider attending flea markets and rummage sales. Informal buying situations such as these afford shoppers the opportunity to haggle over price. Secondhand clothing and thrift shops are also potential sources of vintage clothing. Though they may require you to pick through racks of modern and vintage fashions, these types of shops could be hiding authentic pieces for next to nothing. To shop for women's vintage clothing without leaving home, try searching Internet retailers and online auction listings. This approach makes it easy compare prices from many sellers while browsing a wide variety of vintage nightwear.
What to Look for When Buying Vintage Nightwear
Women's nightwear was not en vogue until the Victorian era of the 19th century, and it was originally considered more of a luxury than a necessity. Prior to that, women simply wore their long undergarments for sleeping. In a way, we have come full circle with girls these days wearing boxers and camis to bed rather than seductive, stylish ensembles. History has seen a definite evolution in the world of women's nightwear with styles that borrowed from popular fashions of each era. Whenever film and television period dramas become popular, women are reminded of the beauty and splendour of frilly, feminine frocks for the bedroom. Often, their curiosity about these vintage fashions leads them to seek out authentic pieces to wear as-is or to turn into one-of-a-kind daywear or evening wear styles.
Finding vintage nightwear fashions does not have to be difficult. Just remember to keep an eye out for classic designs, authentic labels, and high-quality materials in good condition. Before shopping for vintage nightwear, it helps to brush up on terminology used to identify and describe clothing for the bedroom. After locating a vintage garment in your size, be sure to evaluate the quality and authenticity of the item. This helps you differentiate worthwhile pieces from those that are less desirable.
Popular Women's Nightwear Styles
Through the years, trends in women's nightwear have changed with the times, but some classic styles remain popular even today. This chart describes vintage nightwear fashions that shoppers are likely to find.
| Style Name | Description |
| --- | --- |
| | Short, sheer, often sleeveless nightgown; styled after dresses for babies |
| | For sitting in bed; waist-length or below-bust coat worn over nightgown |
| | Short nightgown with thin straps; fits snugly at bust, looser on hips |
| | Long, flowing robe or dressing gown; ribbon or lace trim |
| | General term for loose, dress-like women's garment worn for sleeping |
| | Borrowed from men's fashion; two-piece set including top and pants |
| | Sheer, sensuous outer robe worn over matching negligee or panties |
While the language used to describe fashion tends to evolve as quickly as style trends do, it helps to have an understanding of basic industry terminology. In many cases, vintage nightwear will fall somewhere in between the above-mentioned categories. Even so, learning the correct names for vintage women's lingerie and nightwear can make it easier to find the exact fashions you are looking for.
Always Investigate the Labels and Tags
The labels on a vintage garment are a veritable treasure trove of useful information. When an eye-catching example of supposedly vintage nightwear crosses your path, taking a look at the tags can help verify authenticity and approximate age. Vintage tags usually list the designer, dressmaker, or department store where the nightwear was purchased. Sometimes, the city of origin is listed as well. By researching the maker of the garment, you can learn more about where the piece came from and possibly estimate its age. With time, you will get a feel for the finer points of vintage verification. Silhouette, stitching, zippers, and other details can all be clues to the provenance of vintage nightwear.
Consider Craftsmanship and Condition
Once you decide that a chosen piece of vintage nightwear will fit, have a look at the condition and construction of the garment. The skilled workmanship of a seamstress or tailor can become quite apparent with a close examination. Many times, couture characteristics are the reason why women find vintage apparel preferable to modern mass-produced clothing. Quality craftsmanship allows vintage garments to last for many years with proper care. While looking over a vintage garment, be sure to also consider the material the piece is made from. Satin, chiffon, silk, and cotton are among the many fabrics used to make women's nightwear. Synthetic materials like nylon and polyester became more common in later years.
In addition to craftsmanship, buyers should also take note of condition. Vintage women's nightwear can be quite delicate, so it is important to examine each piece for wear-and-tear as well as accidental damage. Start by checking for rips, tears, stains, and discolouration. Then, look to see if all the original zippers, clasps, or buttons are still attached and in good shape. By taking a few minutes to evaluate a garment's condition, you can avoid purchasing vintage pieces that have not fared well through the years.
How to Buy Vintage Women's Nightwear on eBay
eBay makes it easy to search for authentic vintage women's apparel and nightwear. By inputting a few descriptive words into the search box on any page, you can find numerous listings spanning many eras of vintage fashion. To browse a large selection of nightwear, try typing general terms like "vintage nightgowns" into the search box. To locate a certain style, use keywords that are more specific, like "vintage women's robe" or "vintage silk chemise". Regardless of your approach, you can quickly narrow down your options by refining your search results. For example, try sorting by price, or limit your options to sellers offering free shipping. Additionally, you can look for the top-rated seller badge from your search results list.
How to Find Top-Rated Sellers Fast
eBay's top-rated sellers are known for their excellence in customer service. To become a top-rated seller, sellers must earn consistent five-star feedback ratings. They must also complete a certain number of trouble-free transactions per year. These stringent requirements make it easy for buyers to locate reputable sellers on eBay. To quickly find listings from these top-rated sellers, look for their badge in your search results, or limit your results to only those items from sellers with top-rated status.
Conclusion
Women's nightwear has come a long way since long Victorian nightdresses designed for modesty and warmth. Whether you plan to rework vintage nightgowns or wear them to bed, they are well worth the time and effort it may take to find them. Bedroom styles from past decades help put women back in touch with their feminine roots. Lace-trimmed nighties and long, flowing robes are just a couple of many vintage styles available to savvy shoppers. Vintage nightwear can sometimes be more difficult to find than other more wearable categories of clothing. Yet by searching a number of locations, such as vintage boutiques, flea markets, and thrift shops, lucky ladies can find fantastic nightwear fashions.
When shopping for vintage styles, it helps to have a basic sense of the types of nightwear historically worn by women. This will make it easier to converse with sellers and shop owners when trying to locate certain vintage fashions. Aside from proper fit, you also want to pay attention to materials, construction, and condition. These characteristics can affect the quality and wearability of a garment, and they may also influence price. By examining tags and other identifying markers, buyers can attempt to authenticate and date vintage pieces they are interested in purchasing. For access to a wide selection of vintage women's nightwear, start by searching the eBay Shops and auction listings.