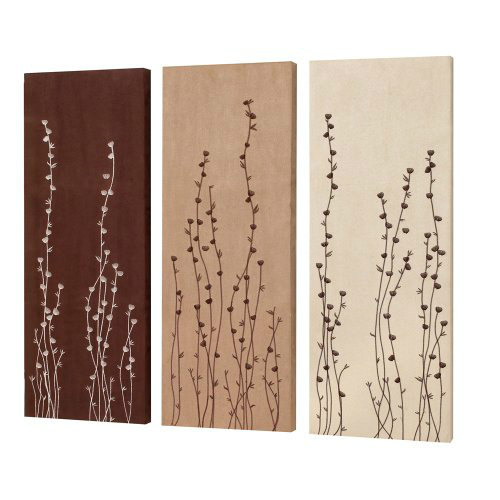 Wall Hangings are a fantastic alternative to paintings, mirrors, and clocks to complement the décor in a room. The range of materials used, along with the imagination of designers make wall hangings an incredibly diverse and effective way to decorate a home or place of work.
About Wall Hangings
Wall hangings have been in existence for hundreds of years, first seen in the 1200s. Wall hangings began life as religious icons, possibly woven tapestries deemed too valuable and artistic to be used functionally. Expensive rugs and carpets have also become popular types of wall hangings to make statement impressions due to their scale and intricacy. The middle ages saw weaponry become popular as wall hangings, with shields and swords finding their way onto castle stonework. Later came the trend of displaying a hunter's trophy on the wall, with great elk and moose antlers being hung from walls. Modern wall hangings are far more modest and are generally produced with design and décor in mind.
Choosing A Wall Hanging
Choosing a wall hanging largely depends upon the interior design theme of the building. Wall hangings are (usually) complementary additions to décor rather than focal points. For those larger and more expensive hangings that dominate rooms, people may choose to design their room around the hanging itself. The material of a wall hanging will have a bearing on what effect it has upon the room.
Wall Hanging Material
| | |
| --- | --- |
| Canvas | Canvas is a popular choice for wall hangings due to its textured finish and ability to accept paint and dye. The canvas is normally stretched over a wooden frame and pulled tight to allow for intricate decoration. Canvas wall hangings are very neutral pieces which can be purposely painted in a certain style. |
| Fabric | Fabric wall hangings often have a rustic feel about them and are the preferred material for Oriental and African wall hangings. Fabric hangings are normally painted but can be printed nowadays. The type of fabric used will have an effect on the longevity of the hanging, cotton and linen lasting the longest. |
| Metal | Metal wall hangings were widely used during the Medieval era when castles functioned as homes for the wealthy elite. Metal wall hangings still exist today but are wrought from aluminium and chrome more commonly than iron and steel. These hangings complement a modern and minimalistic décor, but may require masonry to attach to the wall. |
| Upholstery | Expensive woven rugs began to find their way onto the walls of homes when deemed too precious to be used as carpeting. Modern upholstered wall hangings are normally designed as such, with tapestries becoming popular in larger homes with more wall space. |
| Wood | Bamboo was once a popular material for wall hangings and is still widely used in Oriental pieces. Wood is often used in one way or another, but often only features in the form of a frame or supporting structure. |
| Glass | Paintings framed in glass can be hung on the wall, but rarely have the innovation to class them as a wall hanging. However, glass is implemented into metal hangings as further support of a modern theme. |
Wall Hanging Style
The style of a wall hanging can determine its success in a room. Wall hangings out of sync with their surroundings will detract from the décor of a room and look very out of place. Ensuring that the hanging suits its environment is paramount to exploiting its potential as a decorative item.
| | |
| --- | --- |
| Novelty | Novelty wall hangings are often inscribed or printed with messages. Comedic quotes are the most popular text on novelty wall hangings, whilst animals are also a common design. Novelty wall hangings are light hearted and hung more to reflect the personality of the owner than for any real stylistic impact. |
| Modern | Despite the ancient tradition of wall hanging, they have arrived in the 20th century in style. Modern wall hangings of brushed aluminium and glass can be very expensive and stylish, whilst abstract paintings can also have a great contribution to accenting a wall. |
| Vintage | Vintage wall hangings can be original or reproduced. Famous replica advertising boards from pre-1960s are common in kitchens, whilst many hangings are given an artificial distressed look to give a room some rustic charm. |
| Festive | Festive wall hangings are seasonal decorations that reflect the holiday celebrations of their owner. Whilst they may only feature in the home for a month or two a year, they're often kept for a long time and re-used. Christmas wall hangings are particularly popular in the United Kingdom. |
| Oriental | The modest decoration of ancient Chinese culture lent itself to wall hangings, along with the Chinese mastery of calligraphy. Modern popularity of Chinese culture has led to mass production of Oriental wall hangings showing symbols and scenes painted in Mandarin impression. |
| African | African wall hangings are often made from fabric and painted to mimic the early human cave paintings. Crude illustrations of animals and hunting scenes are printed onto wall hangings to lend them an air of authenticity. |
Affixing A Wall Hanging
The way the wall hanging affixes to the wall can determine how effective it as part of the décor. Fabric wall hangings might come with a rod threaded through the top to keep their shape all the way down, or else will have to be hung from two hooks at either end. Heavier fabric hangings might need to be pierced and attached to the wall via nails and screws. Wooden and metal hangings normally hang with the aid of brackets and hinged loops, allowing them to be removed and re-hung easily without having to remove the mode of fixing from the wall itself. Large hangings like quilt and rug tapestries may require specialist fixings or improvisations depending upon their size, shape and the wall they're being fixed to. Ensure that any wall hangings come with instructions on how to attach them to the wall.
Location of Wall Hanging
The room in which a wall hanging will feature will largely determine the type, material and style that will be suitable. Active and busy designs might not work well in bedrooms, but would be successful in more active areas of the home.
| | |
| --- | --- |
| Kitchen/Dining | Wall hangings featuring culinary scenes and images work well in the kitchen and dining room, with rustic farmhouse prints offering a great alternative to the modern metallic hangings seen elsewhere in the home. |
| Living Room | Living rooms offer a great place to hang a statement piece, such as above the fireplace. Warm colours and materials are favoured here, such as reds and oranges on fabric hangings. Be careful not to overpower any existing décor in the room with a large wall hanging. |
| Hallway | Hallways are also the home of statement decoration, like chandeliers and full scale mirrors. First impressions are important in a home so wall hangings in the hallway should reflect the theme throughout. |
| Bedroom | Modern metallic wall hangings are popular in bedrooms, which are often decorated in a minimalist style to aid relaxation and sleep. Wall hangings incorporating mirrors and glass do well to brighten a bedroom in the morning. |
| Children's Room | Children's rooms are great places to hang novelty wall hangings. Favourite television show characters are good choices, but be sure that all hangings are firmly attached to the wall as children may try to pull them off if they can. |
Finding a Wall Hanging On eBay
Clicking the All Categories tab on the eBay home page will open up a directory of categories. From here navigate to Home, Furniture & DIY before clicking Home Décor and finally Wall Hangings. The text bar at the head of the page allows further searching for specific items, whilst the filters on the left provide refined results toggled on Style, Room, Condition, and more.
Conclusion
Wall hangings make great interchangeable alternatives to paintings and photos. The multitude of designs and styles make them perfect solutions to filling the gaps on walls in a new house, whilst tired rooms can be revitalised with a bold hanging. The lack of construction and ease of putting them up and taking them down ensures their success amongst the DIY-newbies in the household.